These mini patriotic ice cream sandwiches are so easy to make and perfect for any holiday celebration!  Learn how to make your own magic shell topping too!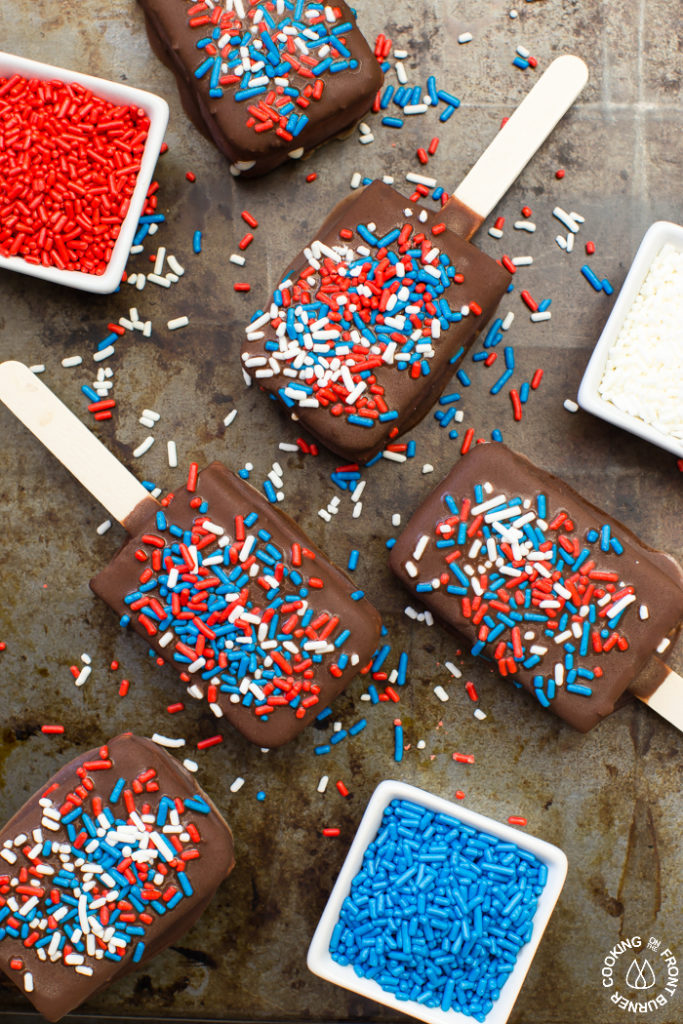 Let's hear it for the red, white and blue today with these quick and easy treats.  They are perfect for keeping cool and making your holiday celebration so special.  From start to finish they can be made and enjoyed in about 10 minutes.  Make a batch and watch them disappear!
The reason they are so quick is that you start with pre-made ice cream sandwiches.  I'm sure I could make my own but hey, let's not create all that fuss - keep it simple people.  Just pick out your favorite brand and you are good to go.
Now I did make my own magic shell mixture for dipping the sandwiches but trust me that part is super easy too.  Only three ingredients and you will have the best dipping mixture ever.  And it really works like the stuff your cones get dipped in at Dairy Queen.  Yum!  When I was a kid, I loved getting my cone dipped.  I would watch them do it and always wondered why the ice cream didn't fall off into the chocolate.  I guess that is why it is called magic?  (I just made that up!)
The magic part is when the mixture comes in contact with the cold ice cream - it freezes up to make that crunchy topping.  After I made this batch, I had a thought to double dip.  Double-dipping is ok in this case.
We all know too that it is nice to share, right?  Sure I could have kept these all to myself and the DIY Guy but my neighbor had been watching her nephew this week so I ran a couple over there.  I guess he liked them as I got a text from my friend that said "I wish she gave us a dozen!"  Next time buddy!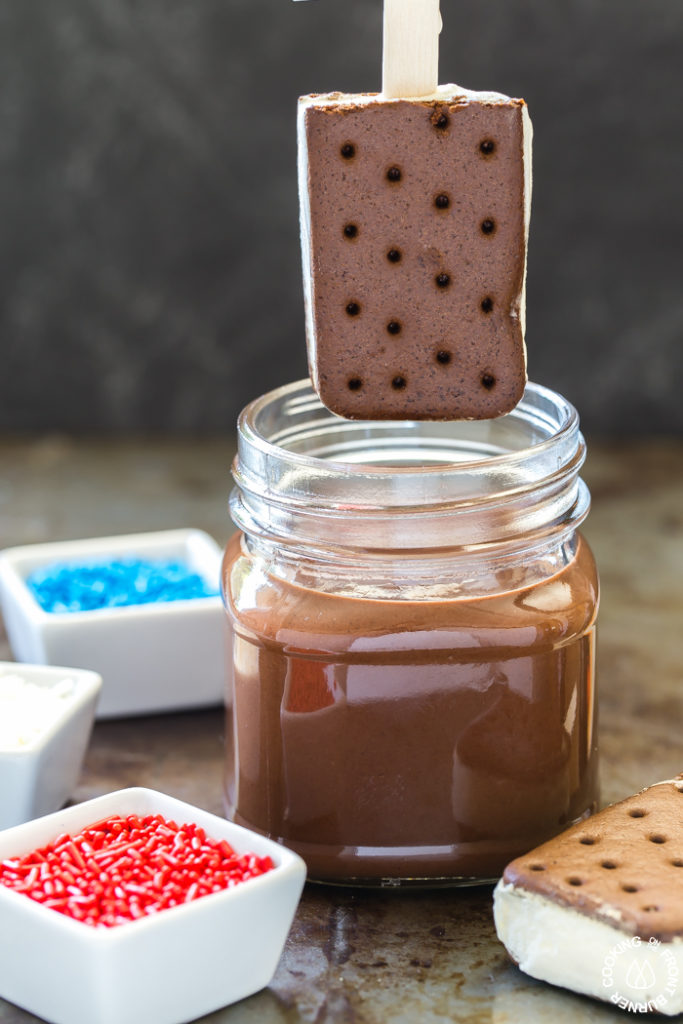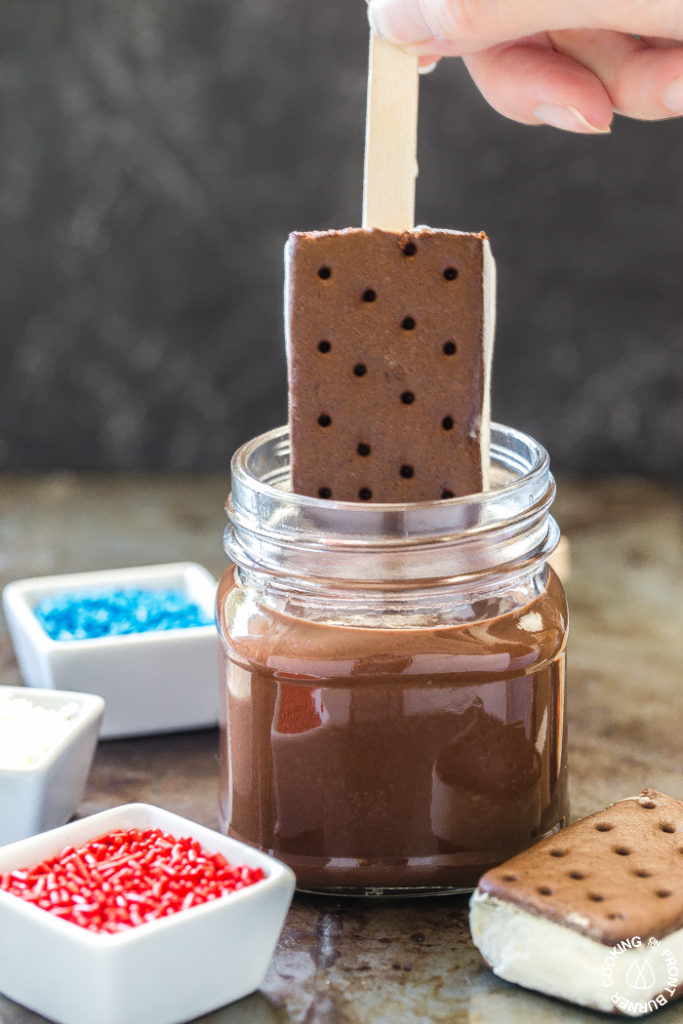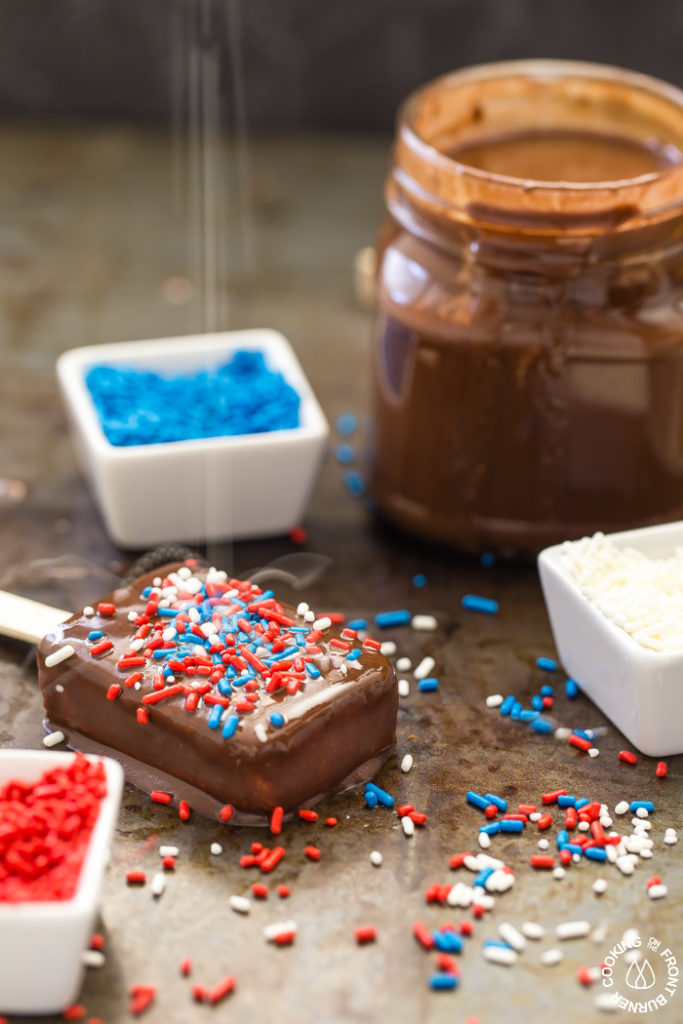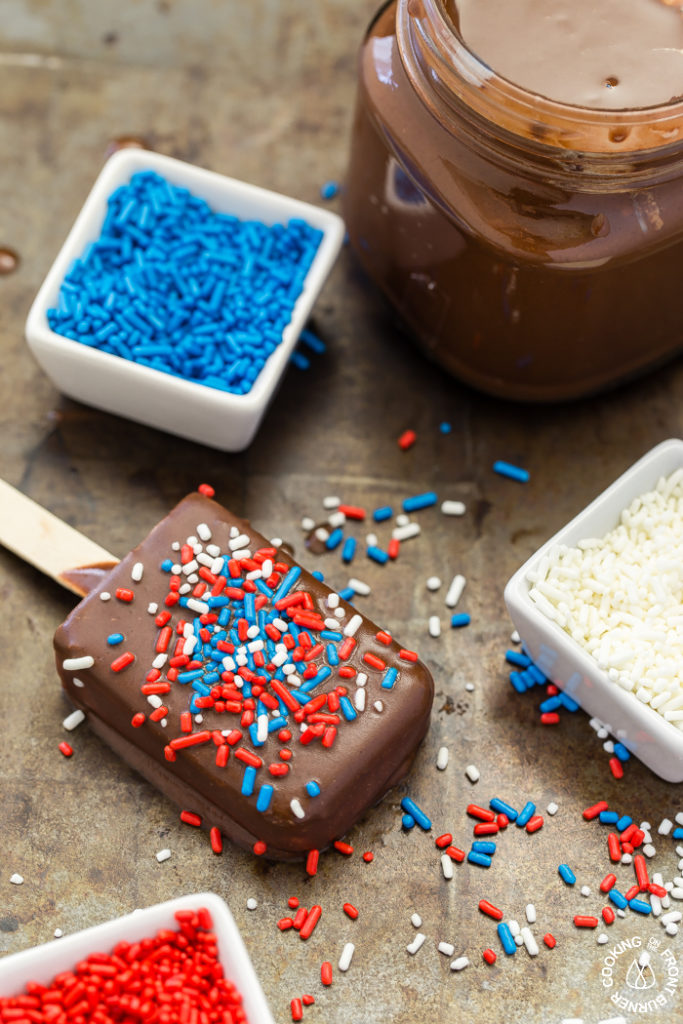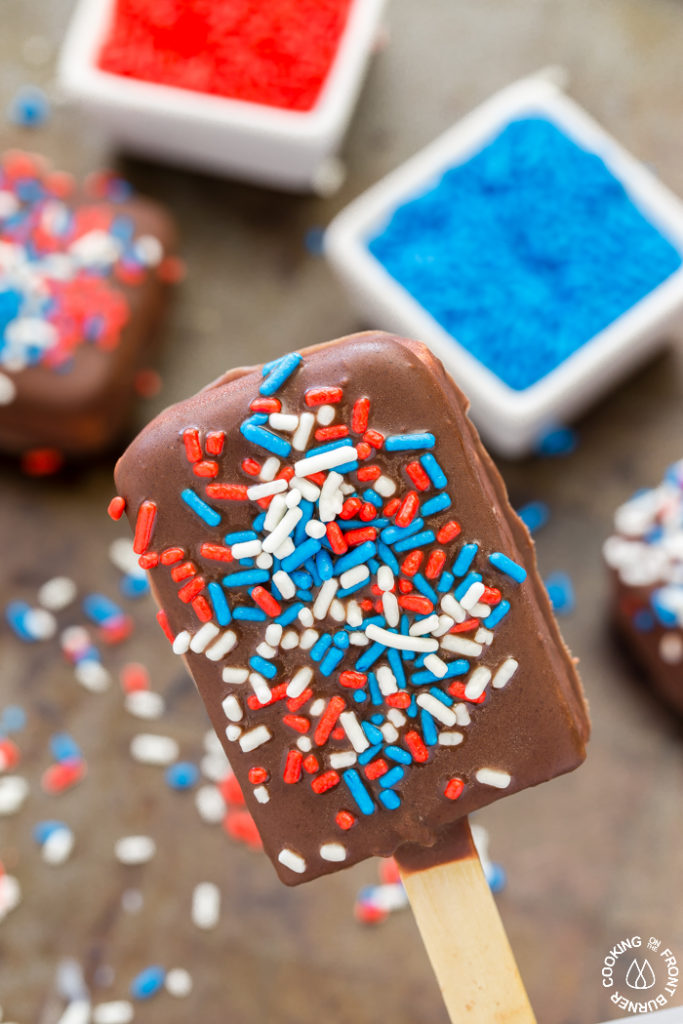 Get the Recipe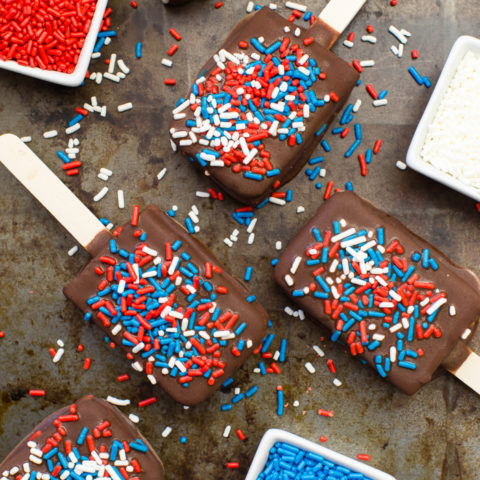 Patriotic Ice Cream Sandwiches
These mini patriotic ice cream sandwiches are so easy to make and perfect for any holiday celebration! Learn how to make your own magic shell topping too!
Ingredients
5 large Ice Cream Sandwiches cut in half
Popsicle sticks
8 oz. semi sweet chocolate chips
1 cup refined coconut oil (either liquid or solid) (do not use unrefined or virgin)
6 tablespoons light corn syrup
Red, White and Blue jimmie sprinkles (or any color you prefer)
Instructions
Cut the ice cream sandwiches in half and place a popsicle stick in each. (I kept the paper on for this part)
Place halved sandwiches in freezer on parchment paper on a cookie sheet while preparing magic shell topping
In a medium microwave bowl add the chocolate chips, coconut oil and corn syrup.
Cook and stir every 15 seconds until the chocolate is just melted (this could take about one minute). Just be sure not to overheat or chocolate will form small brown specs.
Place mixture in a tall glass (this makes it easy to dip sandwiches straight down)
Take sandwiches out of freezer and remove paper
For each sandwich dip into chocolate mixture, let drip a bit then over a small bowl (to catch any more drips), sprinkle the jimmies on and place back on cookie sheet with parchment paper
When all sandwiches are done, place in freezer for one minute, pull out and enjoy! (or keep in freezer until ready to serve)
The recipe for the magic shell makes two cups so you will have leftovers (it can be stored at room temperature, covered on your counter - re-stir as needed if it separates)
Nutrition Information:
Yield:

10
Serving Size:

1
Amount Per Serving:
Calories:

429
Total Fat:

32g
Saturated Fat:

23g
Trans Fat:

0g
Unsaturated Fat:

6g
Cholesterol:

7mg
Sodium:

56mg
Carbohydrates:

39g
Fiber:

1g
Sugar:

30g
Protein:

2g
Nutritional information provided is computer-generated and only an estimate. You may want to do your own research with the ingredients listed if you have concerns about health or specific diets.
Keep cool friends!

About the Author
Recent Posts
Recipe Index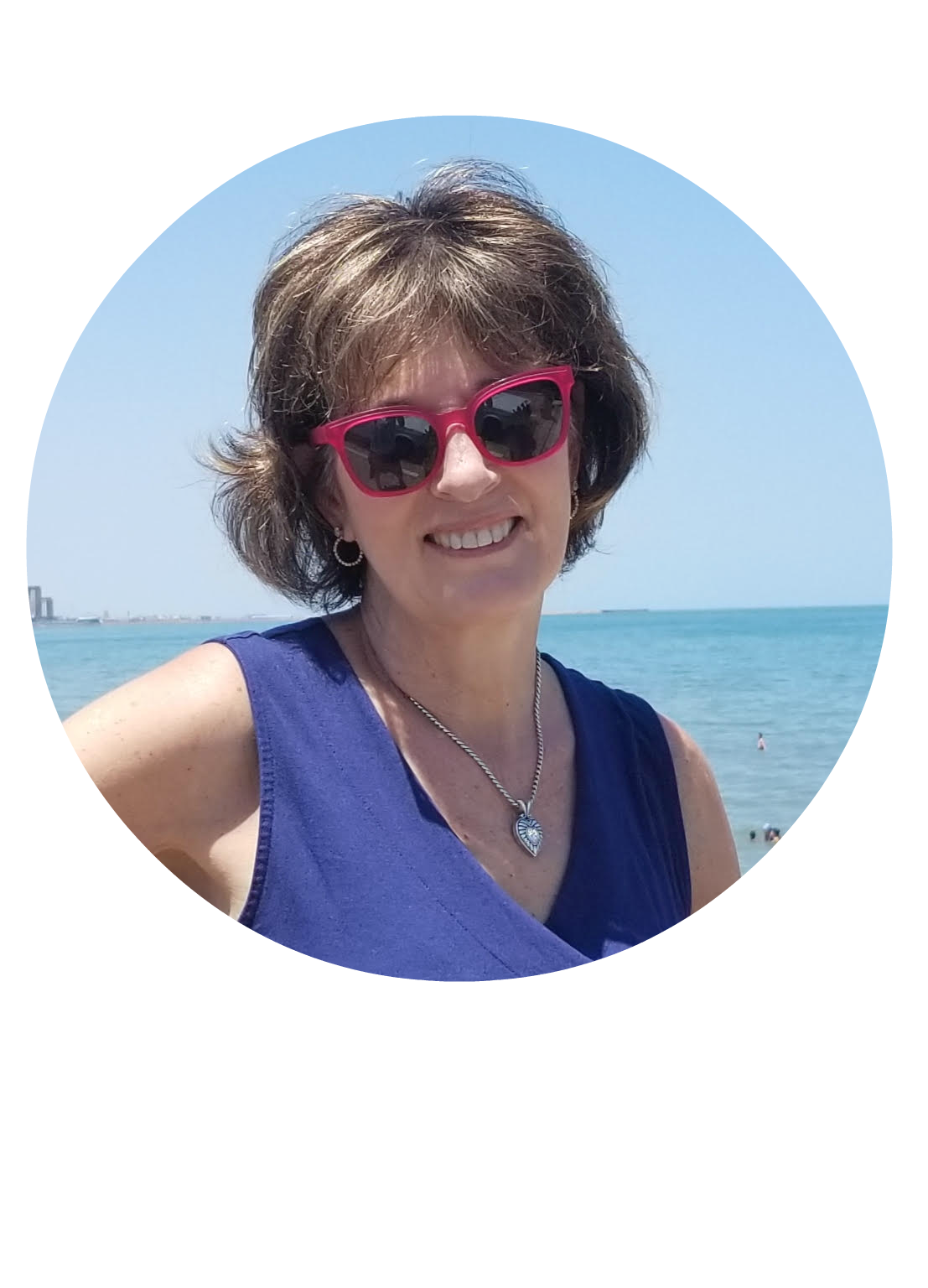 We are all about sharing our love of good food so on the blog you will find easy recipes to enjoy with your family and friends.  We hope to inspire you to host a gathering to create special memories.  Most recipes are step by step so you can feel confident in the kitchen.  Take a look around to find everything from breakfast to dinner and everything in-between!