You'll want to use this easy Homemade Peach Ginger Vinaigrette on your favorite salad.  The combination of peach and ginger is amazing!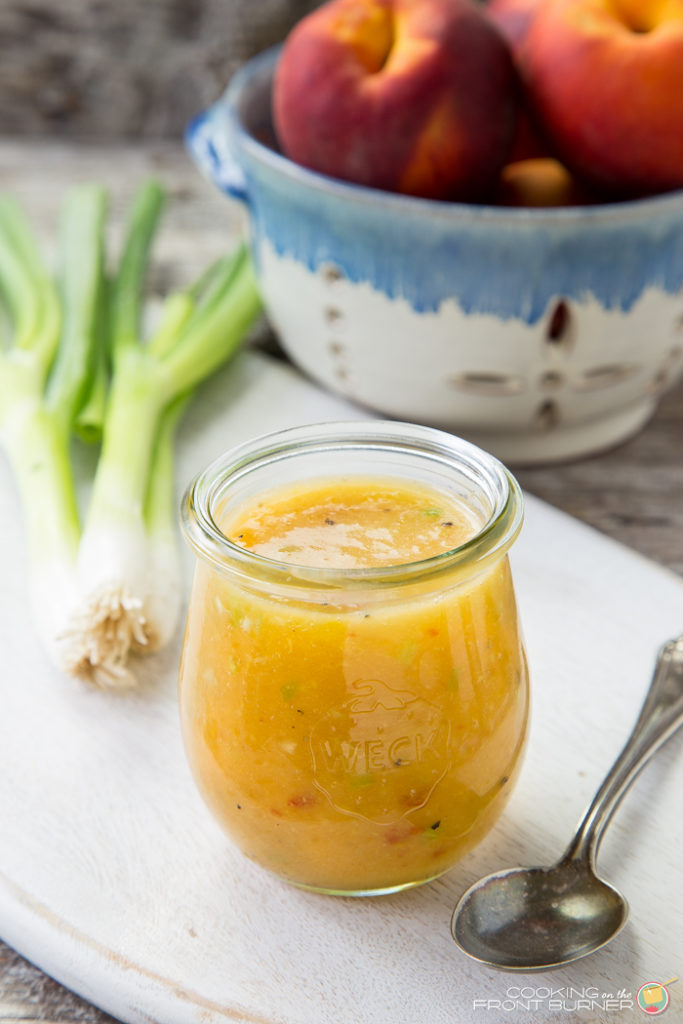 News alert - the peaches are here!  I was pretty excited the other day when I walked into Trader Joe's and saw the display of boxed peaches.  I've always had the best luck getting them there and hope they stick around for a long time - they are the juiciest and most flavorful ones ever.  Besides just eating them plain, I was inspired to create this Peach Ginger Vinaigrette from my Cuisine at Home magazine.  I'm always looking for new dressings to try and making homemade is super easy - peachy keen, right 🙂
While they say breakfast is the most important meal of the day, for me I think it is lunch.  When I'm organized and trying to eat right, I bring salads to work for my lunch break.  My typical salad consists of a spring green mix, blueberries, raspberries, strawberries, sliced red pepper, snap peas and some sort of protein - either a hard boiled egg or some grilled chicken.  It's a pretty tasty salad but I'm not a fan of heavy salad dressings or those reduced calories ones.  I prefer something on the light side full of flavor where just a couple drizzles will do.  I think I'm going to be loving this one all summer long!
Get creative too.  How about some cooked noodles, fresh peach slices, some diced grilled chicken or pork and a veggie like snow peas or red pepper?  I think this would be a perfect salad served cold and great to take along on a picnic.  You also might want to try marinading some cubed chicken or pork, then skewer/grill and serve on a bed of rice or quinoa.  This vinaigrette is so versatile so get your thinking caps on!
A fun little tid bit about me - I always needs something crunchy to go with lunch.  Whether it be some chips or pretzels.  Doesn't feel like my lunch is complete without that crunch!  Unless, of course, I can have french fries - those would win out any time!!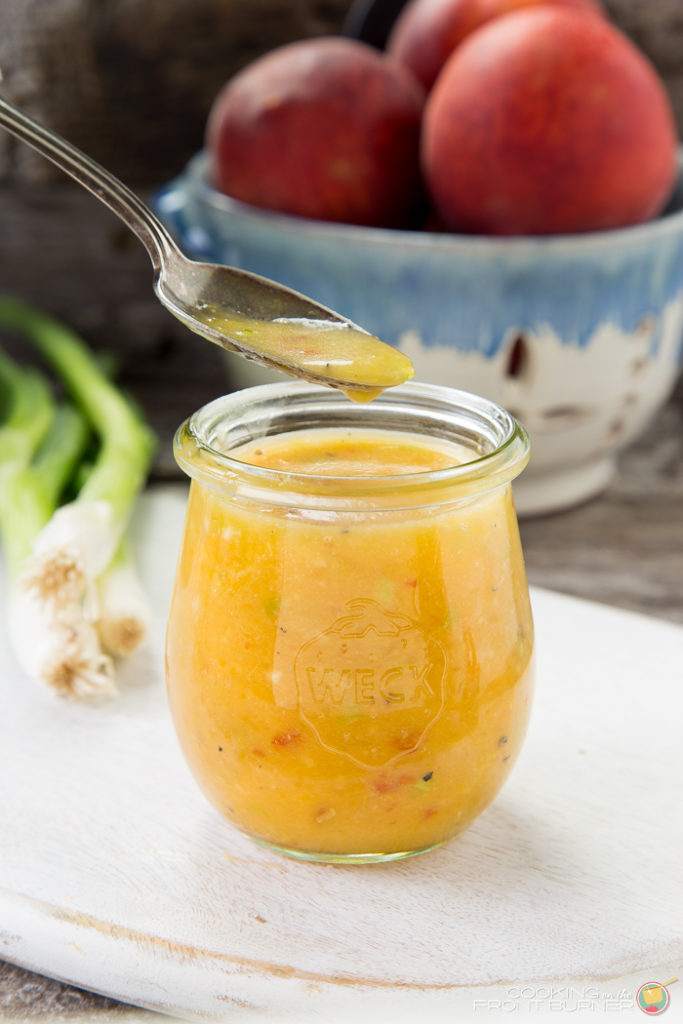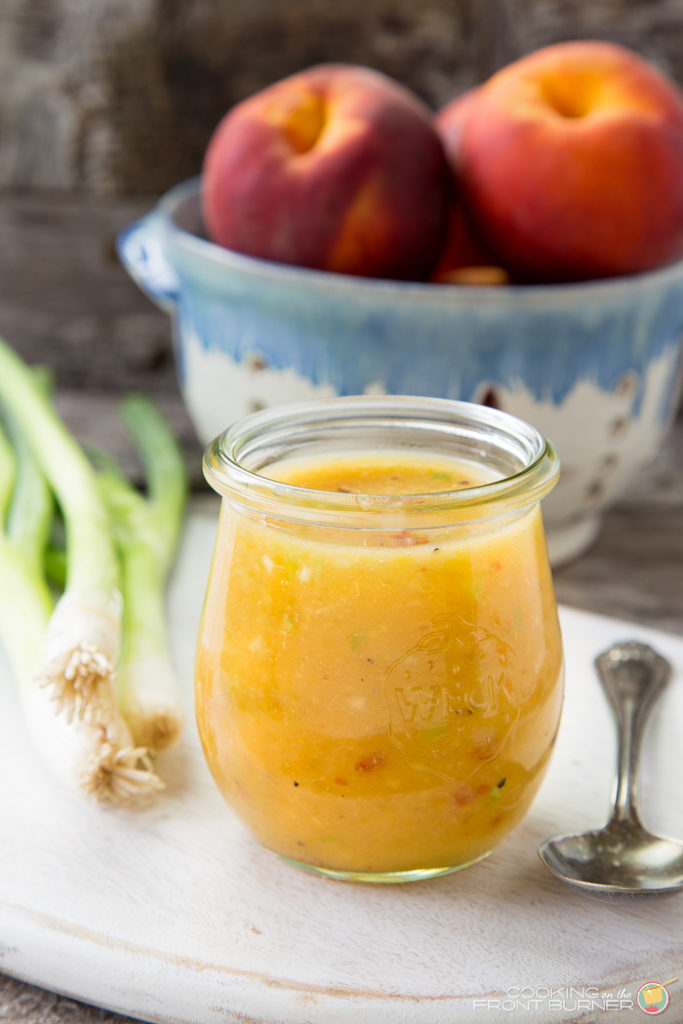 Get the Recipe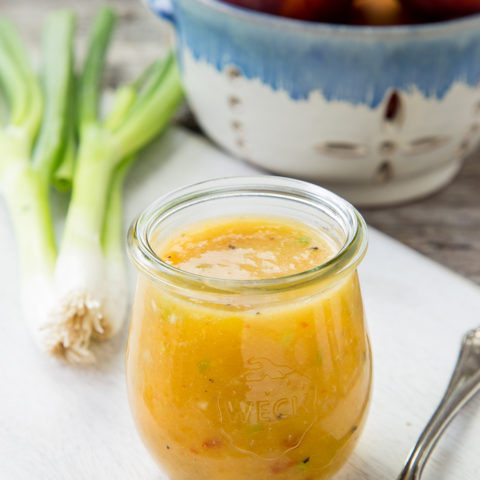 Peach Ginger Vinaigrette
A tangy dressing that tastes great on salads or use as a marinade
Ingredients
½ cup fresh peaches, peeled and chopped
½ cup peach preserves
¼ cup plus 1 Tablespoon rice vinegar
1 tablespoon minced scallion
2 tablespoons vegetable oil
½ teaspoon grated fresh ginger
½ teaspoon soy sauce
⅛ teaspoon salt
⅛ teaspoon pepper
½ teaspoon chili paste
1 teaspoon honey
Instructions
In a food processor puree the peaches and preserves
Add in the remaining ingredients and blend until smooth
Serve with salads or use as a marinade
Nutrition Information:
Yield:

12
Serving Size:

1
Amount Per Serving:
Calories:

79
Total Fat:

2g
Saturated Fat:

0g
Trans Fat:

0g
Unsaturated Fat:

2g
Cholesterol:

0mg
Sodium:

39mg
Carbohydrates:

14g
Fiber:

0g
Sugar:

8g
Protein:

1g
Nutritional information provided is computer-generated and only an estimate. You may want to do your own research with the ingredients listed if you have concerns about health or specific diets.

About the Author
Recent Posts
Recipe Index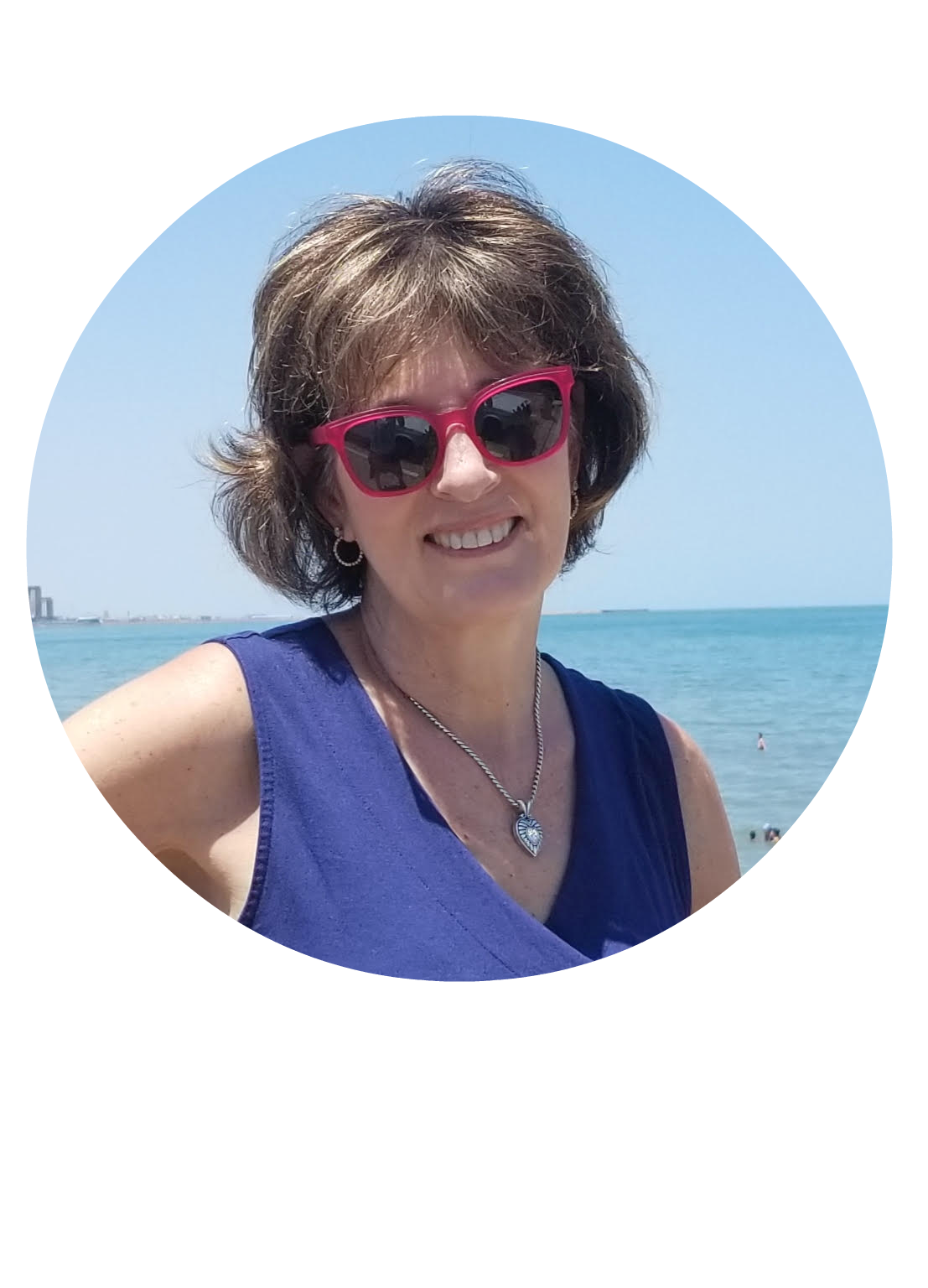 We are all about sharing our love of good food so on the blog you will find easy recipes to enjoy with your family and friends.  We hope to inspire you to host a gathering to create special memories.  Most recipes are step by step so you can feel confident in the kitchen.  Take a look around to find everything from breakfast to dinner and everything in-between!