Wake up sleepy head and enjoy this Orange Flavored French Toast - it's so good! It has a crunchy coating with orange zest.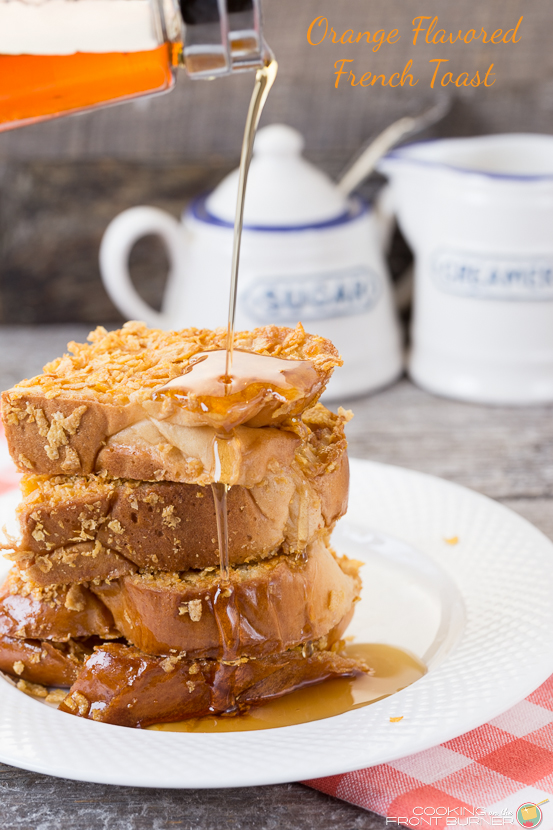 As you are trying to eat up your leftover ham, your leftover corn flakes from that cheesy potato casserole you made for Easter are feeling left out! It's always all about the leftover ham after a holiday. And while there are many recipes for that - what about the corn flakes?
When I made our cheesy potatoes this past Sunday, I was looking for a way to use up the box. Sorry, but plain corn flakes with milk just doesn't appeal to me! But this crispy french toast was a sure winner.
What also makes this breakfast so good is the bread. - it's not just your average slice of white bread but a nice thick slice of challah. If you aren't sure where to buy it, head over to Trader Joe's.
The texture is soft but chewy - though I'm not sure if that makes sense! But trust me, it makes the perfect french toast.
While you could eat them with no syrup since they have such great orange flavor, we love to pour some quality maple syrup over ours. (Note the recipe uses orange liqueur but you can substitute extract in its place)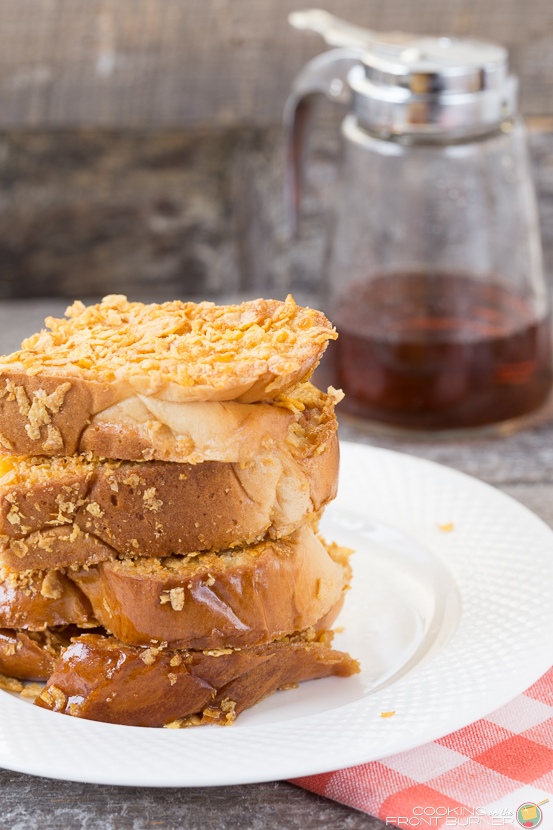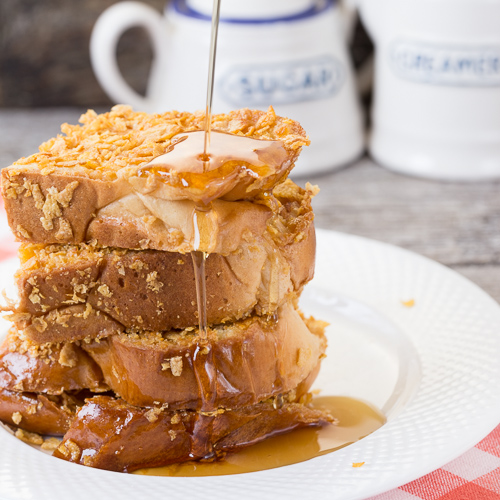 Now let's not let the ham feel left out, so here is a recipe you could use for those leftovers.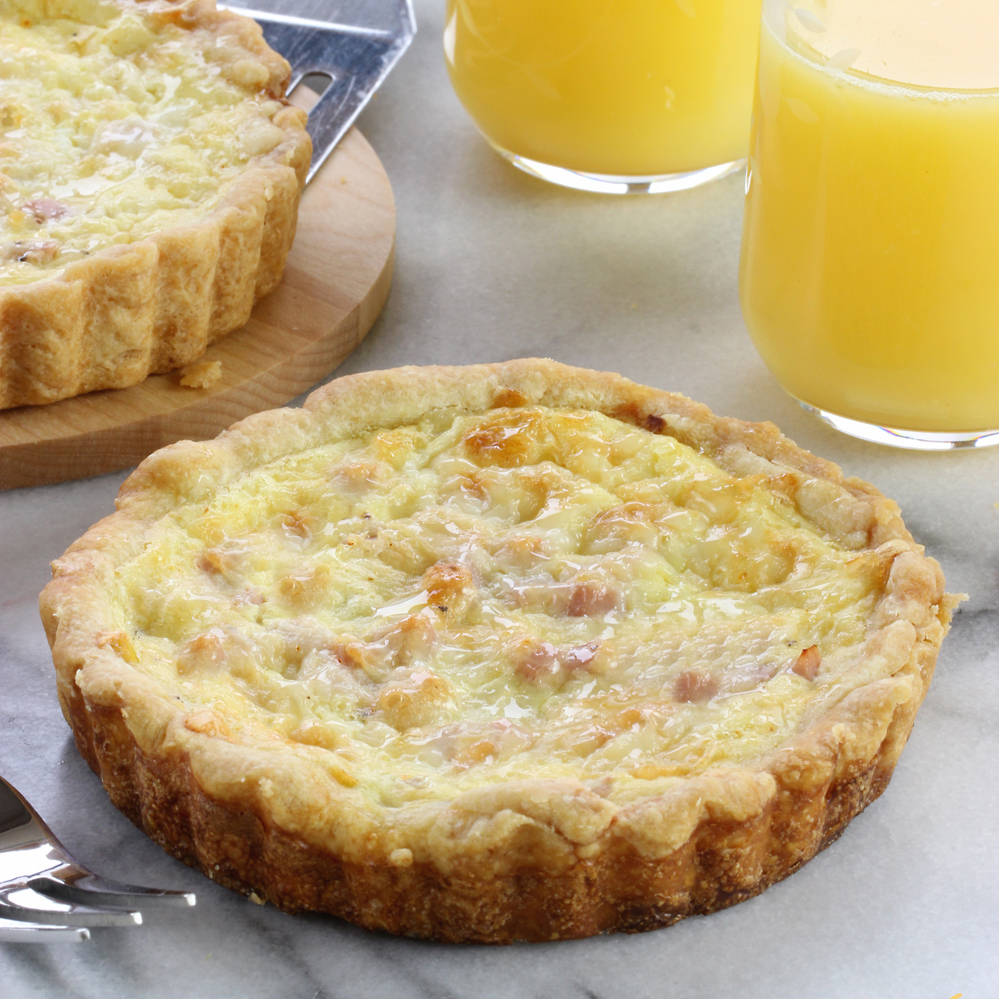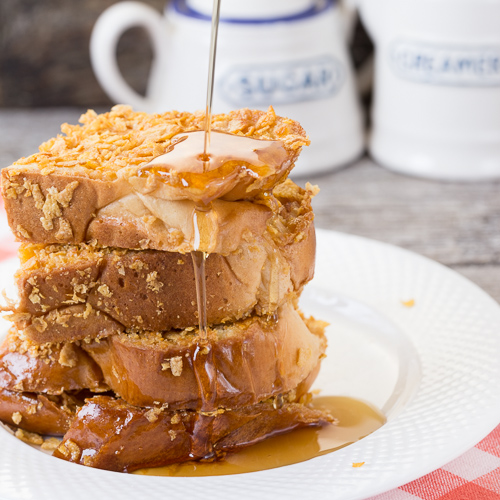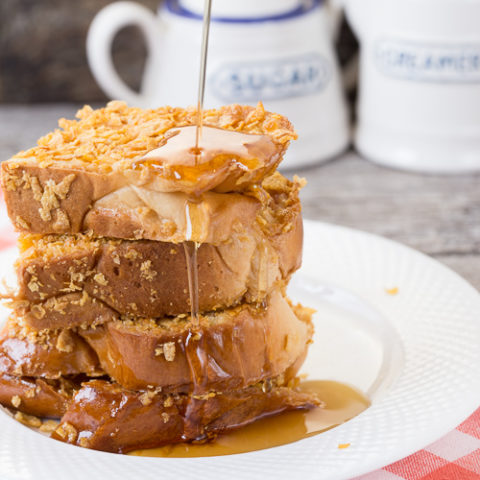 Crispy Orange French Toast
A tasty french toast with orange flavor!
Ingredients
4 beaten eggs
1 cup milk
2 tablespoons sugar
1 ½ teaspoons vanilla
1-2 teaspoons orange liqueur (or ½ teaspoon orange extract)
½ teaspoon cinnamon
2 cups crushed corn flakes
8 slices of challah bread (about ½″ thick)
1 tablespoon Butter
½ cup Maple syrup
Instructions
Preheat griddle over medium heat and add 1 tablespoon butter
Beat together the eggs, milk, sugar, vanilla, orange liqueur or extract and cinnamon in a shallow bowl.
Place crushed corn flakes in another shallow bowl
Dip bread (cook 2 slices at a time) in egg mixture about 3 seconds on each side and then press into corn flakes
Place on griddle and cook total for 6-8 minutes until golden brown and only turn once.
Serve with maple syrup
Repeat with remaining bread and add more butter to griddle as needed