This post may contain affiliate links. For more information, please visit my disclosure page.
Butternut squash orzo salad is a lighter fall salad recipe with spinach, orzo, Craisins and Gorgonzola cheese, topped with a creamy maple vinaigrette.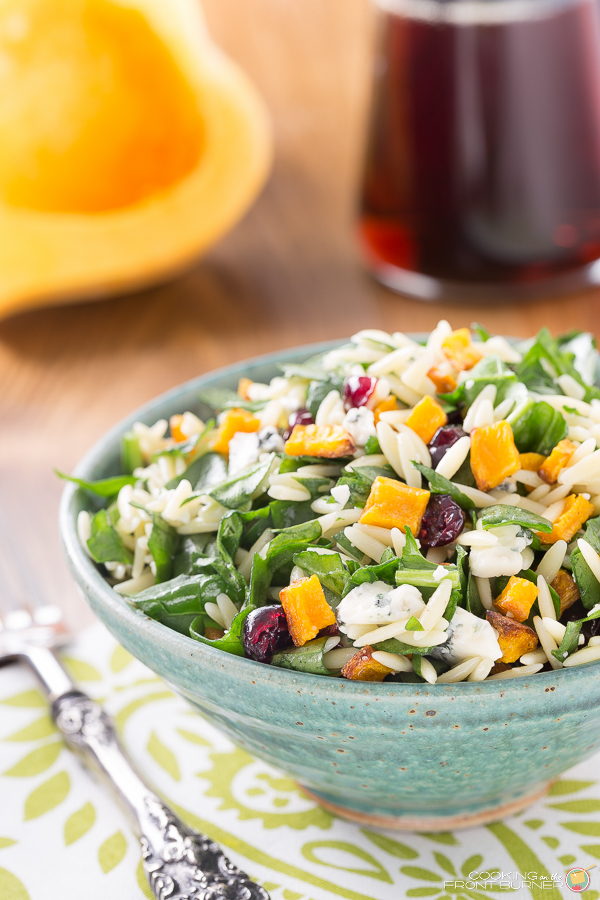 The holidays are coming, and I'm pretty sure I'll be indulging a bit more into sweets and other higher calorie food.  I'll be trying to balance it out with some healthier foods and that is where this Butternut Squash Orzo Salad with Maple Vinaigrette comes into play. It's a light and refreshing salad, perfect for lunch or as a side dish.  Butternut squash is available right now, so it's fun to come up with new recipes for the palate!  What's not to love about a healthier salad with fresh spinach, orzo, craisins, roasted squash, tangy gorgonzola and a creamy maple vinaigrette dressing?
This pasta salad recipe is quickly becoming one of my fall favorites.
So, say you are asked to bring a side dish to your next holiday gathering and you show up with this colorful butternut squash salad.  I think your host would be pretty pleased.  Another variation I thought of afterwards is using quinoa instead of the orzo pasta, to add some whole grains.  I'll be trying that sometime soon too!
Another dish that has been a hit is Roasted Butternut Squash with Cranberries.  It has such a sweet and tangy flavor.
I hope you enjoy this butternut squash orzo salad recipe!
Tip for cutting the squash for this butternut squash salad:
Cutting butternut squash can be a bit time consuming.  Once I peeled it, I cut in half vertically and used my mandoline on the 1/4″ setting to cut slices and then from there, I used a knife to cut the cubes.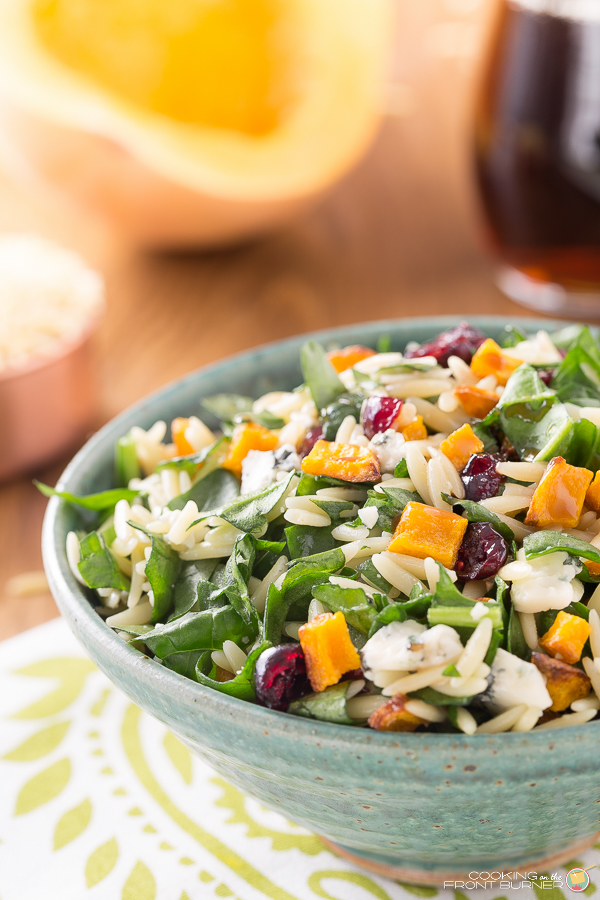 I ended up not using all the dressing.  Feel free to add in as much as you think you'll want, and save the rest to use on a green salad.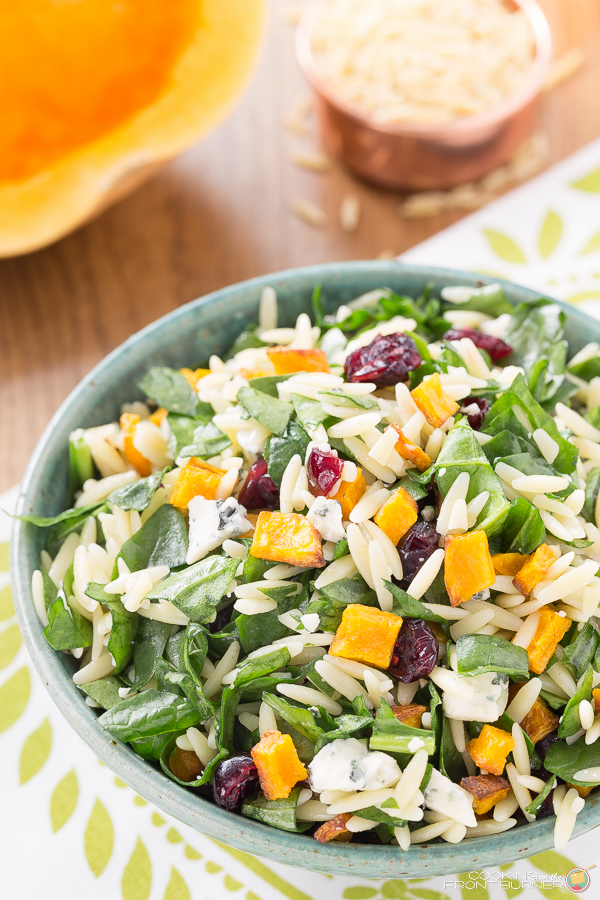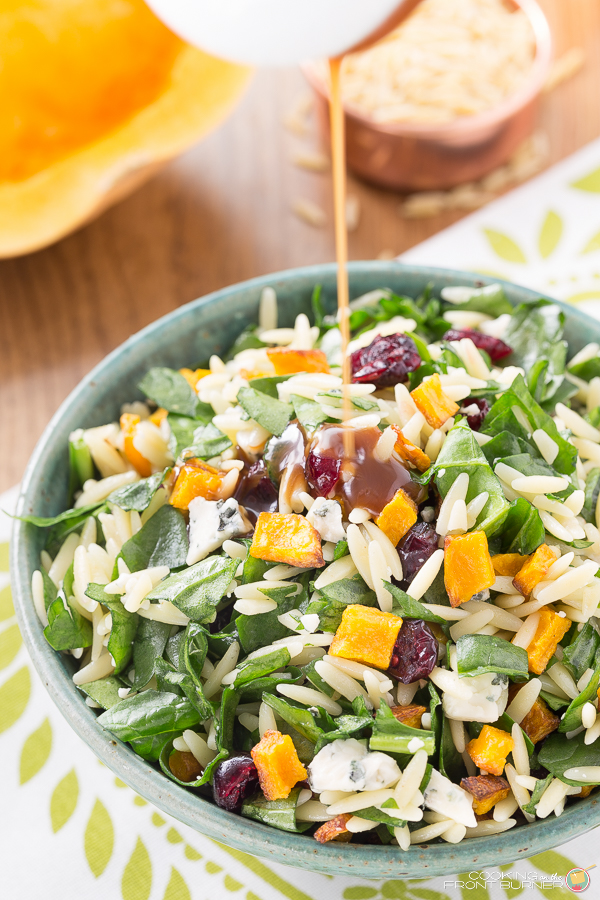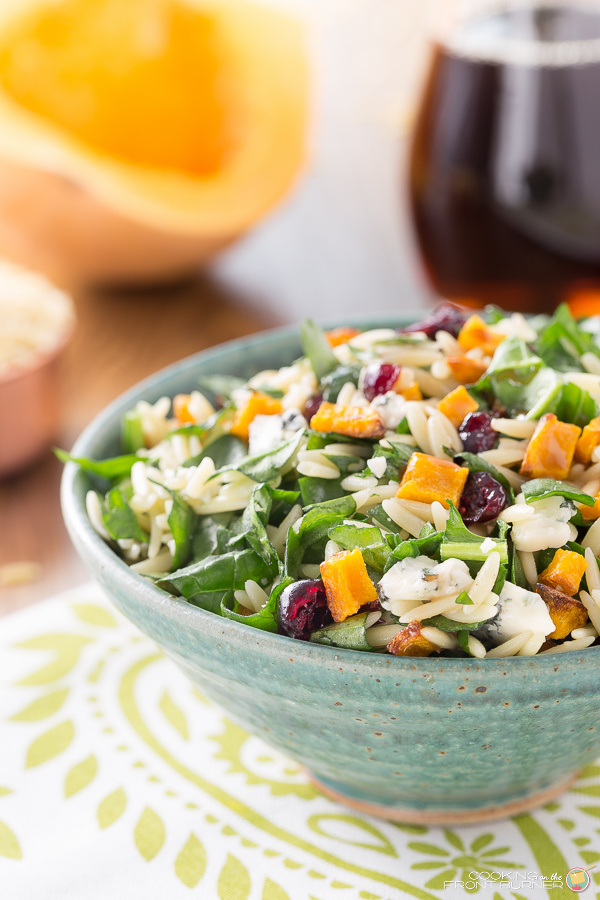 Butternut Squash Orzo Salad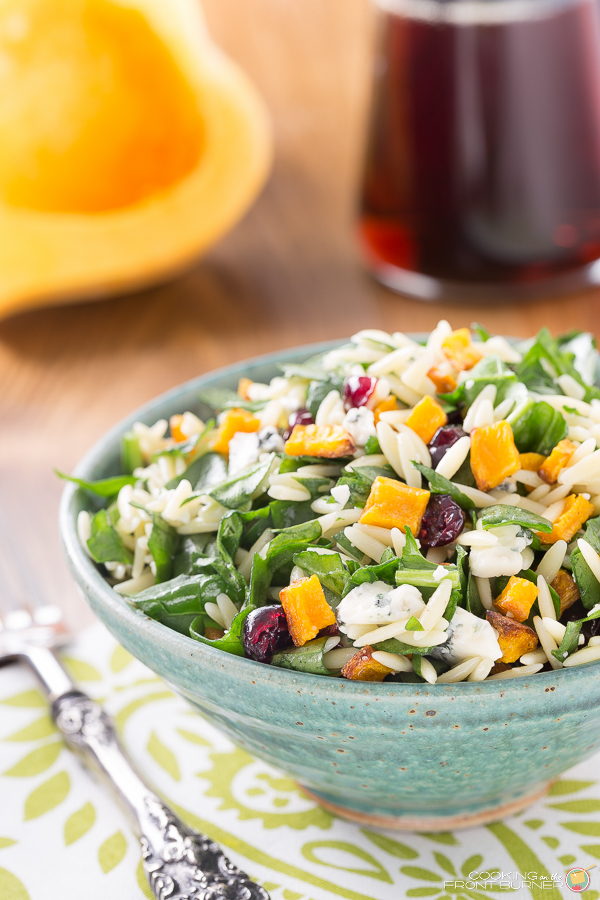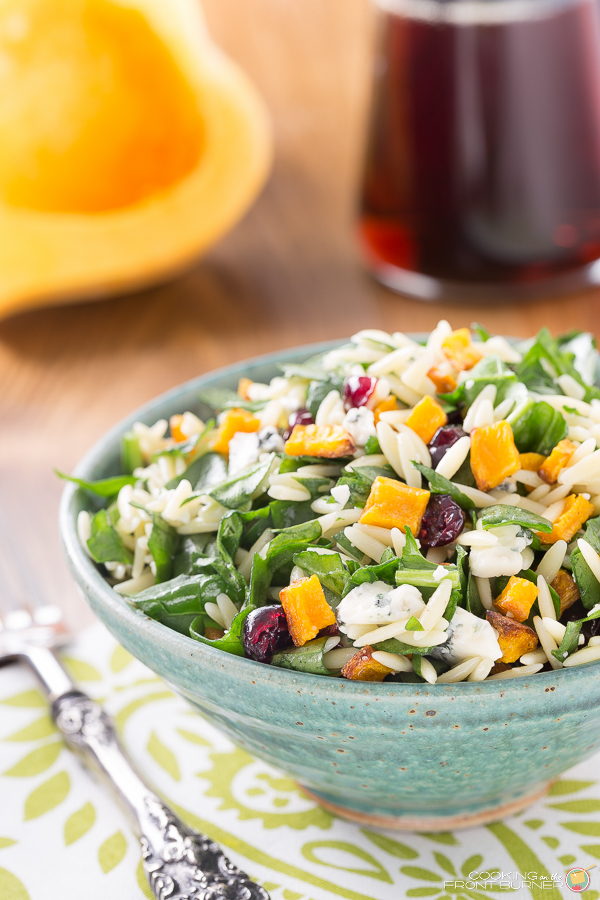 You will love this side dish salad with any meal!
Ingredients
2 1/2 cups diced butternut squash (1/4
1 1/2 tablespoons olive oil
1 cup orzo pasta (uncooked)
2 cups fresh spinach diced
1/2 cup dried cranberries
2 oz. gorgonzola cheese crumbled
1/4 cup real maple syrup
2 tablespoons balsamic vinegar
1 teaspoon dijon mustard
1/4 teaspoon salt
1/4 teaspoon pepper
1/4 cup olive oil
Directions
Preheat oven to 425
Mix diced squash and olive oil then spread onto a rimmed cookie sheet
Bake until squash is soft and starts to turn brown (between 20-30 minutes)
Remove and set aside
Meanwhile cook pasta according to directions. When done, drain and rinse well with cold water
Combine squash, drained orzo, spinach, dried cranberries and gorgonzola in a large bowl and toss with maple vinaigrette
To make vinaigrette, place syrup, vinegar, mustard, S&P in a small food processor, turn on blade and drizzle in olive oil until combined well
Recipe Notes
Here are some of my other favorite salad recipes you might enjoy: