Will you have one Blueberry Lemon Cream Cheese Muffin or two? These muffins are bursting with fresh blueberries, tangy lemon and cream cream!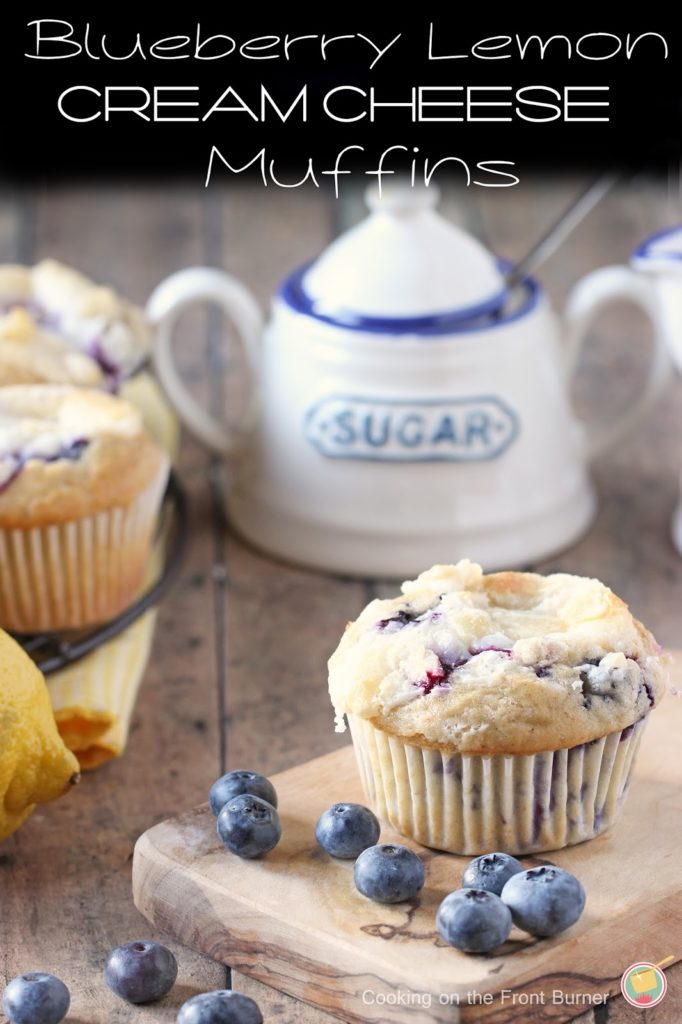 Summer might be over and your berry days are probably far behind and a distant memory but today I am bringing them back for one last day of glory!
It's not that you couldn't make these all year long but I'm sure most of us have moved onto our baking with apple and pumpkin recipes.
But if you find yourself craving some blueberries, be sure to put these Blueberry Lemon Cream Cheese Muffins on your to do list!
I originally found this recipe at my friend's Carrie's blog at Frugal Foodie Mama. I think these are one of her all time popular recipes and I can definitely see why. The blueberries, lemon, cream cheese along with a hint of ginger, makes for one great muffin! Perfect for breakfast, brunch or just snacking.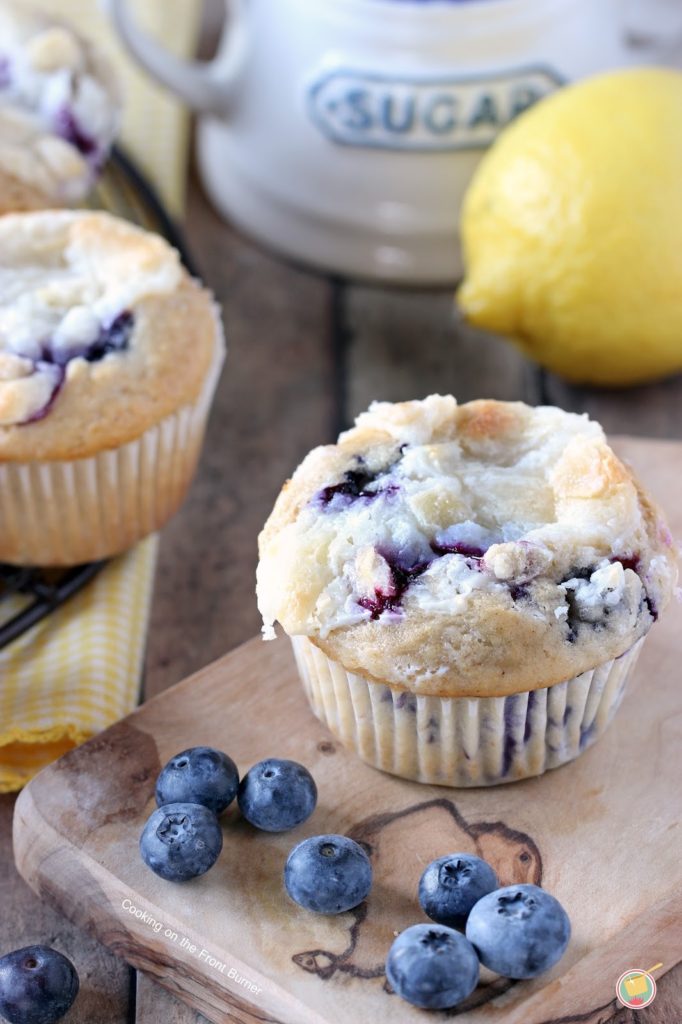 So are you going to say move over apples/pumpkins and give these a try! They won't disappoint!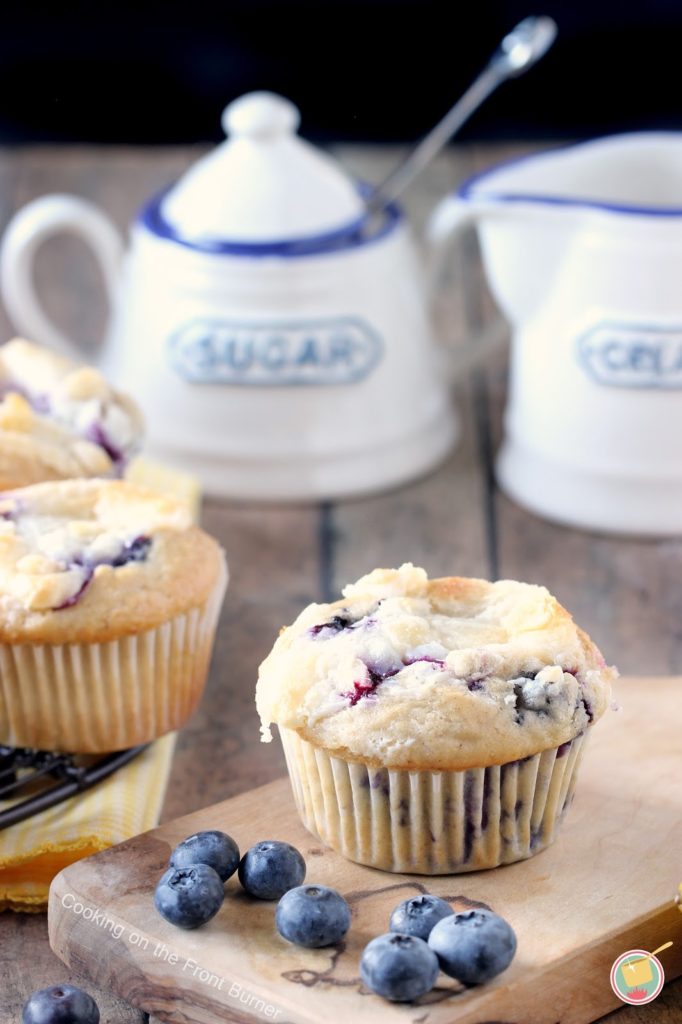 And if you happen to have some blueberries left over, you might want to make these Lemon Blueberry Poppy Seed Pancakes.....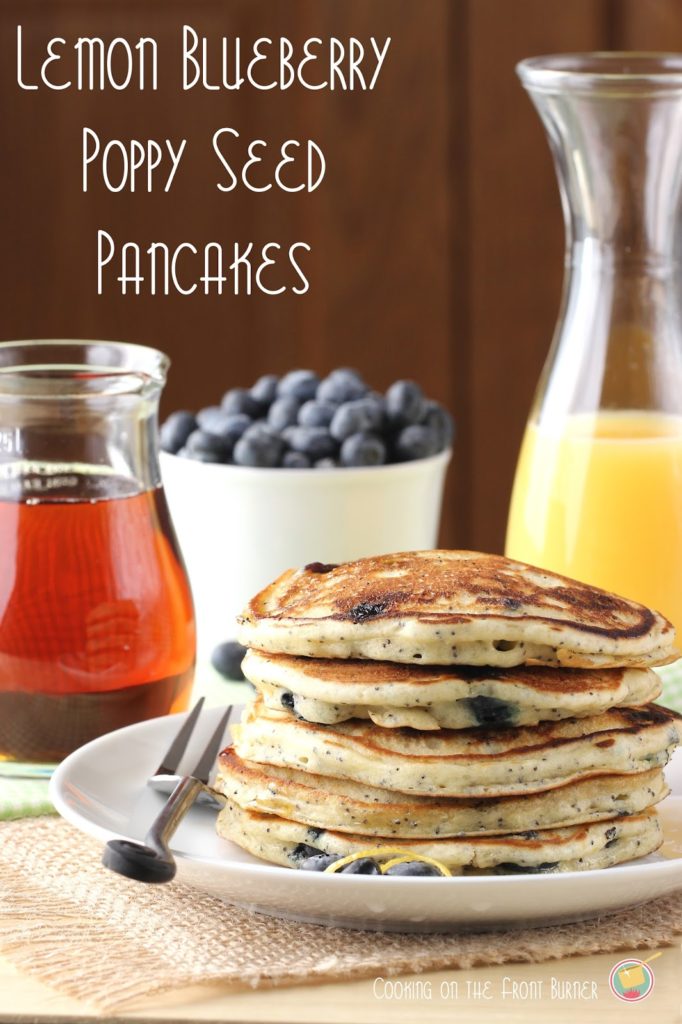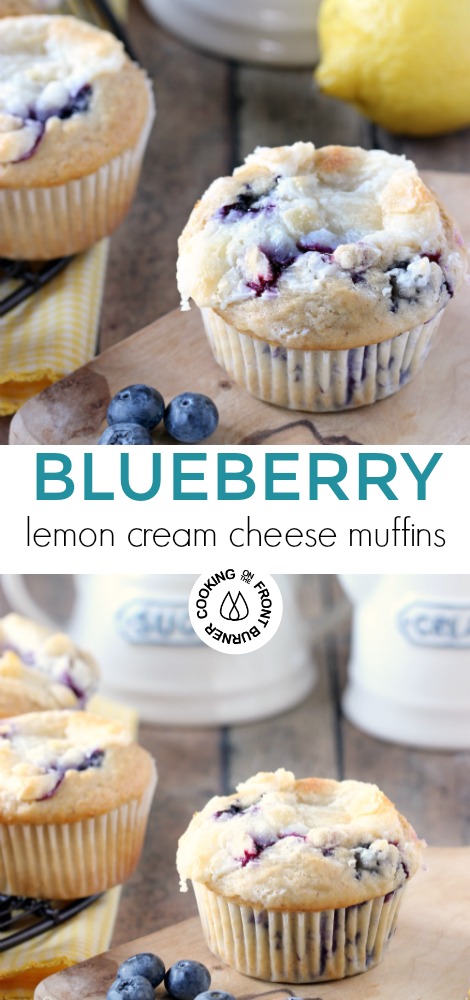 Get the Recipe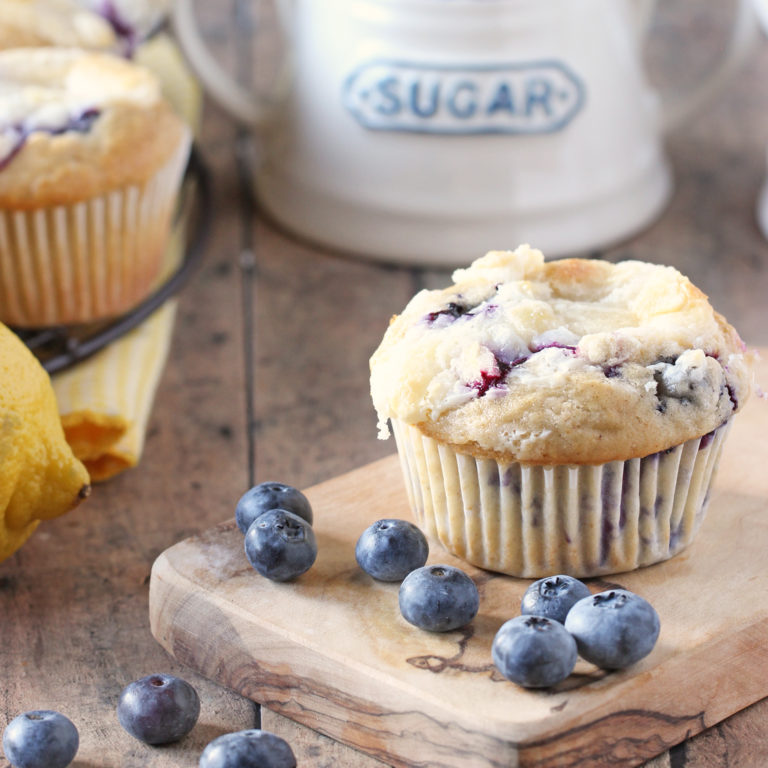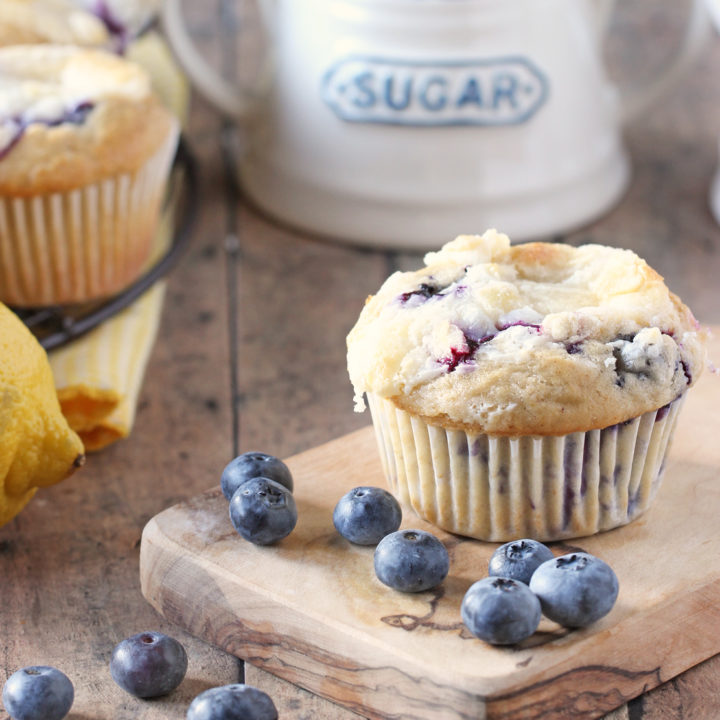 Blueberry Cream Cheese Muffins
A moist muffin bursting with lemon flavor
Ingredients
2 ½ cups flour
¾ cup sugar
1 ½ teaspoon baking powder
½ teaspoon baking soda
½ teaspoon ground ginger
½ teaspoon cinnamon
½ cup milk
2 eggs
¼ cup canola oil
1 teaspoon vanilla
½ cup ricotta cheese
Zest and juice of one lemon
1 cup of fresh blueberries
Crystallized or candied ginger
For the cream cheese "batter" use 8 oz of cream cheese, room temperature with 1 cup sugar
Instructions
Preheat oven to 375°
Line a muffin tins with liners (I got about 15 muffins from this recipe)
Whisk together the dry ingredients- flour through the cinnamon in a medium bowl and set off to side
Whisk together all the wet ingredients- the milk through the lemon juice and zest in a large bowl
Add by stirring the flour mixture to the wet ingredients a little at time – mix until it is just mixed but not overly.
Carefully stir in the blueberries
Beat the cream cheese and sugar together until nice and creamy with an electric mixer. Gently fold half of the cream cheese "batter" into the blueberry muffin batter.
Fill each muffin cup in your pan about ⅔ of the way full
With the remaining "batter" drop about 1 tbl on top of muffin and swirl on top – pressing down a bit too
Sprinkle the tops of the muffins with the chopped crystallized or candied ginger and gently press them into the tops of the muffins with a spoon
Bake for 30 minutes at 375 degrees, turning your muffin tin once halfway through baking. The muffins are done when a toothpick comes out clean and the tops are golden colored but not too brown
Allow the muffins to cool in the pan for about 5 minutes and then transfer them to a wire rack to cool completely
Store in an airtight container in the refrigerator
About the Author
Recent Posts
Recipe Index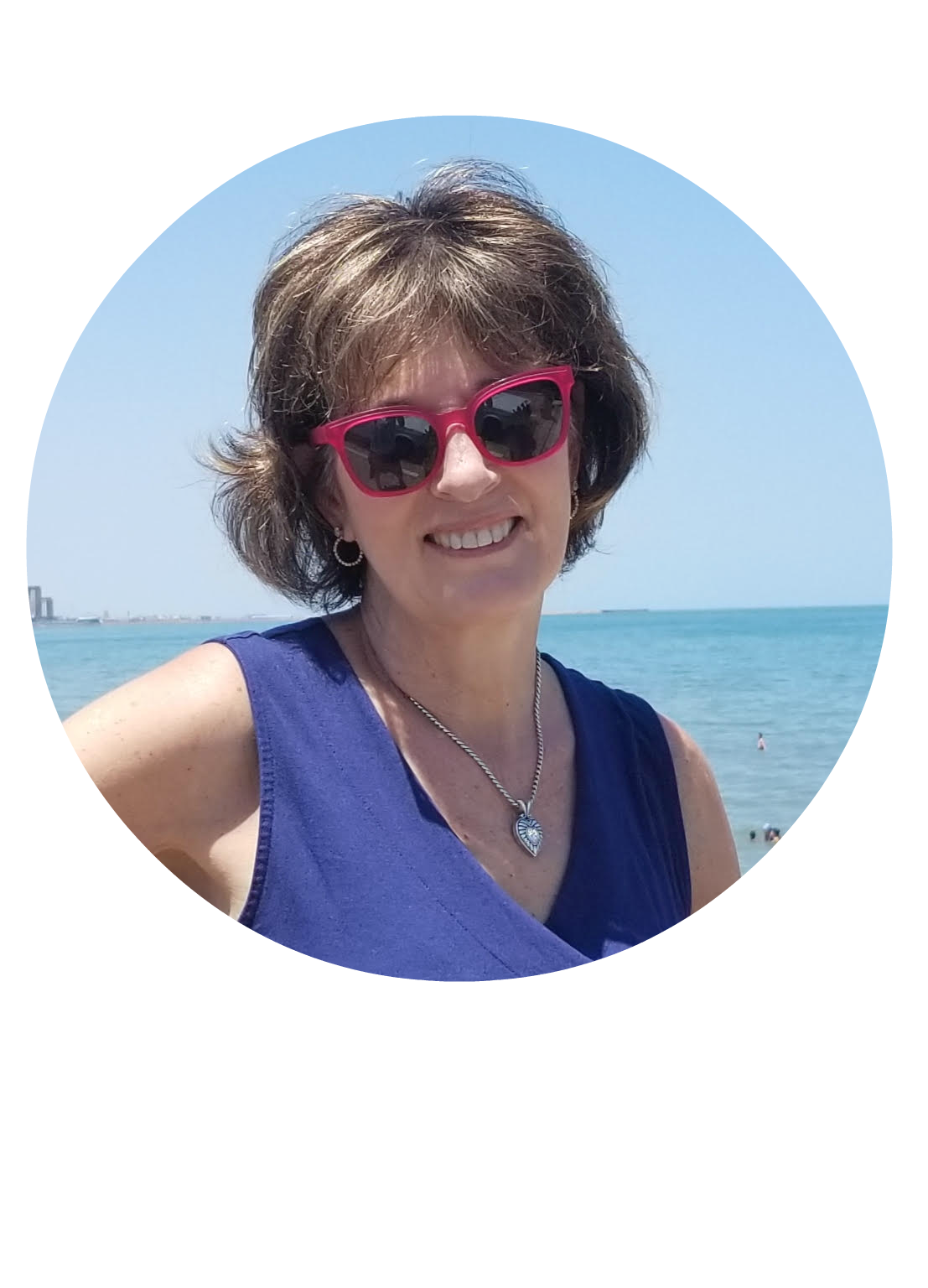 We are all about sharing our love of good food so on the blog you will find easy recipes to enjoy with your family and friends.  We hope to inspire you to host a gathering to create special memories.  Most recipes are step by step so you can feel confident in the kitchen.  Take a look around to find everything from breakfast to dinner and everything in-between!