Just like the fair but only healthier, these Cinnamon Sugar Mini Donuts are easy to make, light and fluffy!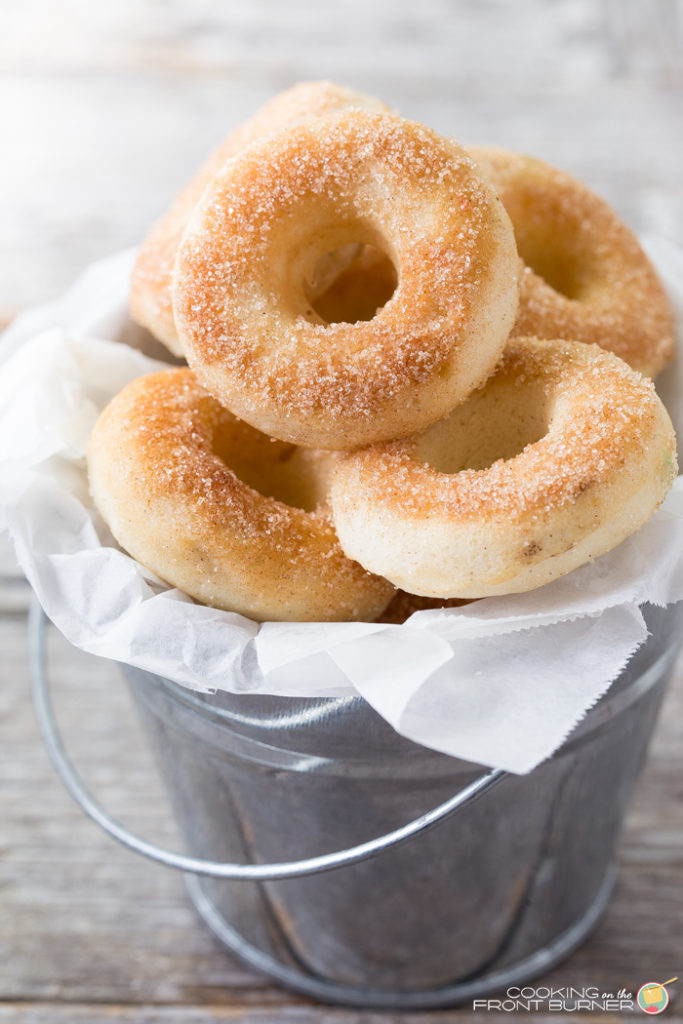 It's just a few short days away with what is called "The Great Minnesota Get Together" aka the State Fair. The first thing that comes to mind (that isn't on a stick!) are these Cinnamon Sugar Mini Donuts. These are a staple at any fair and carnival but what makes these a bit healthier, but just as tasty, are that these are baked and not fried. Yes I know fair food is all about the deep frying and eating all those foods you might wait yearly for and I do get that - really! It's some people's favorite time of the year. While we haven't been to the fair in a looooong time, I still like some of the food and that is where these mini donuts that I can make at home comes in. Lower calorie so I can eat more, right?
So let's say you are going to the fair - what is your favorite food - cheese curds, corn dogs, cotton candy, etc? This year when I was looking at the fair website I found some NEW foods that looked fantastic. How does Candied Bacon Donut Sliders sound? Or Cheesy French Onion Monkey bread? While those sound ah-mazing, I would definitely be skipping the SPAM curds. Not a fan but I know that the DIY Guy would be willing to give them a try.
With the fair starting, that always means summer is coming to an end - Oh please say it ain't so! This summer, like the ones before this, always go way-to-fast! While fall is one of most favorite times of the year, I'm not ready for summer to be over. I'm still hoping to get that 2nd bike ride in (can't believe I've only gotten out once this year) Oh well, I need to get in 'gear' and just make it happen!
Back to the donuts - you might remember last month that I made Mini Olympic Donuts. This is the same recipe but instead of icing and sprinkles, I brushed the tops with a bit of melted butter and then dipped in a cinnamon and sugar mixture.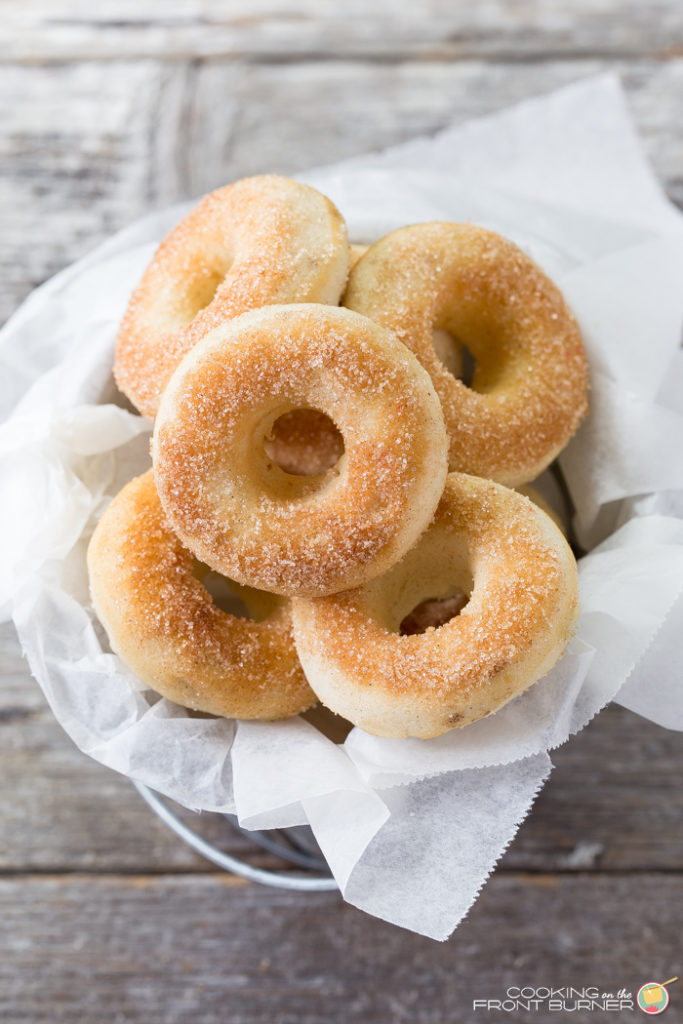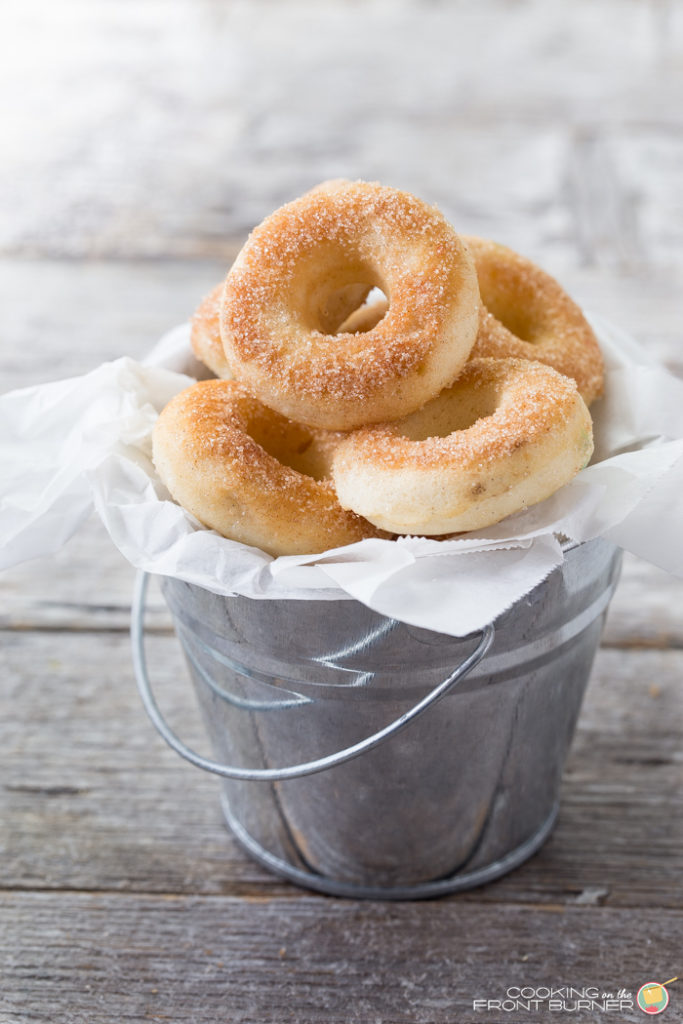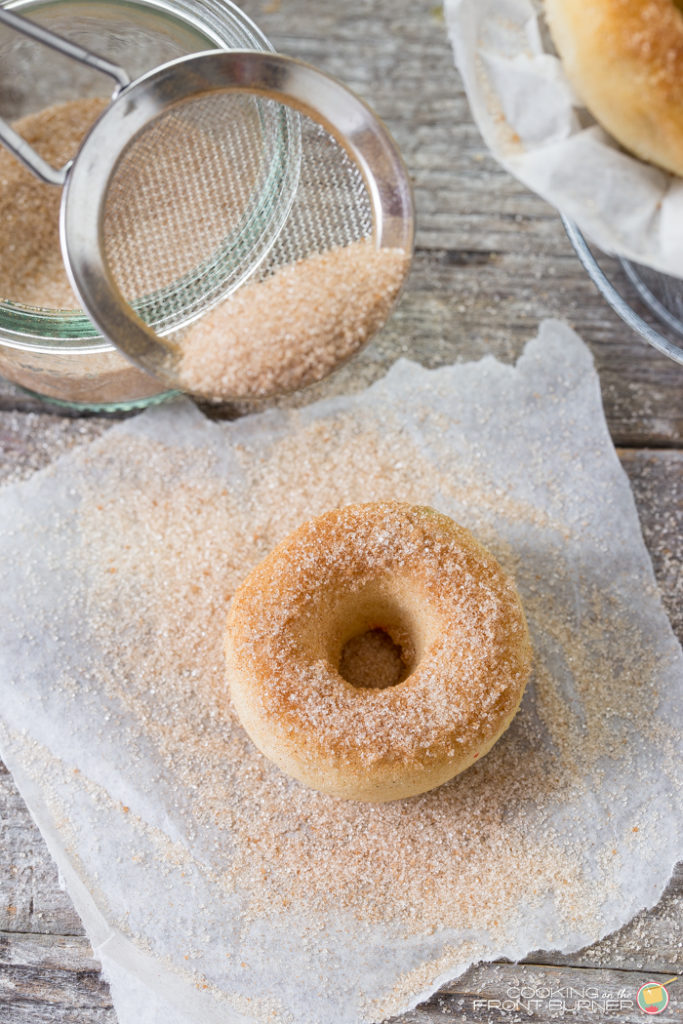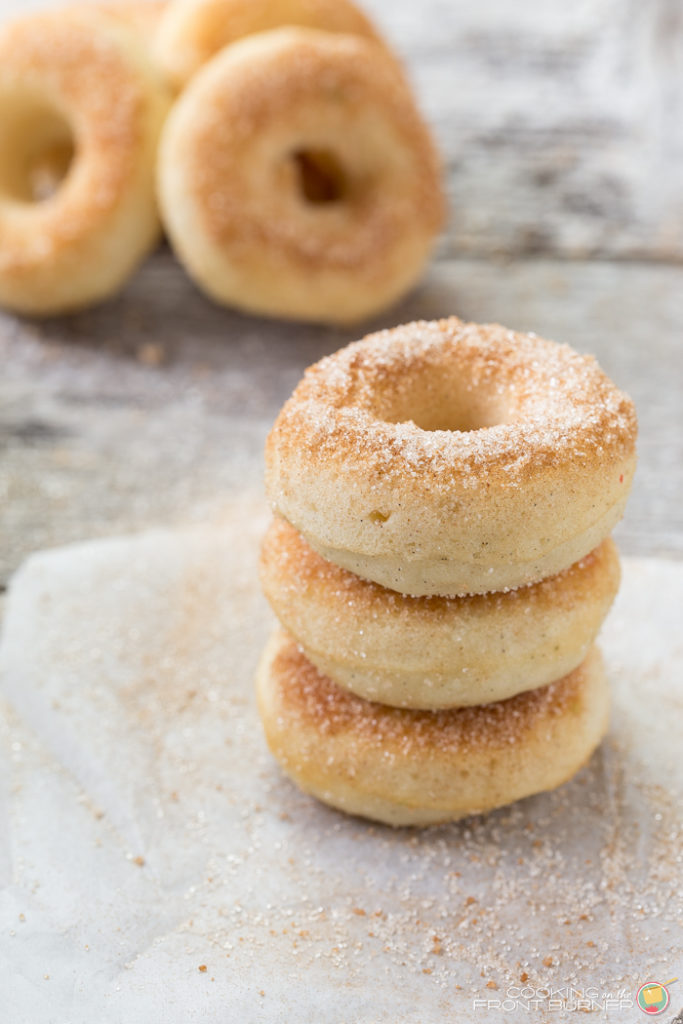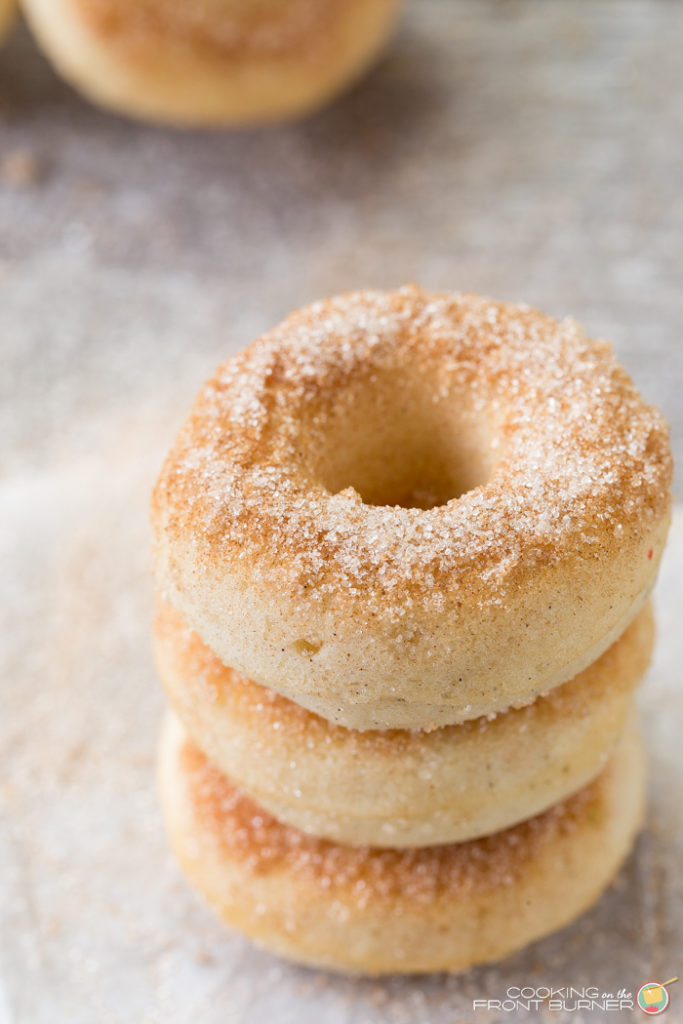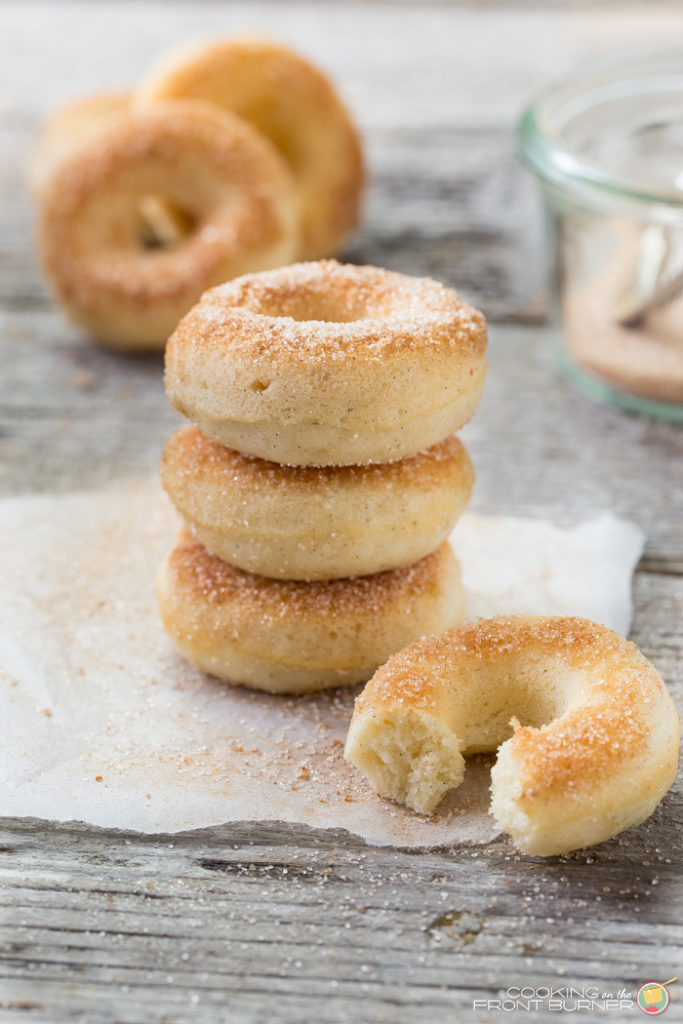 Enjoy the rest of our summer!! Get out there and make the most of it!!
Get the Recipe
Cinnamon Sugar Mini Donuts
These mini donuts are just like you would get at the fair but they are baked not fried!
Ingredients
3 tablespoons melted butter
¼ cup melted coconut oil (Or vegetable)
¾ cup sugar
2 eggs
1 teaspoon vanilla extract
Seeds one from vanilla bean (or add another teaspoon extract)
1 ½ teaspoon baking powder
¼ teaspoon baking soda
¼ teaspoon salt
¼ teaspoon nutmeg
½ cup sour cream
½ cup milk
2 ½ cups flour
2 tablespoons butter
¾ cup sugar
2-3 tablespoons cinnamon
Instructions
Preheat oven to 400 and spray with PAM a mini donut pan
In a large bowl beat the butter, oil and sugar until smooth then add in the eggs one at a time and beat well
Next mix in the extract and vanilla seeds
Add in the baking powder, baking soda, salt and nutmeg and mix well
Add in the sour cream and milk and again mix well
Stir in by hand the flour until it is mixed but not overly so (the mixture will be somewhat thick)
Place mixture in a baggie and snip the end off
Go around each donut mold until it is filled up only half way
Bake for 8 minutes
Remove from pan and cool on wire rack (I only have one pan and had to reuse it 4 more times to use up the batter)
Melt the 2 tablespoons butter
When donuts are cooled, brush the tops with a bit of melted butter and dip tops into the cinnamon sugar mixture
Recommended Products
As an Amazon Associate and member of other affiliate programs, I earn from qualifying purchases.
Nutrition Information:
Yield:

12
Serving Size:

1
Amount Per Serving:
Calories:

318
Total Fat:

12g
Saturated Fat:

8g
Trans Fat:

0g
Unsaturated Fat:

3g
Cholesterol:

50mg
Sodium:

190mg
Carbohydrates:

48g
Fiber:

2g
Sugar:

26g
Protein:

4g
Nutritional information provided is computer-generated and only an estimate. You may want to do your own research with the ingredients listed if you have concerns about health or specific diets.

About the Author
Recent Posts
Recipe Index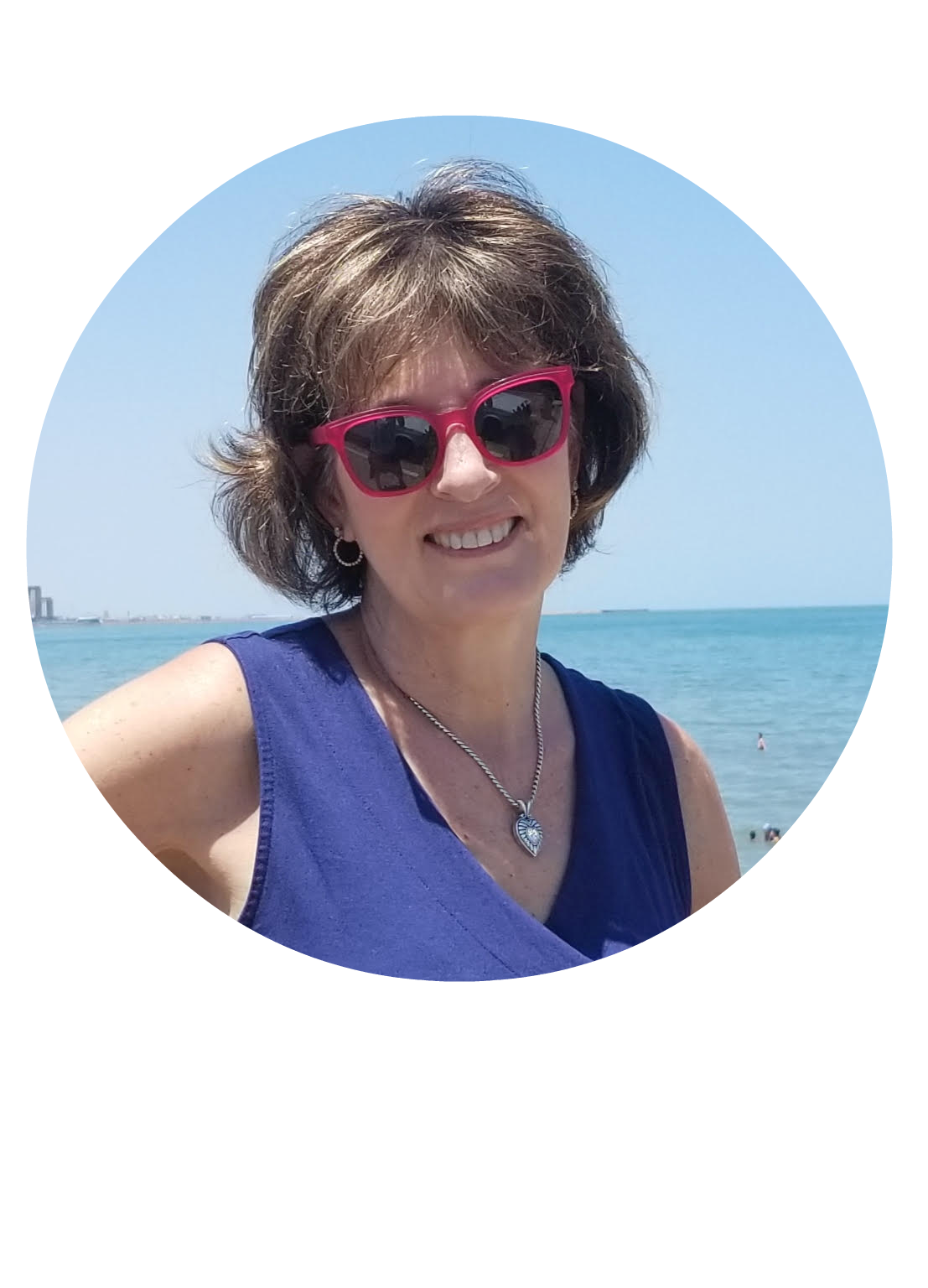 We are all about sharing our love of good food so on the blog you will find easy recipes to enjoy with your family and friends.  We hope to inspire you to host a gathering to create special memories.  Most recipes are step by step so you can feel confident in the kitchen.  Take a look around to find everything from breakfast to dinner and everything in-between!