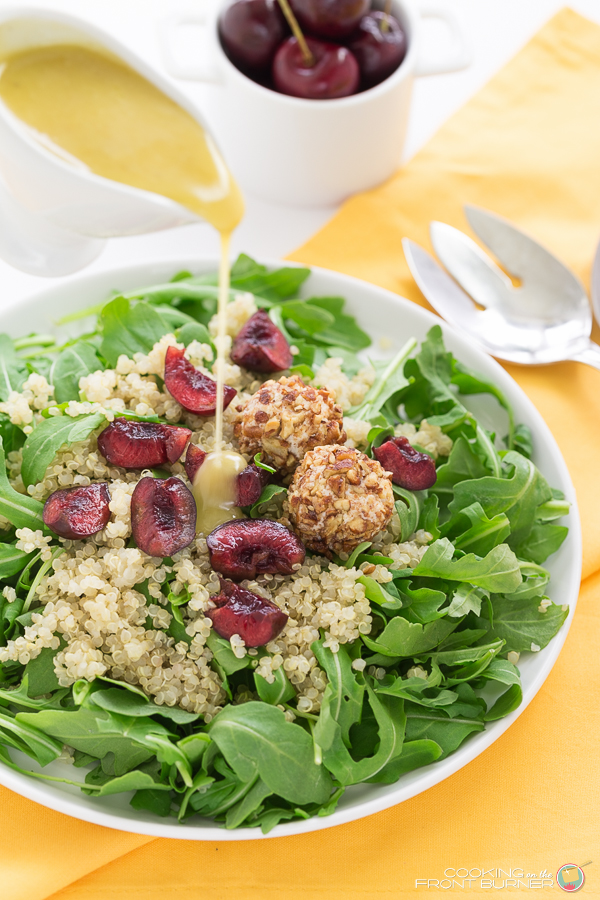 How is your summer going? Getting to do all you want? Sun, fun, vacationing, relaxing, etc.? It's the most wonderful time of the year, right (not ready for Christmas yet!) We've been super busy hence the lack of blog posts. I can't believe this is only the 3rd recipe this month but I think it was worth the wait. This Arugula Quinoa Salad with Fresh Cherries has it all and on the healthier side too! So enjoy what's left of summer and when you are looking for a quick and tasty salad, you've come to the right spot!
Some of our busy times this summer included a cabin vacation up north (MN), helping our daughter and son-in-law move into their new home, seeing friends and this weekend we are headed to PA for my father-in-law's 80th birthday… shhh it's a surprise! I honestly don't mind all the hubbub. Life is meant to be enjoyed. I can rest when I'm 80 – maybe 🙂 But I do know I'll be back more in the kitchen next month! I'm beginning to think up some new fall recipes. Stay tuned.
Arugula Quinoa Salad with Cherries
Prep Time: 10 minutes
Cook Time: 15 minutes (quinoa)
Yield 2 salads
Recipe Inspiration from Kiss My Spatula
Ingredients
Arugula (enough for 2 salads)
1/2 cup cooked quinoa cooled
1/2 cup pitted fresh cherries, quartered
Goat cheese
Honey Pecans, chopped
2 tablespoons fresh lemon juice
2 tablespoons honey
1 tablespoon dijon mustard
2 tablespoons olive oil
1 tablespoon fig preserves (or jam)
salt
pepper
Instructions
Divide on two plates the arugula, quinoa and cherries
Form a small ball of goat cheese with your hands and roll into chopped pecans
Set on top of salad
In a food processor combine the lemon juice, preserves, mustard, and honey
While blade is running, slowly add in the olive oil until combined
Season with salt and pepper to taste
Drizzle over salad
Are you a fan of quinoa? I love it in my salads. Right now I have a bowl in the refrigerator so when I make my lunch salad for work, I can toss some in.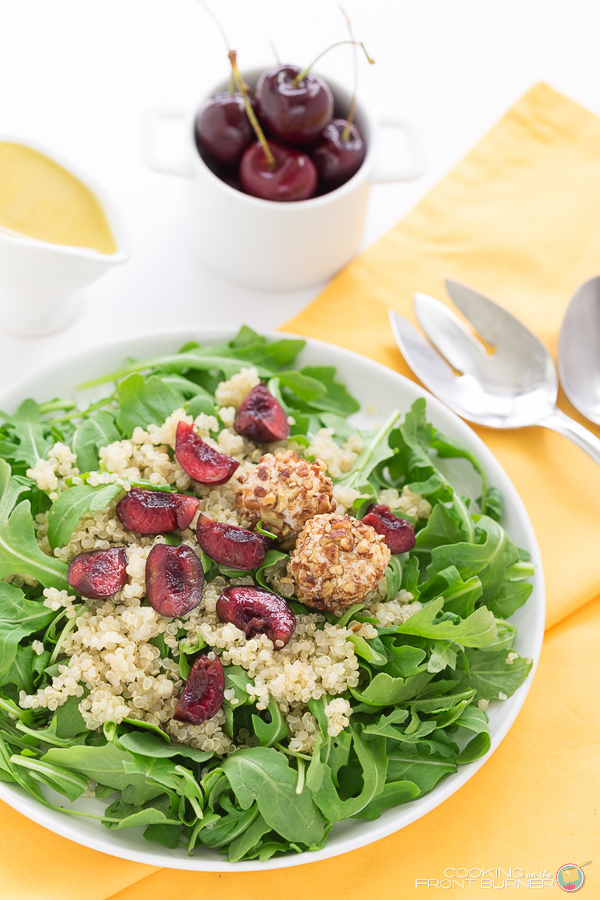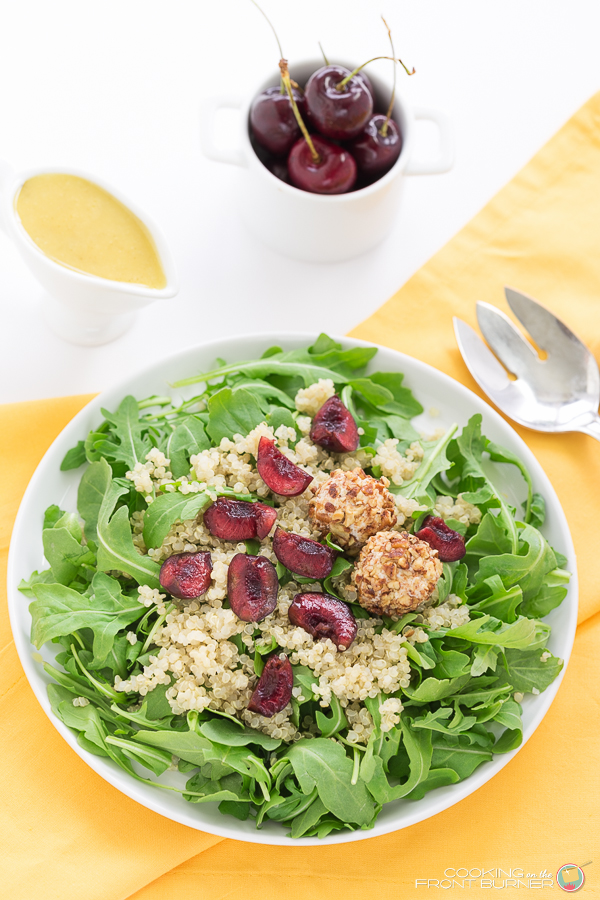 I think you will really love this dressing too – it light and creamy with a honey mustard flavor. It compliments the salad perfectly and would be good for other salads as well.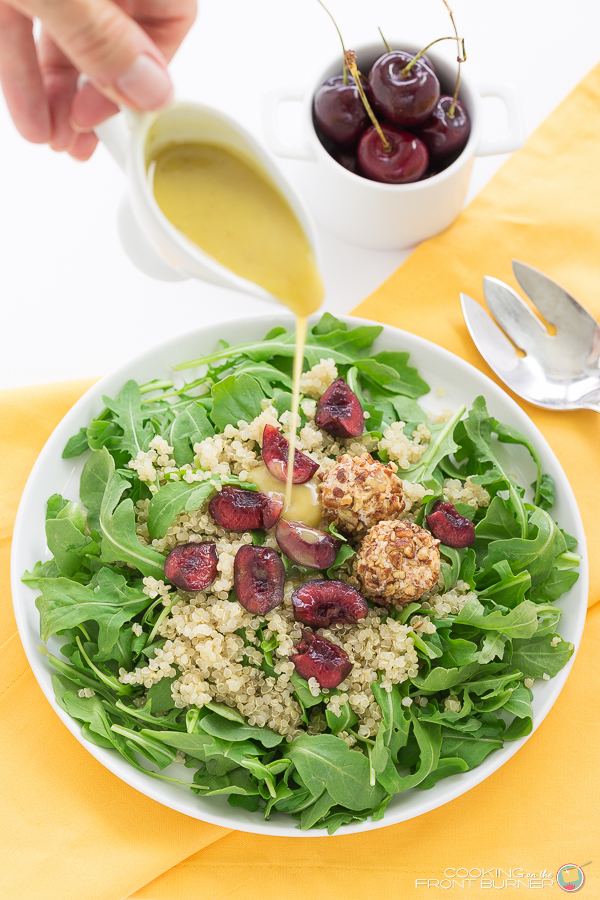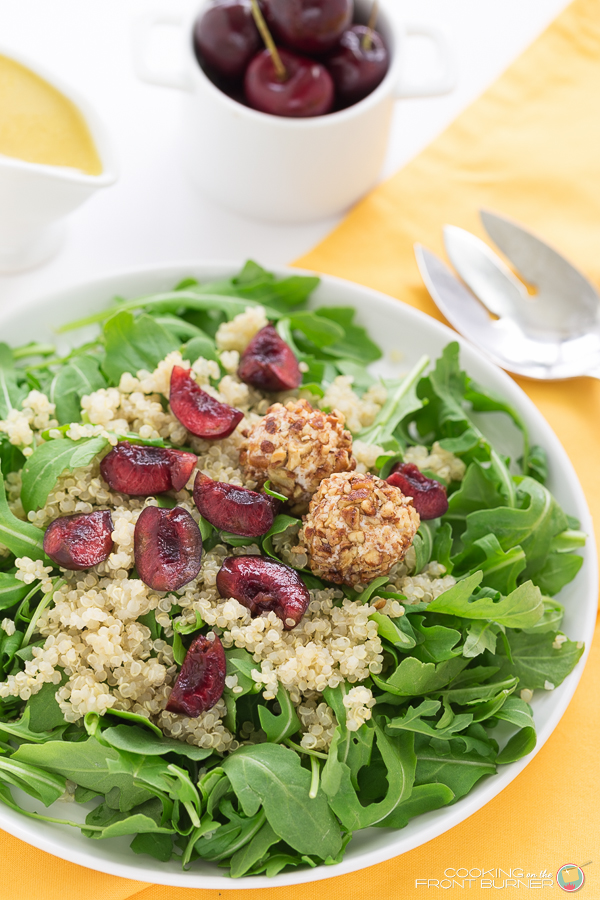 Some other recipes you might enjoy: