Breakfast is a lot more delicious with these Apple Pancakes with Apple Maple Syrup.  Even the sleepiest person in the house will wake up to eat!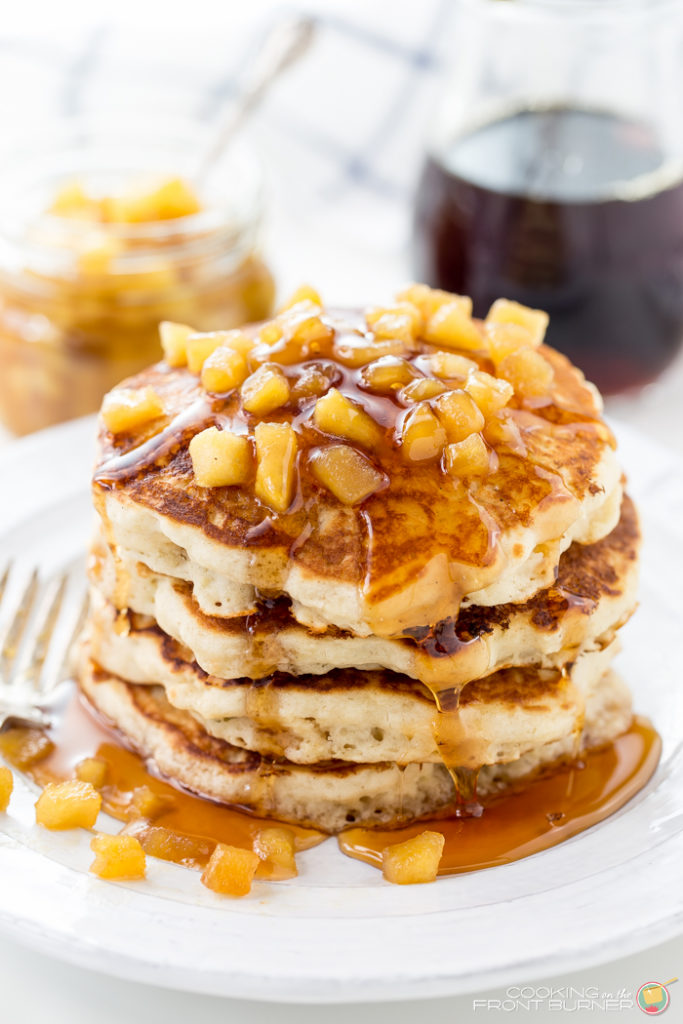 Ladies and gents start your griddle as you are in for a real treat today!  We love these Apple Pancakes with Apple Maple Sauce.  They are the fluffiest pancake recipe I have ever tried and the apple topping sauteed in maple syrup is fantastic.  Don't wait for breakfast, have these any time your heart desires.  And in our case they were an afternoon snack.  Yep, you know being a food blogger means you might not be able to make and take pictures for the actual meal and this was one of those time.  Of course my taste tester never turns down the 'goods' even if it is close to dinner time.  Trust me – you, your family and friends will flip over this tasty recipe.
About a month ago and I went to the "cities" (aka Minneapolis) with a couple friends and went to a shopping area called 50th and France in Edina.  Lots of fun shops including Sur la Table, Chicos, some antique stores plus a grocery store called Lunds and Byerly's – it was the first time I had stepped foot into one but had certainly heard how great they were.  On the way in I picked up a complimentary Real Food magazine where I came across this recipe.  I'm always looking for ways to use up apples.  We have one lone tree in the yard but it looks like it has about 250 apples on it!  While we love crisps, pie and applesauce, it's sure nice to have some other recipes on hand.
I wasn't kidding either when I said these were the fluffiest I've ever made.  You will be able to see in one of the pictures below from a side angle.  I think I'll be using and tweaking this recipe for future pancakes.  We love 'em fluffy!
Oh and about that shopping trip, I 'won' as I had the most purchases of the day!  But maybe the DIY Guy wouldn't think so 🙂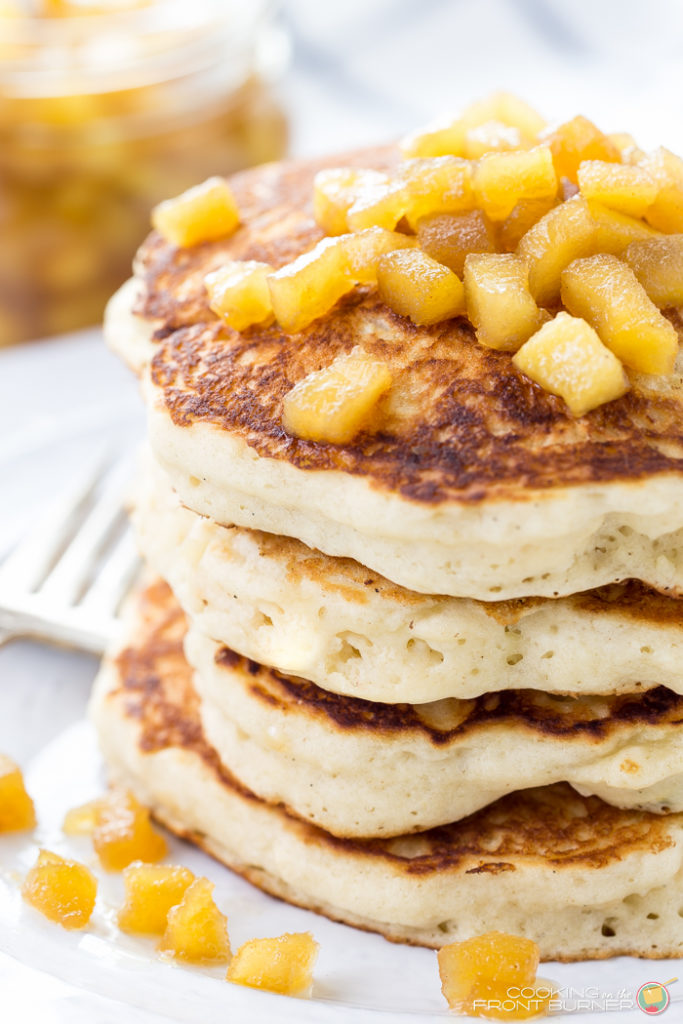 Time for the syrup.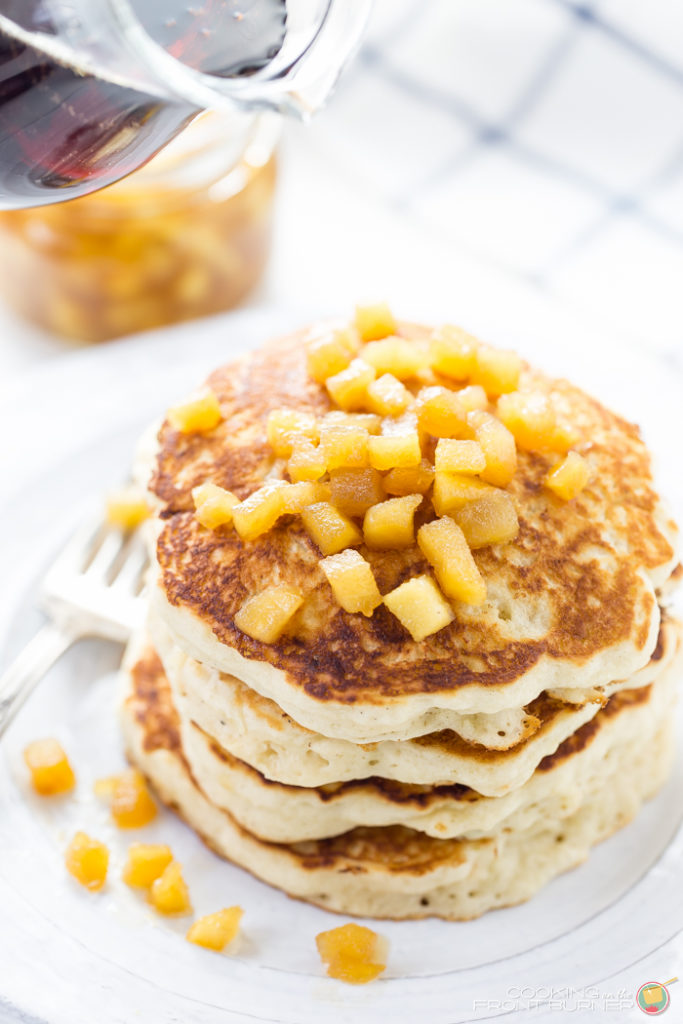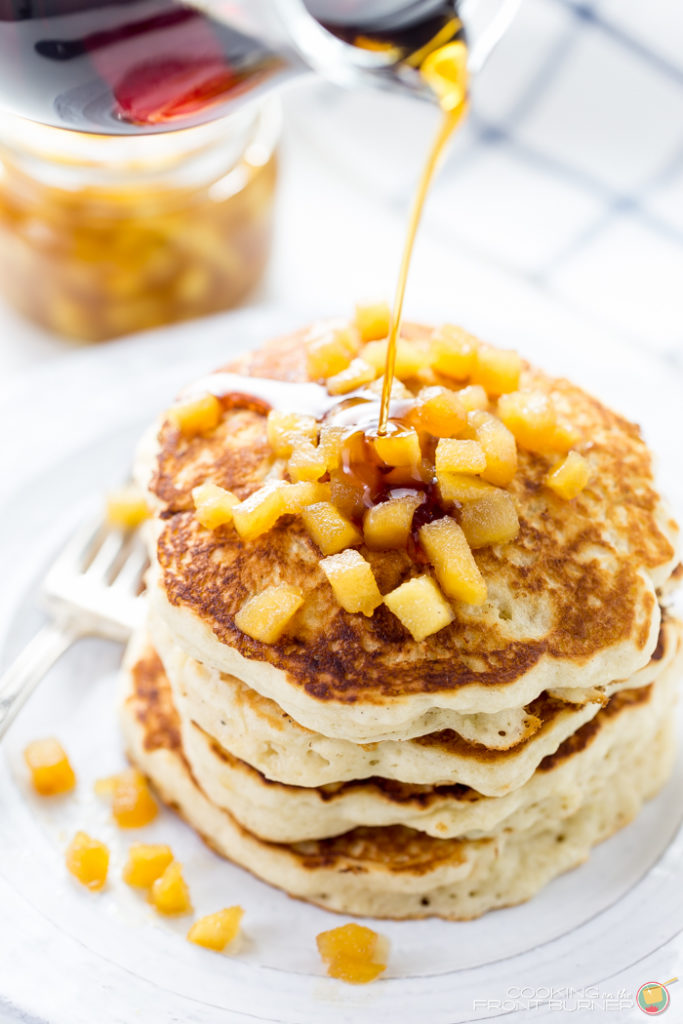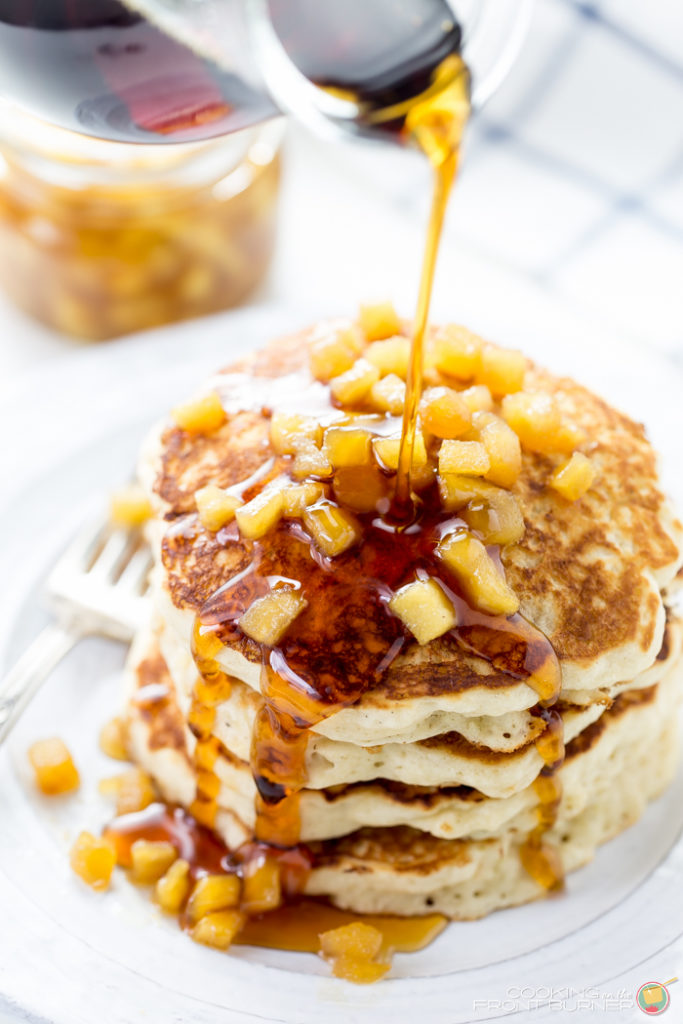 How are these stacking up for you 🙂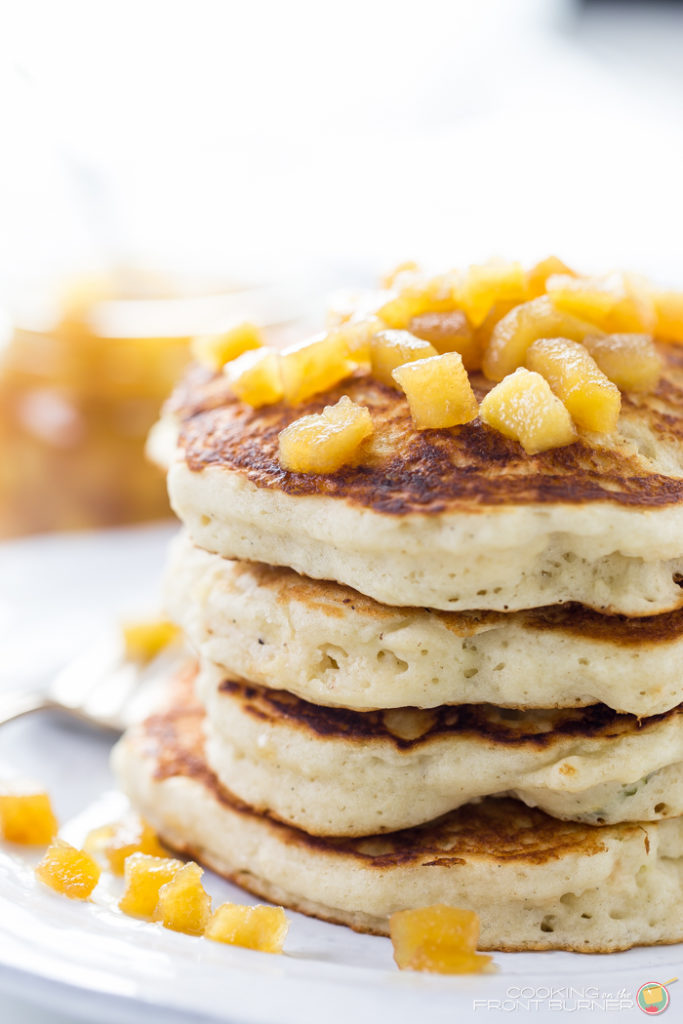 Apple Pancakes with Apple Maple Sauce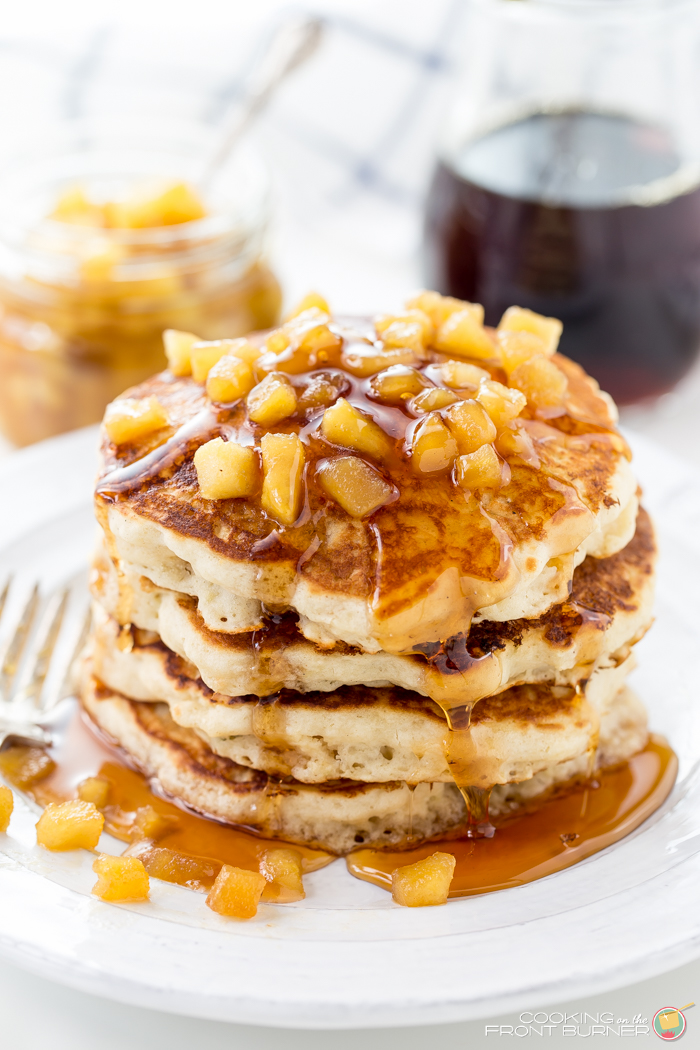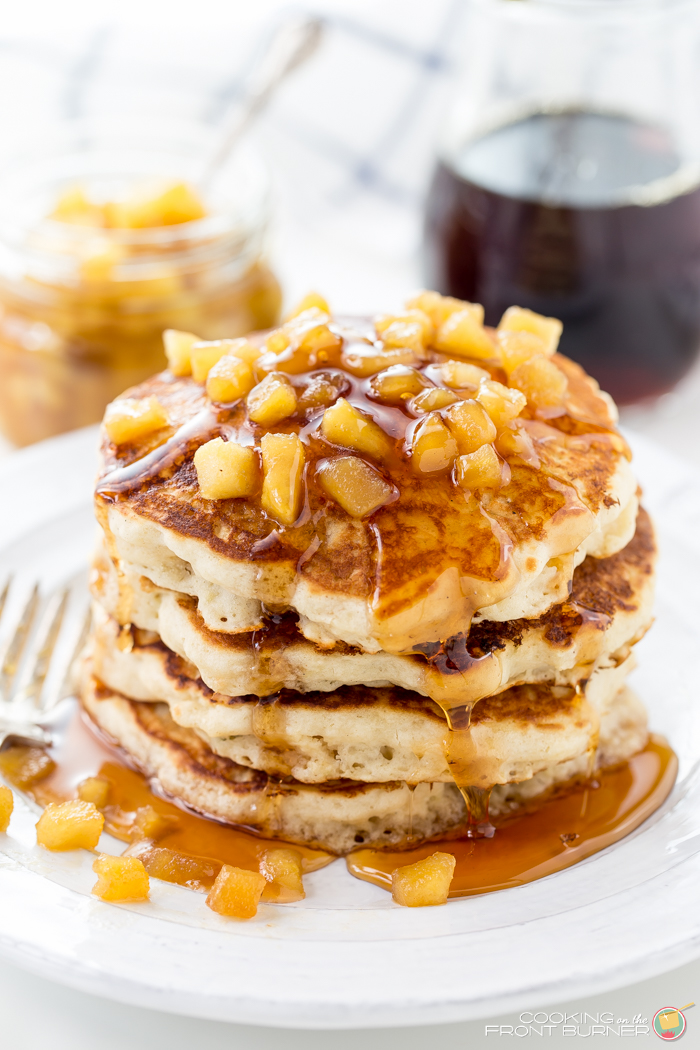 These are the fluffiest pancake recipe around and are topped with sweet apples sauteed in a maple sauce.
Ingredients
1 1/2 cups flour
1/2 teaspoon baking soda
1 tablespoon baking powder
1/2 teaspoon salt
1/4 teaspoon nutmeg (I used fresh grated)
3 tablespoons sugar
1 egg
3 tablespoons melted butter
1/4 teaspoon vanilla bean paste (or extract)
1 cup milk
1 medium apple peeled and grated
1 tablespoon butter
2 large apples, peeled, cored and diced
dash of salt
1/4 cup maple syrup
1/8 cup dark corn syrup
1 tablespoon brown sugar
Directions
Heat your griddle over medium high heat.
In a large bowl combine the flour, baking soda, baking powder, salt, sugar and nutmeg - whisk well
In a medium bowl combine the egg, melted butter, vanilla and 1 cup of milk
Stir the wet ingredients in the dry with a wooden spoon and only mix until just combined. Fold in the grated apples.
Spray your griddle with PAM or lightly oil
Place about 1/3 cup of batter on griddle and use the back of your scoop to spread out it out to about 4" since the batter is quite thick
When the bottom turns a medium brown, flip and continue cooking until the other side is done (mine took about 5-6 minutes)
For the sauce melt the butter then add the apples and saute for 5-6 minutes until apples are soft
Add maple syrup, corn syrup and brown sugar
Heat over med-low heat for about 5 minutes
Serve over pancakes with additional maple syrup
Recipe Notes
Other apple recipes that we like are Apple Hand Pies and Apple Crepes