Let's cool off with this Fresh Cherry Chocolate Ice Cream.  You will love the fresh cherries and chunks of chocolate.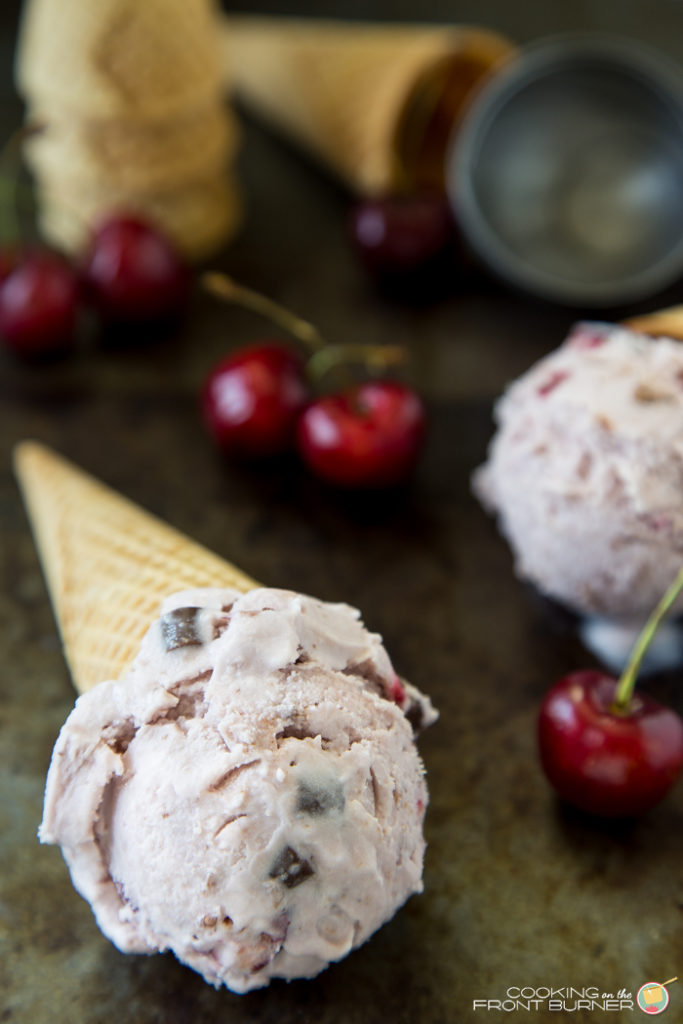 With summer in full swing, it's time to be thinking about ice cream! Because summer + a treat = ice cream, right?  Today for your brain freeze pleasure, I'm sharing this Fresh Cherry Chocolate Homemade Ice Cream.  As a kid, one of my favorite flavors was vanilla with fresh cherries.  I liked that way the cherries were cool and icy.  Back in the day, I don't recall chocolate chunks in it but you can never go wrong with chocolate added to anything as we all know.  It was an interesting day trying to get pictures and keep reading to see what happened!
We have now entered our "busy" summer mode.  I think every weekend we have something planned.  Tonight we are driving up to St. Paul MN to have dinner with my retired manager – it's a beautiful weather day and I know we will be outside.  Tomorrow I think the DIY Guy and I are going fishing in the mighty Mississippi.  It's father's day weekend and since both the girls have other plans I thought he might enjoy a day on the river.  And who knows maybe we'll catch something too!  I do some fishing but then I bring my kindle, relax and soak up some rays.  We'll usually grab lunch at one of the local bars on the river where I enjoy have a Bloody Mary.  Sometimes we go to Slippery's in Wabasha (where Grumpy Old Men is known for).  The movie is always playing when you walk in!
Other things we have coming up are a wedding, a week at a cabin, visiting other friends' cabins and hanging with the grandkids.  I love that we have stuff going on but I don't love that summer seems to go so fast!  Oh well, we'll be enjoying it while we are able to and can rest up during the "inside" winter months!
Hope you are enjoying your summer too! Keep cool!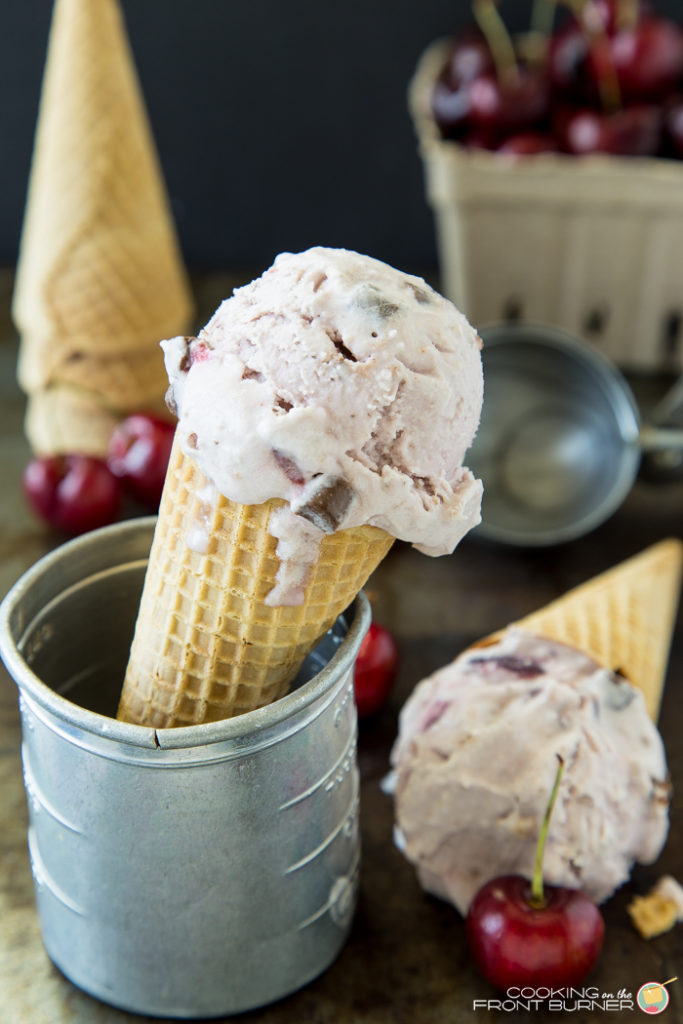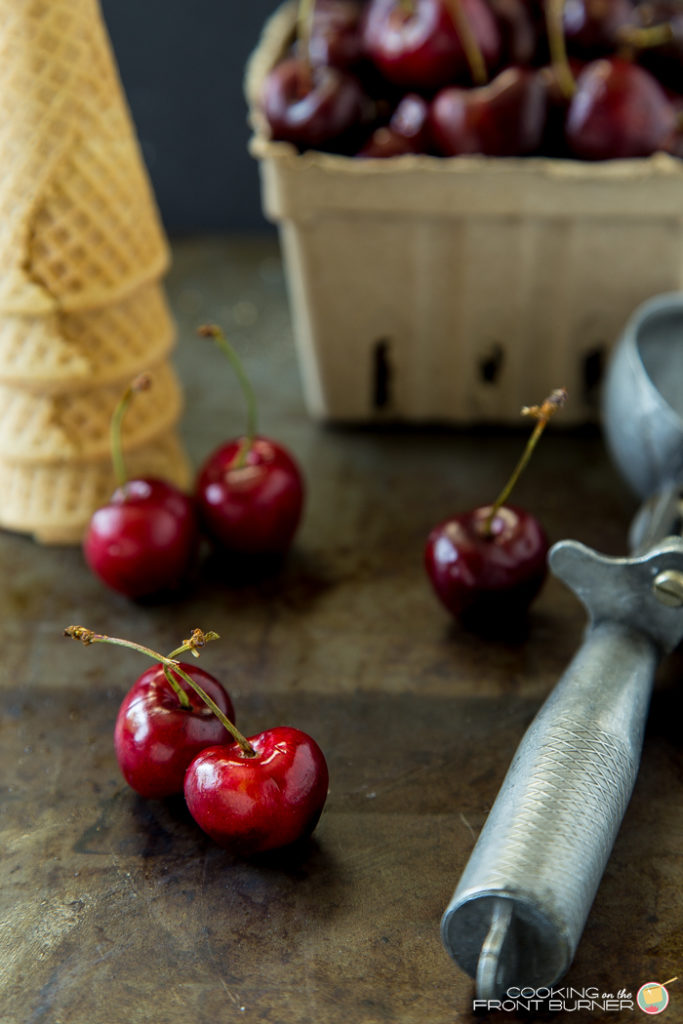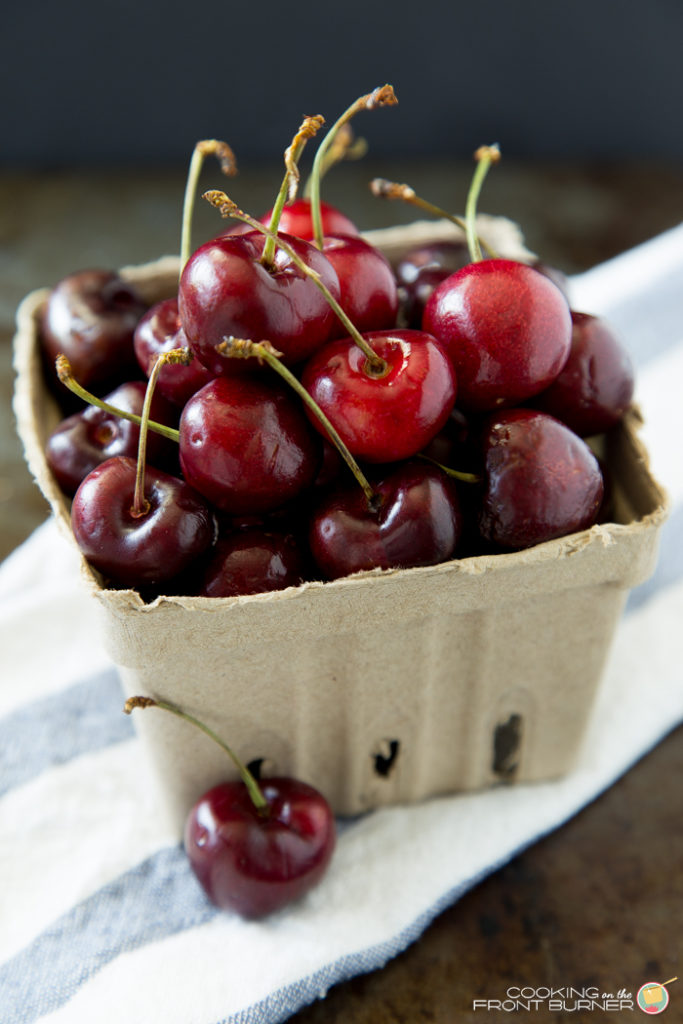 What happens when your photo shoot goes too long!  The end!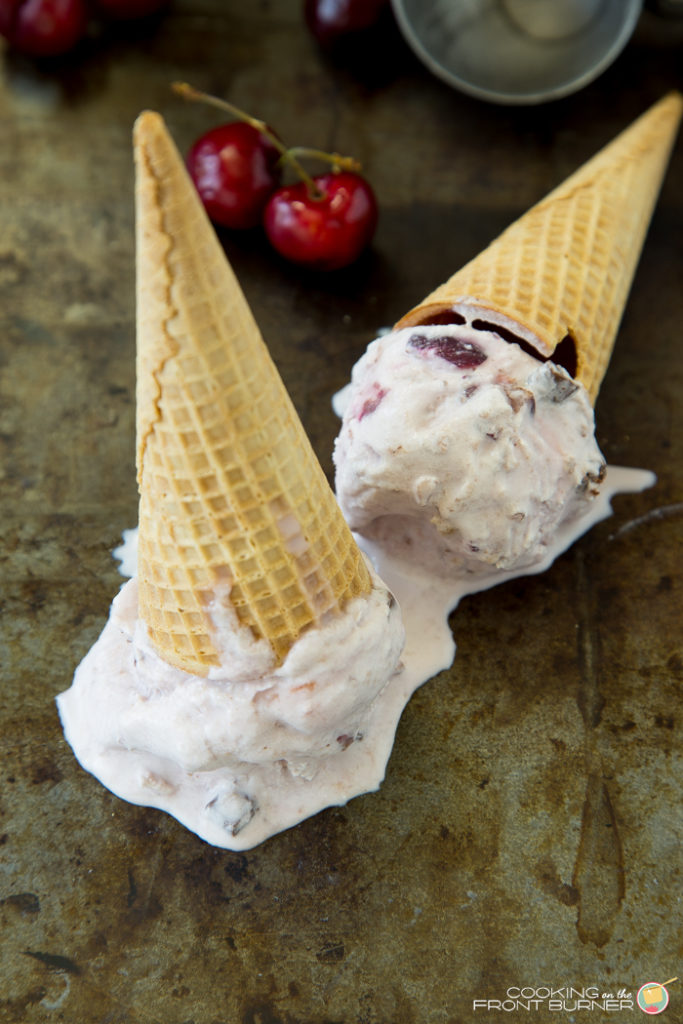 Fresh Cherry Ice Cream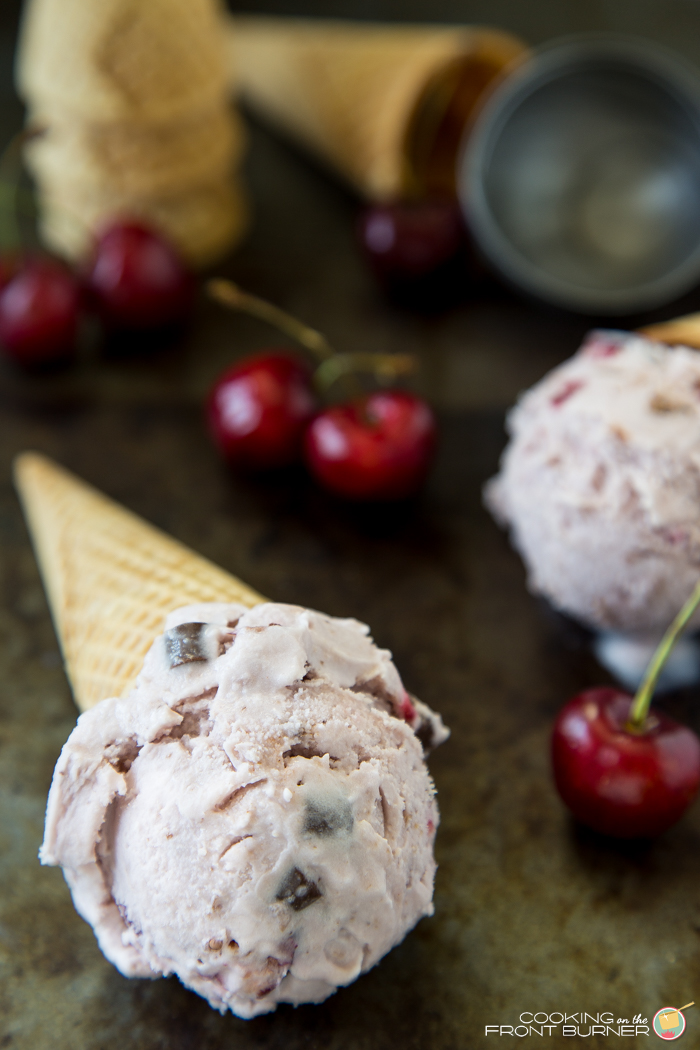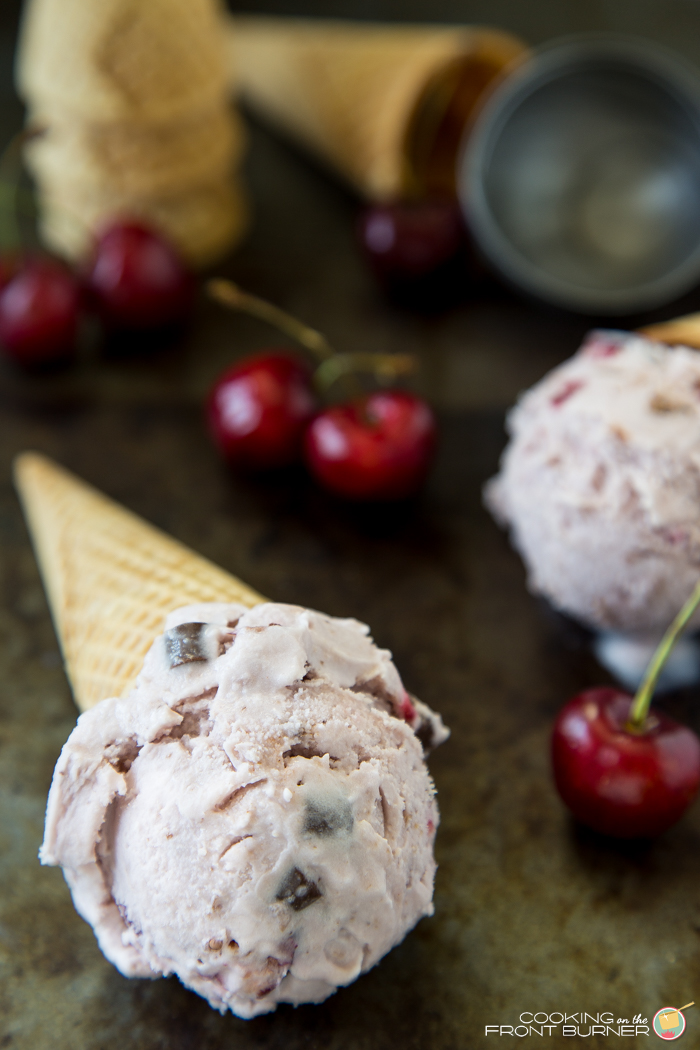 Satisfy your sweet tooth and keep cool with this Fresh Cherry Ice Cream
Ingredients
2 cups pitted and halved fresh cherries (divided)
3/4 cup whole milk
1 3/4 cups heavy cream (divided)
1/2 cup sugar
Pinch of salt
2 tablespoons vanilla vodka
1/3 cup dark chocolate chunks
Directions
In a medium saucepan place 1 1/2 cups of the cherries, milk, 1 cup of the heavy cream, sugar and salt.
Heat over medium heat until the mixture begins to steam, then reduce heat to low and allow to sit for 15 minutes.
Use an immersion blender to puree the mixture until smooth. Place in a bowl and add the remaining heavy cream and chill for several hours until completely cold.
When time to churn, add in the 2 tablespoons of vanilla vodka and freeze according to your ice cream maker directions (I have a kitchen aid).
When done stir in the remaining cherries and chocolate chunks.
Put in an airtight container and freeze until desired consistency. I like my semi-soft and not frozen sold. (about 3-6 hours)
Recipe Notes
Other ice cream recipes you might enjoy:
Mint Chocolate Chip with Fudge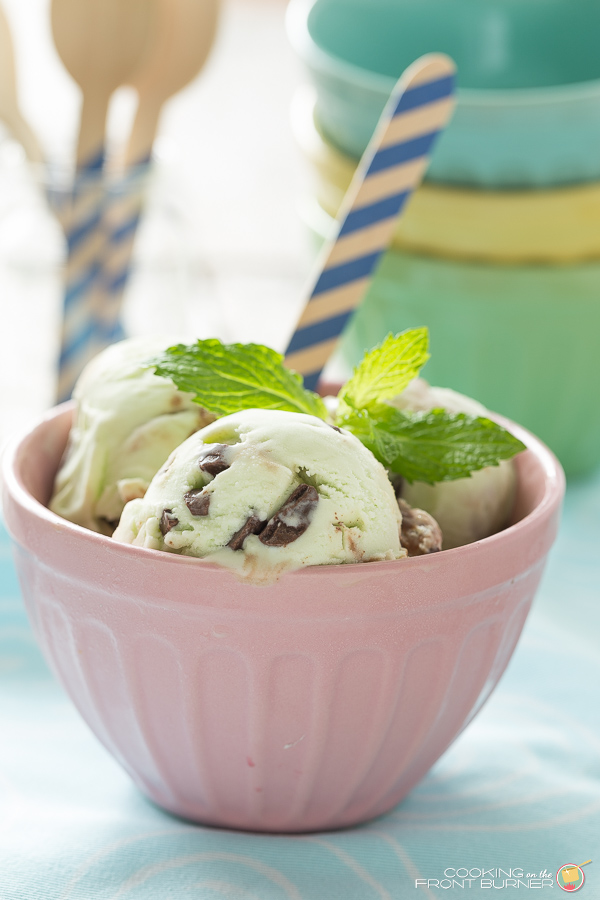 Strawberry Ice Cream Sandwiches