If you are looking for a healthier appetizer, serve these Caprese Bites with Pesto at your next gathering.  Just the right size and just perfect!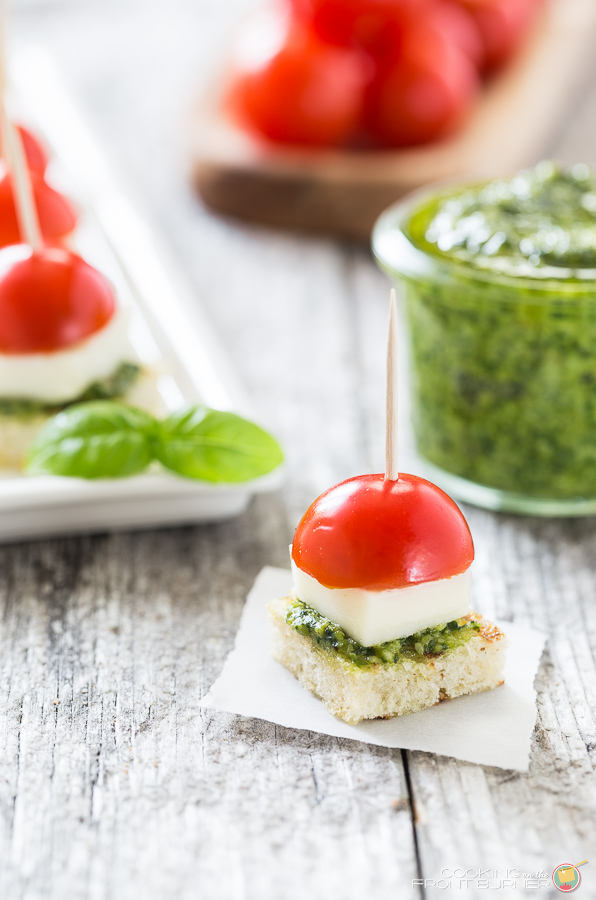 Your farmer's market can provide some wonderful produce during the summer months.  I love moseying around the vendor stands looking for the season's best fresh ingredients.   One of my favorite ways to enjoy tomatoes is making a caprese salad with fresh mozzarella and basil with a drizzle of olive oil.  These bite sized appetizers are made with the same fresh ingredients but what makes them so special you might ask?  It's making your own pesto!
It's really easy to make and once you do, you'll never buy the store stuff again!  Plus the aroma is amazing.  Not only is pesto great on these bites but you can maybe use to toss with spaghetti or make into a pasta salad.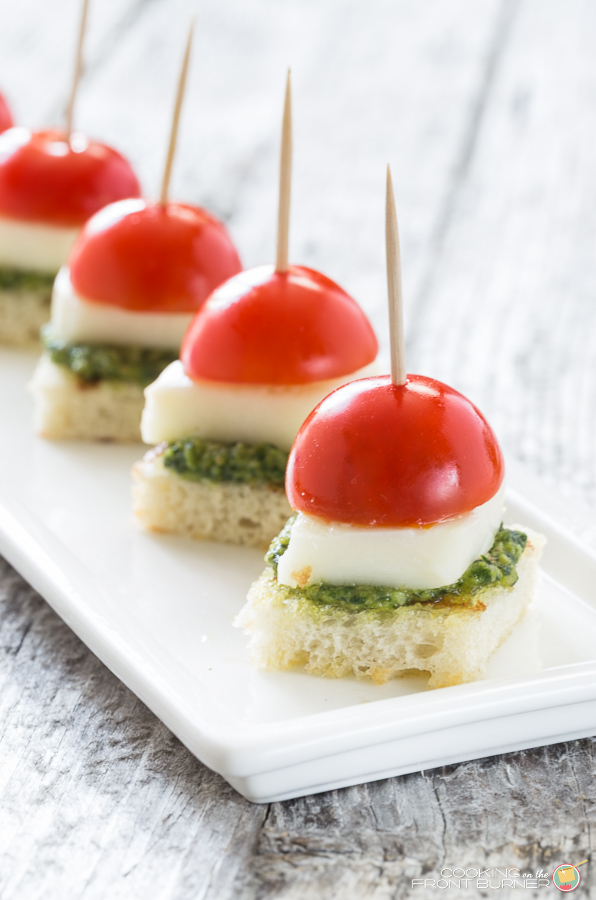 Caprese With Pesto Bites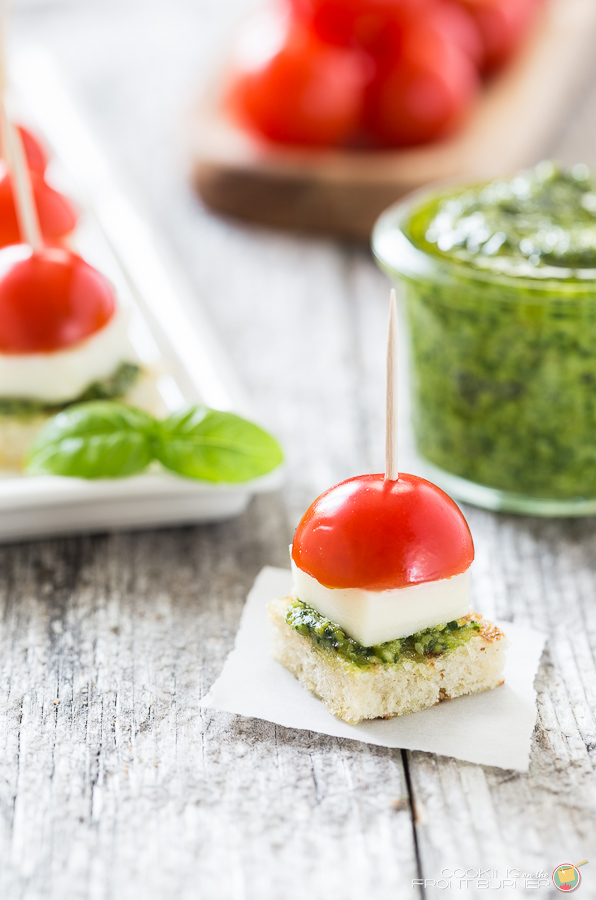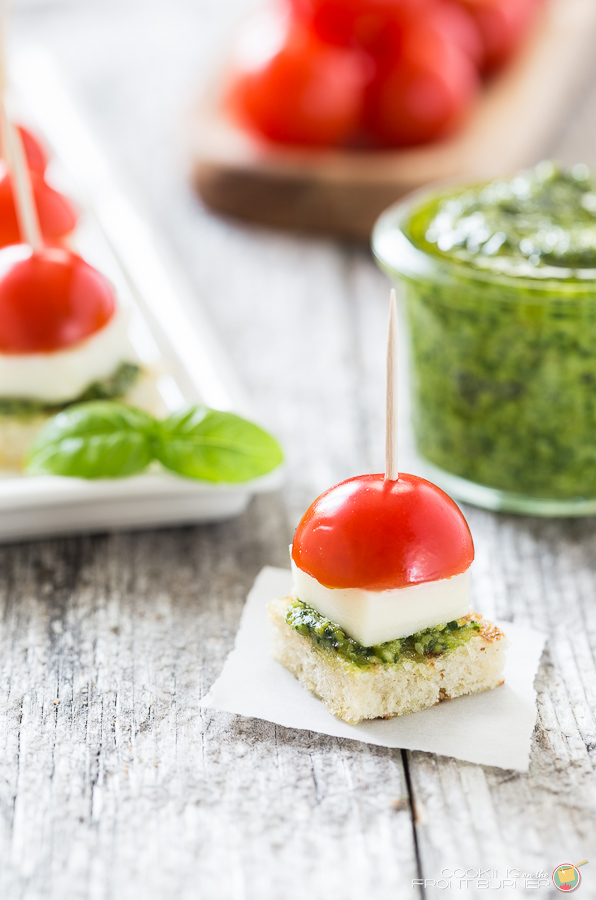 An easy appetizer to make that will become your go to appetizer!
Ingredients
12 cherry tomatoes
4 oz. Mozzarella cheese (do not use fresh)
4 slices rustic bread (i.e. Italian)
1 tablespoon olive oil
1 cup packed basil leaves
1/4 cup toasted pine nuts
1/4 cup romano cheese
1 large garlic clove, minced
1/4 cup olive oil
salt and pepper to taste if desired
Directions
Cut cherry tomatoes in half and set aside
Slice mozzarella cheese into 1/4" slices then cut into but 1" squares and set aside
Brush both sides of bread with olive oil and crisp up by placing on a hot grill (watch and turn so they don't burn - you just want to get some grill marks on both side) then cut into about 1 1/4" squares and set aside
To make pesto, place basil and pine nuts in a food processor and process until chopped fine
Add romano cheese, garlic and cheese and process until mixed
With blade running, drizzle olive oil slowly until it is incorporated.
If desired, add salt and pepper to taste
To assemble, place about a 1/2 teaspoon of pesto on bread, top with mozzarella, cherry tomato and secure with toothpick
Serve immediately
Recipe Notes
To toast pine nuts: place in a hot pan and stir for 3-4 minutes
If you love caprese stuff like me, be sure to check out these other recipes: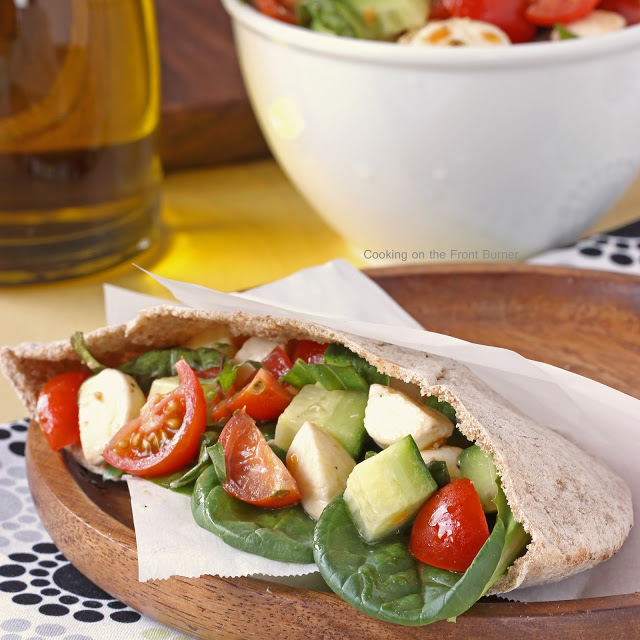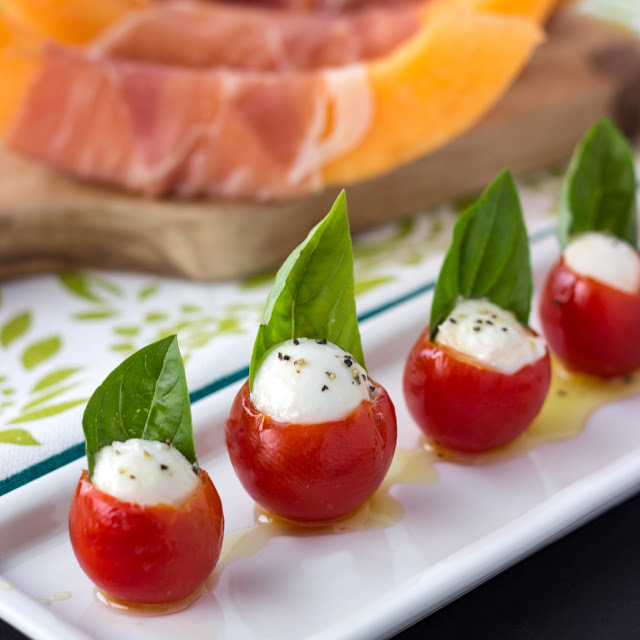 You might want to follow along my I Heart Caprese pinterest board too!