This post may contain affiliate links. For more information, please visit my disclosure page.
This Mexican Quinoa Salad is full of fresh ingredients and has a zippy jalapeno vinaigrette! Get your veggies today with this perfect side or main dish.
Spring has arrived and I'm so in the mood for lighter food with brighter colors that are full of flavor.  That is where this Mexican Quinoa Salad comes in.  It's full of fresh ingredients and has a zippy jalapeno vinaigrette that perfectly helps marry the salad together.  I guess it is just that time of year where I'm looking beyond comfort food and start incorporating some lighter fare.  I've been craving lots of veggies so this salad helps with that and the addition of quinoa keeps it on the healthier side.  I couldn't wait for the photo shoot to be done so I could enjoy it for my lunch.  I'm pretty sure I'll be bringing it to work tomorrow (if there is any left!)
I really love Mexican flavors – could it be the black beans, corn, avocado, peppers?  It's all of that plus the jalapeno vinaigrette as well!  Your taste buds will come alive when your fork hits your tongue.  With Cinco de Mayo coming up in about a month or so, this would make a great side dish along with a side of some burritos (and a margarita). Also keep it in mind for summer picnics as well – your friends and family will thank you.
As I always mention, you could definitely add some of your favorite ingredients to this quinoa salad recipe.  Maybe some different peppers, red onions and if you wanted to make this a complete meal, some cooked chicken would be a great addition.  The dressing wasn't too spicy but I think it might get a little spicier as it sits.  I only used about 1/2 of a medium sized jalapeno.  If you like spice, then definitely add some more.  I did not use all the dressing but you certainly could depending on how much you would like.
Hope you enjoy this tasty Mexican quinoa salad recipe!
Cook's notes for making this Mexican Quinoa Salad:
Prepare the vinaigrette the day before – adjust fresh jalapenos to your liking to make it spicier or not
The quinoa can be cooked in a chicken or vegetable broth for additional flavor
The salad ingredients can be prepped ahead just don't cut and add the avocado until ready to eat to prevent it turning brown (I've even just added the avocado directly to each serving so if there is leftover salad, it isn't in the mix)
This salad would also be great in a mason jar, add some vinaigrette on the bottom of the jar, then the quinoa and stack the other ingredients (again not the avocado until read to eat)
This salad can be served warm or cold
Kitchen items you might need: food chopper, mixing bowl
Pour that tasty dressing over your Mexican quinoa salad!
Mexican Quinoa Salad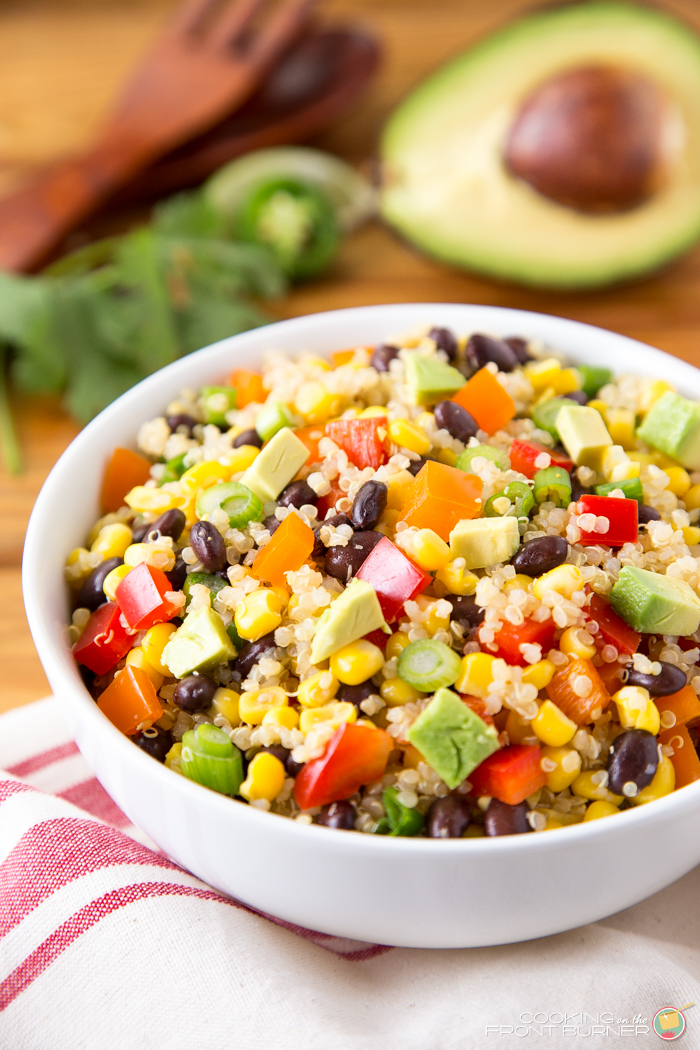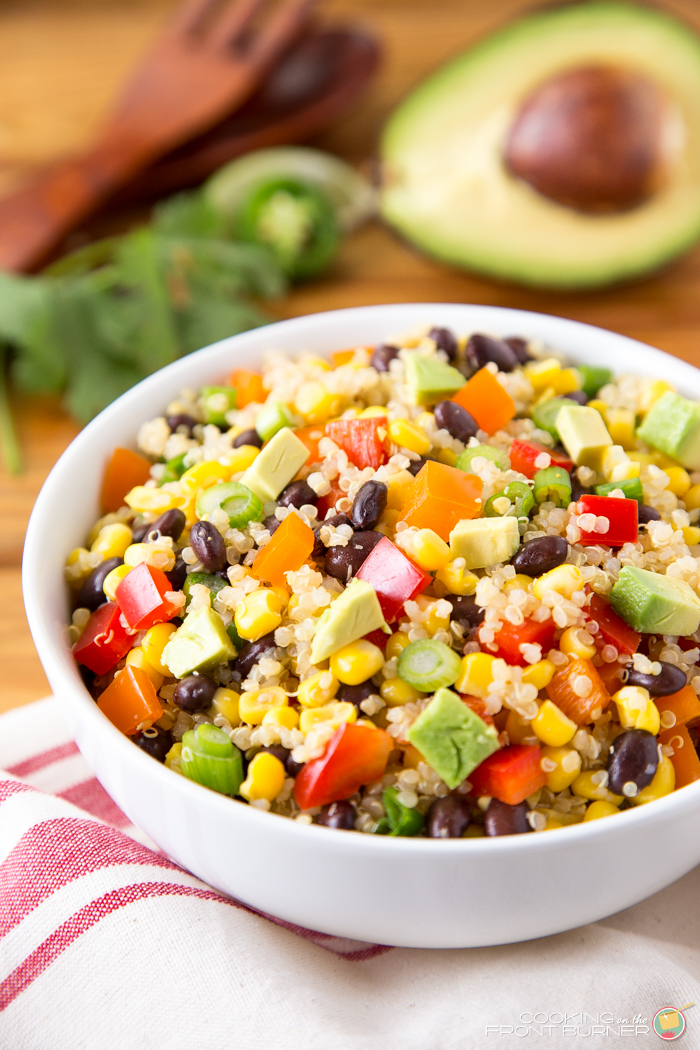 This Mexican salad is bursting with wonderful flavors and fresh ingredients!
Ingredients
1 cup uncooked quinoa
2 cups water (or vegetable broth)
1/2 large red pepper diced
1/2 large orange pepper diced
11 oz canned corn drained
15 oz black beans, rinsed and drained
4 green onions sliced
1/4 cup chopped cilantro
1/2 avocado diced
2 tablespoons apple cider vinegar
2 tablespoons vegetable oil
3 tablespoons honey
2 tablespoons fresh lime juice
2 teaspoons minced fresh jalapenos
1/2 teaspoon dijon mustard
1 small garlic clove minced
1/4 teaspoon salt
1/4 teaspoon black pepper
1 tablespoon cilantro
Directions
Place the quinoa and water (or broth) in a medium saucepan, bring to boil then cover and cook for 15 minutes or until done. Let rest with top on for about 5 minutes
In a large bowl combine the peppers, onion, black beans, corn, cilantro and avocado - toss gently until mixed and set aside
In a small food processor combine the cider, oil, honey, lime juice, jalapeno, cilantro dijon mustard, garlic and S&P; blend until very smooth - there will be some small pieces left
When the quinoa has cooled a bit add to the veggies, toss to mix and then drizzle the dressing over and mix again.
This can be served warm or chilled