These festive Mini Olympic Baked Donuts would be great to snack on while watching your favorite team!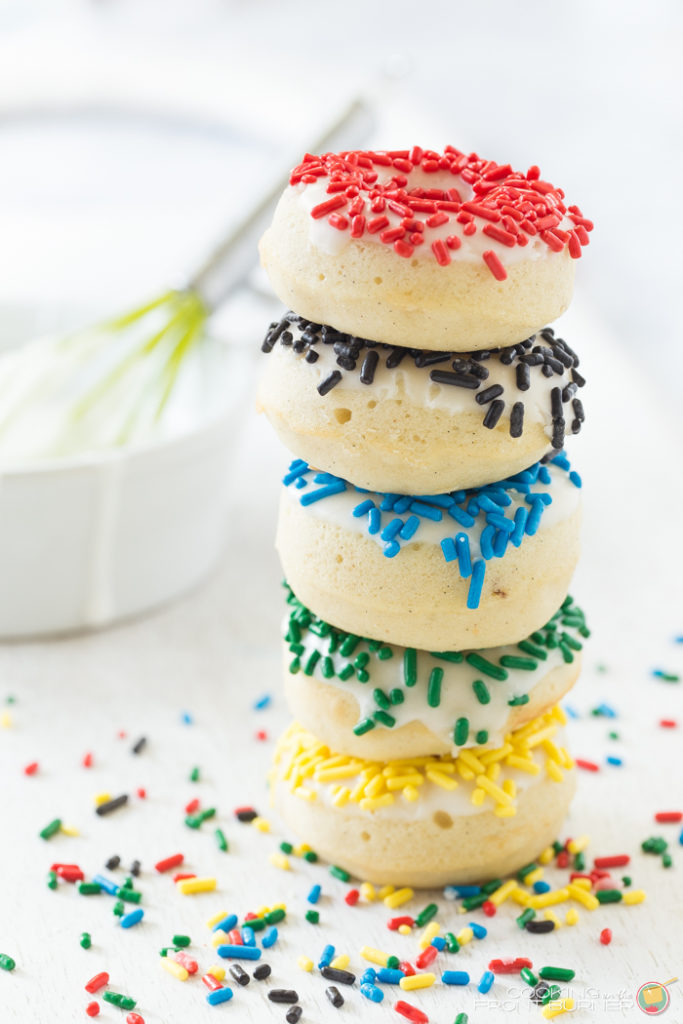 If you love sprinkles, then today you will be in heaven since we are sharing these Mini Olympic Baked Donuts with colorful sprinkles (everything is more fun with them, right?)  They are just in time for planning a fun treat while we cheer on Team USA!  I'm getting pretty excited to see the opening ceremony and then watching some of my favorite sports.  I can't decide what games I like better summer or winter as each has some great events.  A couple of my favorites for now are beach volleyball and gymnastics.  Go Team USA!
What it your favorite sport to watch?  Do any make you nervous to watch?  For me it has to be skiing – just seeing how fast it is and no room for error, really gets me on edge and I'm not the one doing it!  If they had an Olympic sport for reading, I would be really good at that!  I could just sit in a chair and out read everyone else.  There you have it – a new sport for the most unsporty person – me!  Or shopping, I could be good at that too 🙂  I could do the shop til you drop which I've already done a few times around the holiday season.
I have a little connection to the Olympics  – in 1996 on June 1 (Day 36) the torch made its way through our town.  I remember taking my older daughter Kristina to see it.  It was a rainy day but the streets were lined up to see this once in a lifetime event.  Also, I've skied on a Olympic mountain – Lake Placid in upstate NY when I was younger – not saying how young.  It was quite the experience but no black diamonds for me.  Though I was better than just being on the bunny slope.
This year as a pure spectator, I'll be cheering on our teams and popping a few of these mini donuts – they are small so you can have one of each color and not feel guilty!
Naked donuts…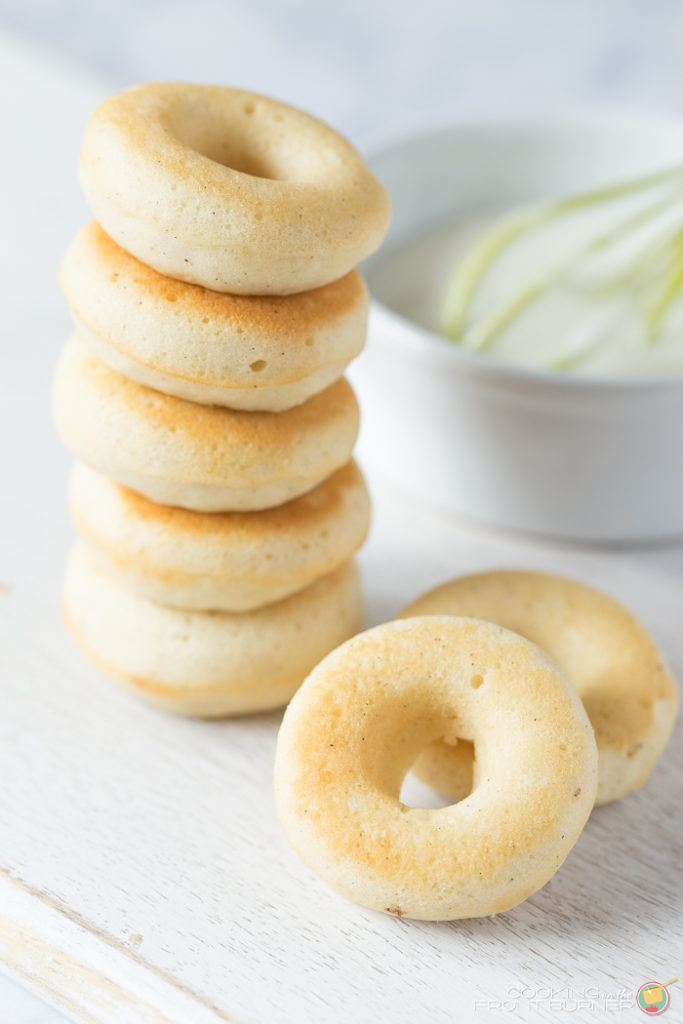 Dipping (but no double dipping!)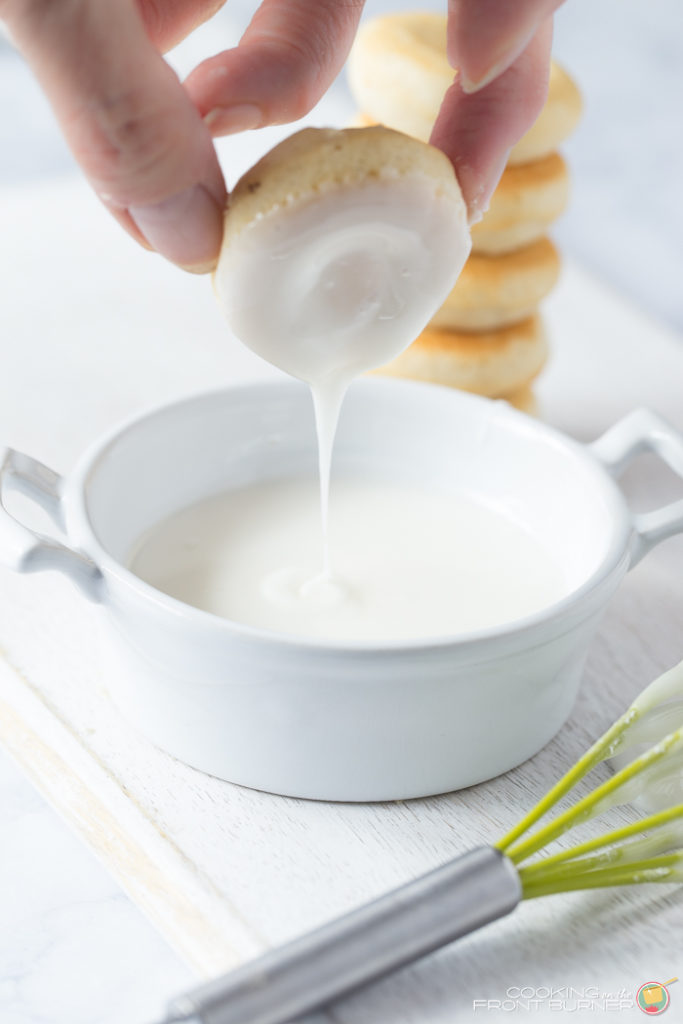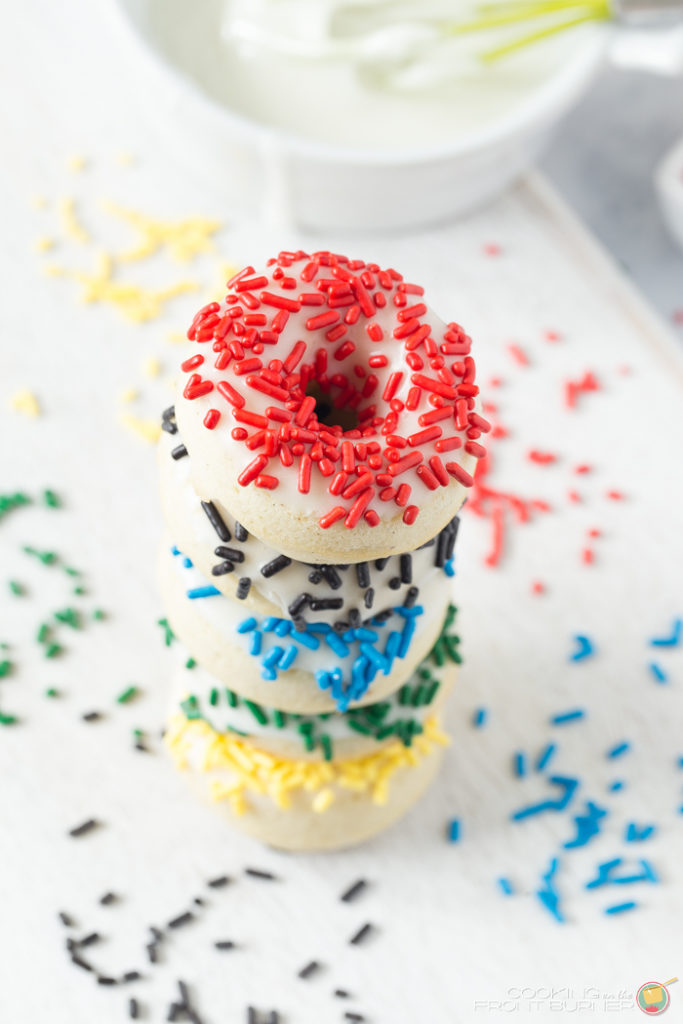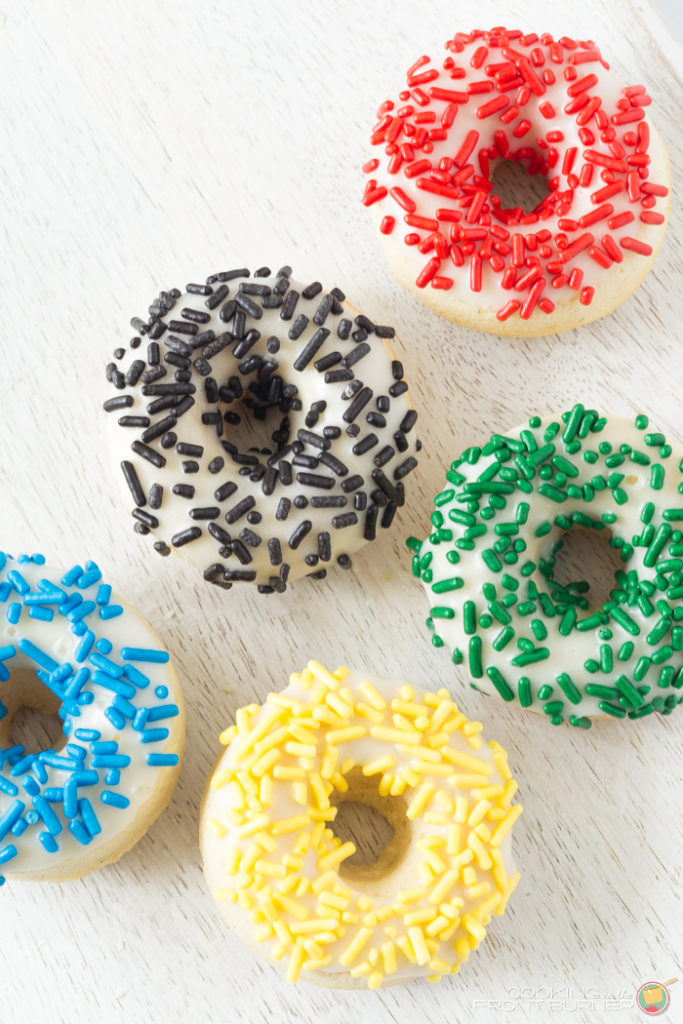 Deelish!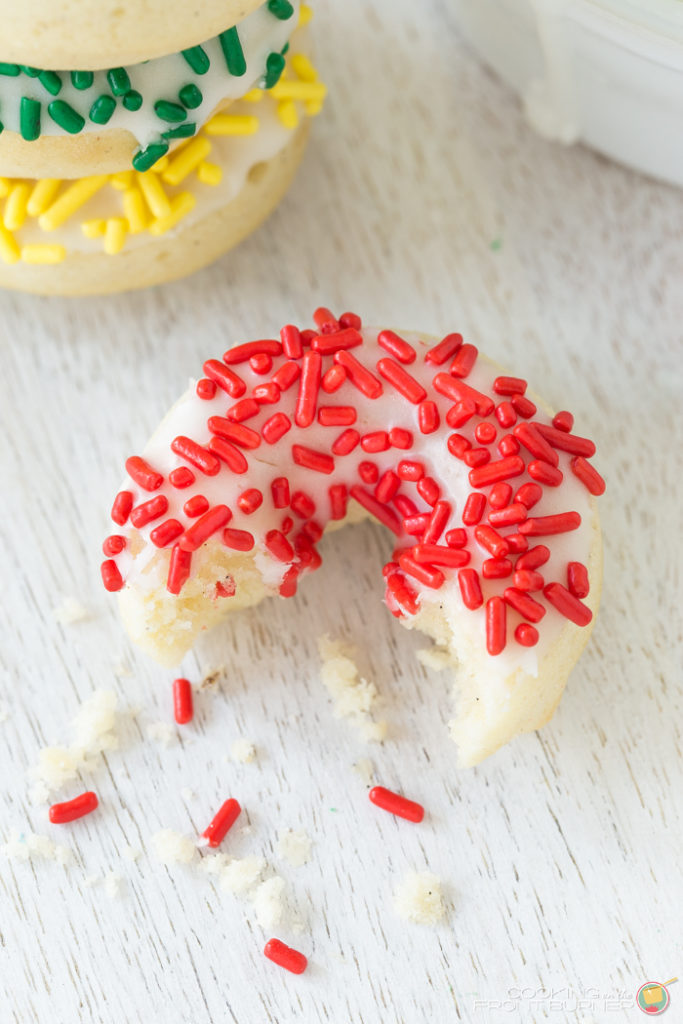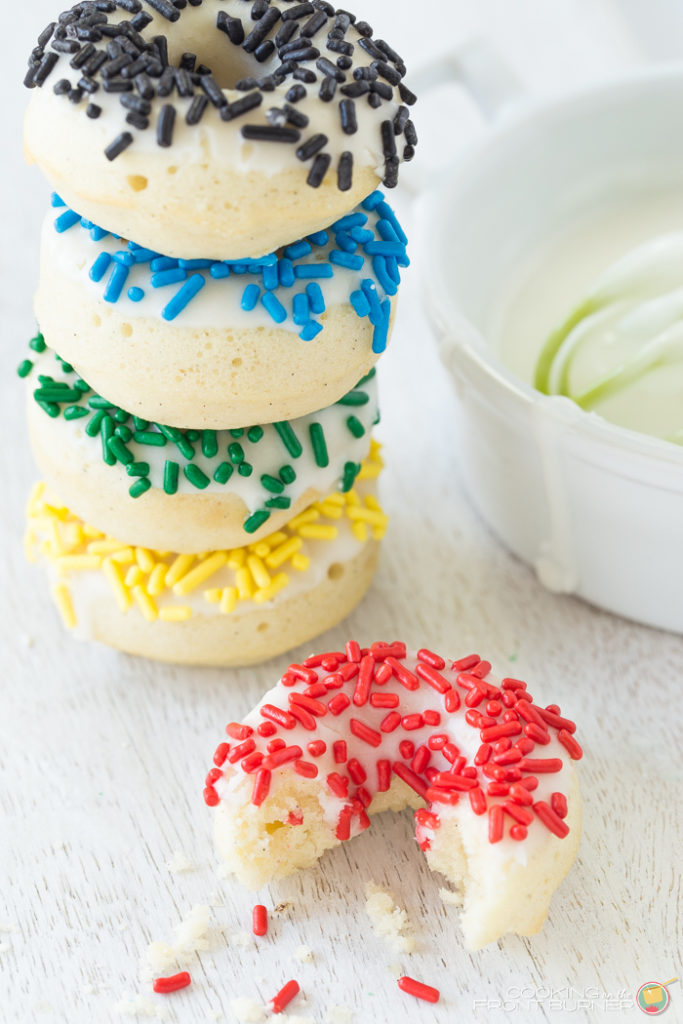 Mini Olympic Baked Donuts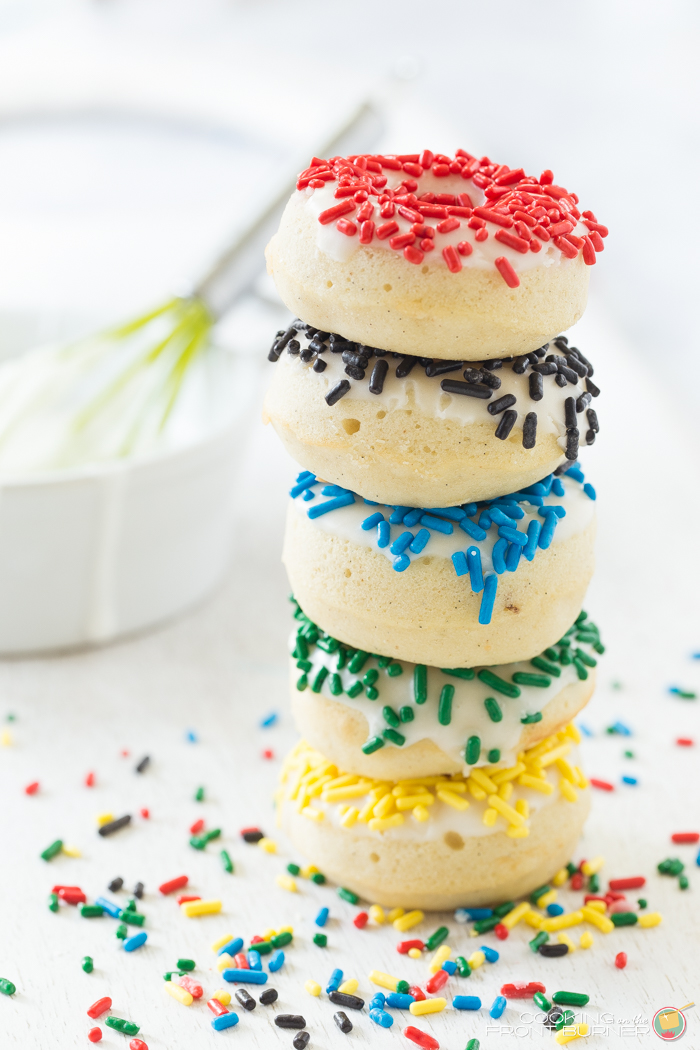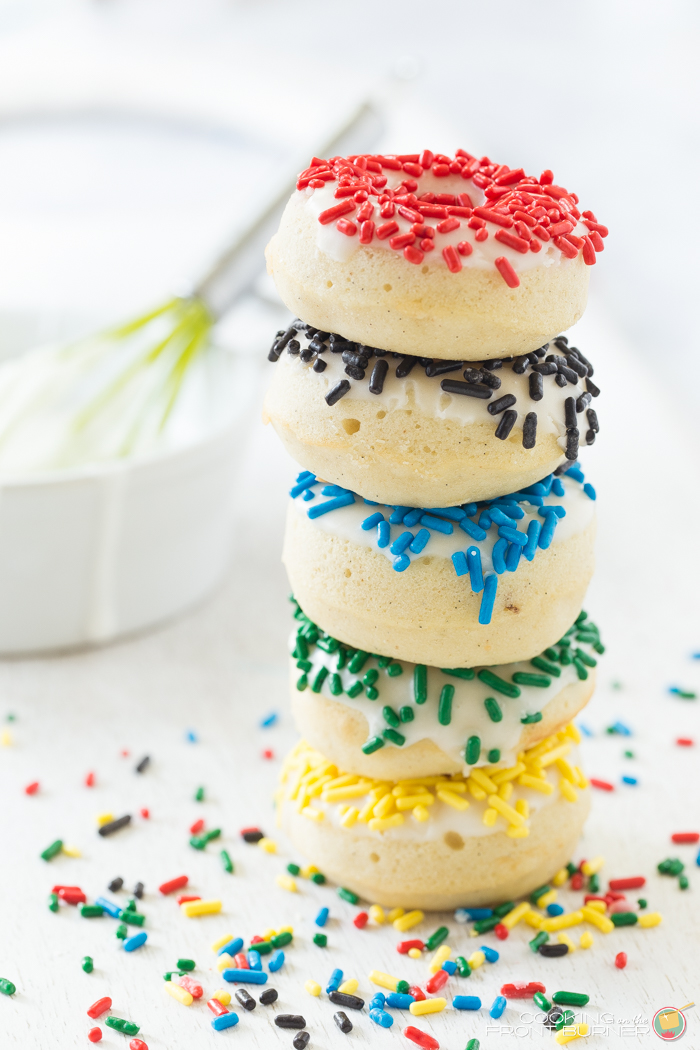 These baked donuts are easy to make and make the perfect snack for the Olympics
Ingredients
3 tablespoons melted butter
1/4 cup melted coconut oil (Or vegetable)
3/4 cup sugar
2 eggs
1 teaspoon vanilla extract
Seeds one from vanilla bean (or add another teaspoon extract)
1 1/2 teaspoon baking powder
1/4 teaspoon baking soda
1/4 teaspoon salt
1/4 teaspoon nutmeg
1/2 cup sour cream
1/2 cup milk
2 1/2 cups flour
2 cups powdered sugar
2 tablespoons milk
Colored sprinkles (red, blue, black, green and yellow)
Directions
Preheat oven to 400 and spray with PAM a mini donut pan
In a large bowl beat the butter, oil and sugar until smooth then add in the eggs one at a time and beat well
Next mix in the extract and vanilla seeds
Add in the baking powder, baking soda, salt and nutmeg and mix well
Add in the sour cream and milk and again mix well
Stir in by hand the flour until it is mixed but not overly so (the mixture will be somewhat thick)
Place mixture in a baggie and snip the end off
Go around each donut mold until it is filled up only half way
Bake for 8 minutes
Remove from pan and cool on wire rack (I only have one pan and had to reuse it 4 more times to use up the batter)
Once donuts have cooled, combine the powdered sugar and milk
Dip each donut into the glaze then add your choice of sprinkles
Let dry and store in an airtight container
These will keep for about 5 days
Recipe Notes