Tonight you can have this Quick Mushroom Orzo Pasta on your table in no time.  It makes a great side dish to any meal.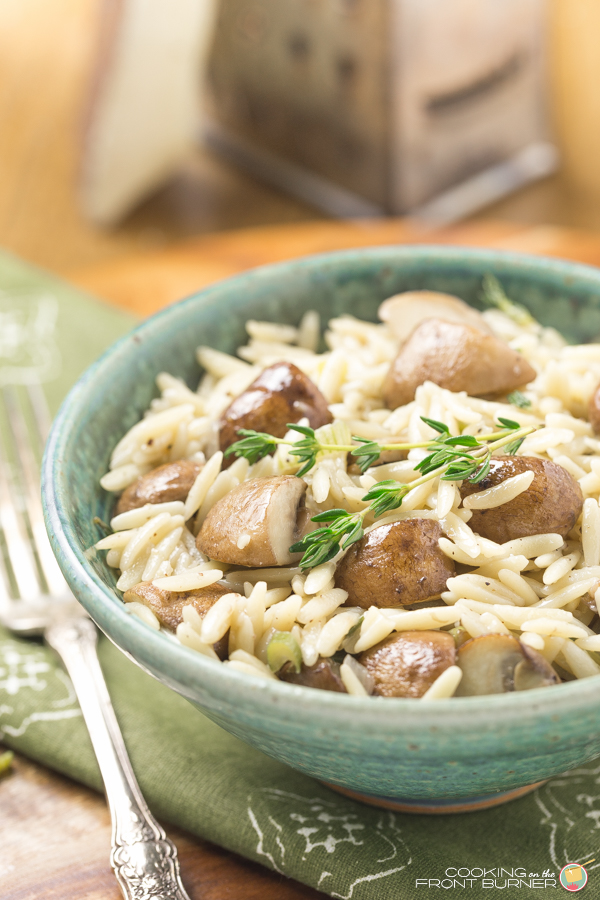 I'm always on the search for some side dishes that come together quick and on the flavorful side.  This dish has some of my favorites – baby bellas, orzo pasta, thyme and a splash of wine!  From start to finish this Quick Mushroom Orzo Pasta can be on your table in under 30 minutes.  How's that for easy?  Just saute some chicken and add a side vegetable and your entire dinner can be ready in that time too!  Because having a quick dinner means you have time to do other stuff you love especially if you get help on clean up detail 🙂
I'm not sure how your nights go, but mine is usually work, come home, make dinner and then "me" time.  That could include just plopping on the couch and watching some favorite shows, maybe editing some photos and post writing, catching up with some other social media stuff or reading a good book.  This time of year once I'm home, I'm staying put.  The winter is too cold and dark to be running out – I save errand running for my day off on Fridays.  Most weekends we spend seeing family and hanging out with the grand kids, dinner with friends or occasionally a movie.  Life is busy so having quick meals to make is the best.
I also had a thought – what if you wanted to make this a complete one dish meal? Just saute some chopped chicken in the skillet (in step 2) then proceed with the mushrooms as stated.  I'm thinking having chicken pieces in the rice would be delicious!  And remember I mentioned have some veggies on the side?  Well, I've been enjoying my spiralizer attachment on my Kitchen Aid and spiralizing zucchini, then popping them in the microwave with a bit of olive oil and S&P for about 3 1/2 minutes.  So fresh and healthy!  Hope you enjoy this dinner idea.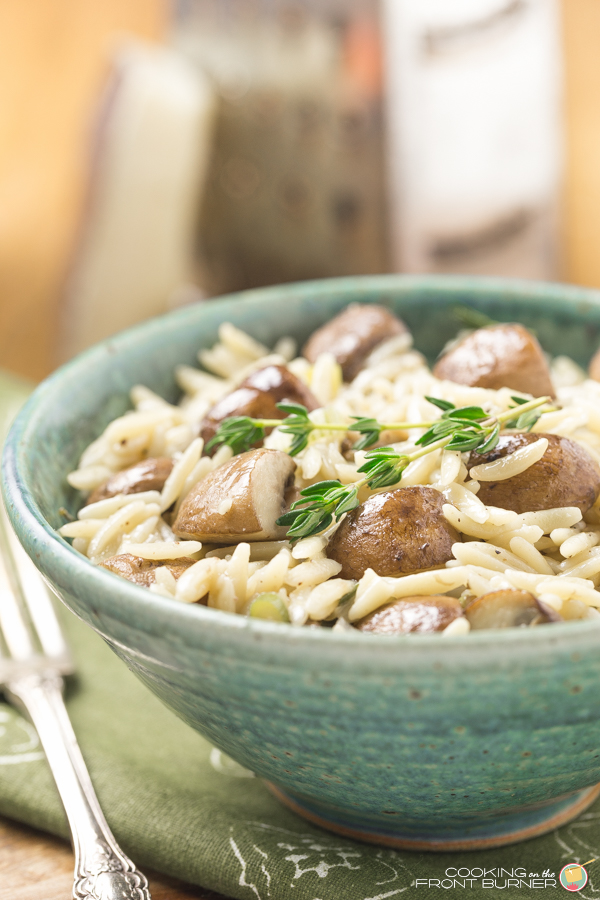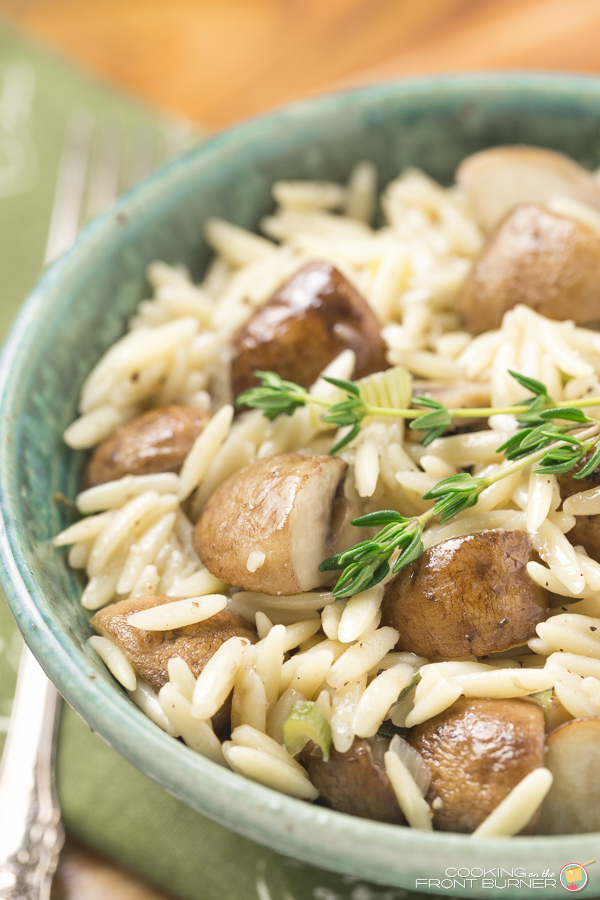 Quick Mushroom Orzo Pasta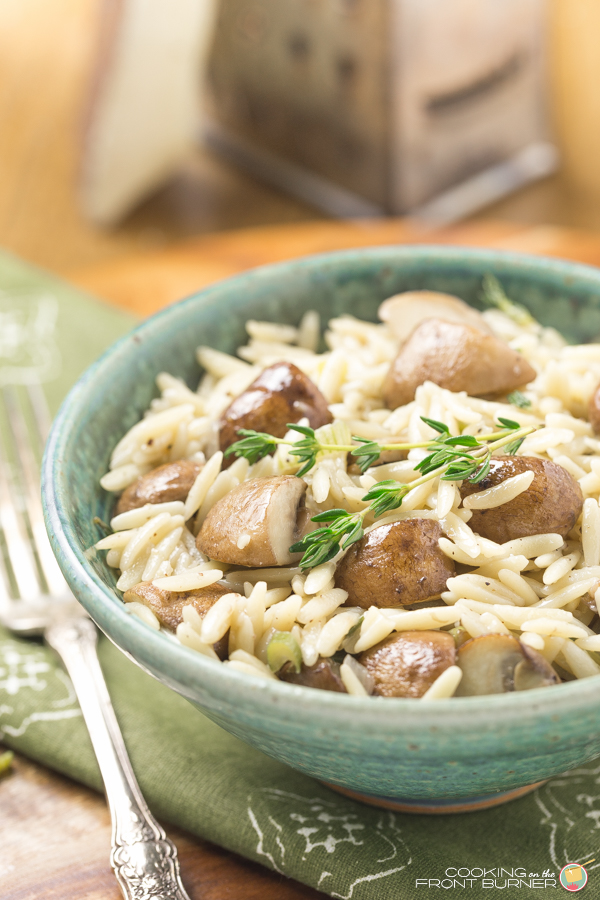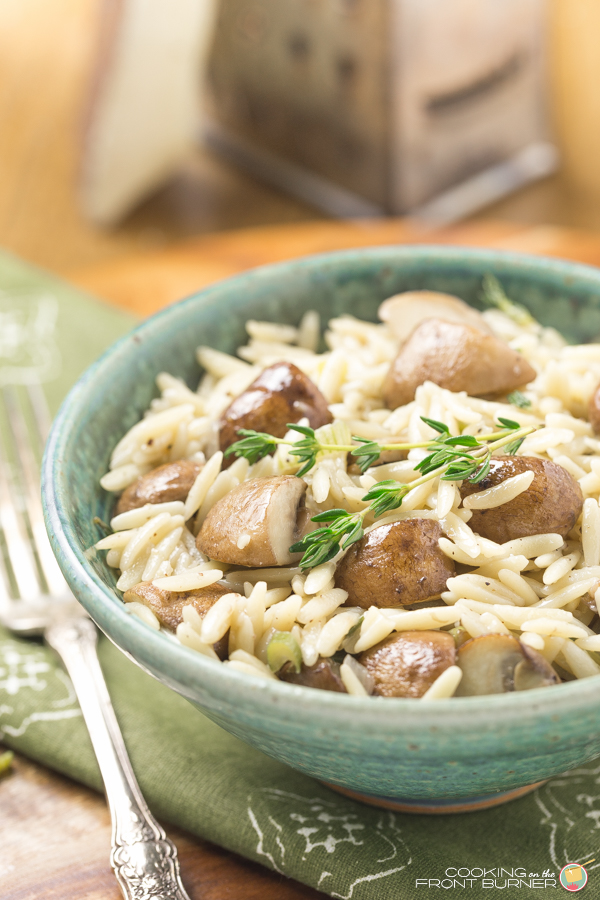 This easy pasta recipe makes a great side dish!
Ingredients
16 oz. chicken broth
3/4 cup dry orzo pasta
2 tablespoons olive oil
8 oz. baby bella mushrooms, cleaned and quartered
1 1/2 teaspoons fresh thyme leaves
1/4 cup scallions, thinly sliced
2 tablespoons dry white wine
1/2 teaspoon salt
1/4 teaspoon pepper
Fresh parmesan cheese silvers
Directions
In a medium saucepan, bring the chicken stock to a boil then add orzo to the broth and cook until al dente – approximately 10 minutes.
While the pasta is cooking, heat the olive oil in a large skillet over medium high heat. Add quartered mushrooms and sauté, stirring frequently until golden brown but still on the firm side
Add thyme and scallions to the skillet and cook, stirring for about 1 minute.
Add wine and cook until it is reduced by about half
Drain the orzo in a colander that has been placed in a large bowl and save remaining chicken broth leftover from the cooking process to use for the sauce.
Add the cooked orzo to the skillet with the mushroom mixture, along with ¼ cup of the reserved chicken stock from cooking the pasta. Over high heat, simmer until most of the liquid is evaporated.
Remove from heat. Season with salt and pepper; add some fresh parmesan slivers if desired
Recipe Notes
Looking for other side dishes: