These White Chocolate Cherry Almond Biscotti go great with a cup of coffee or tea. They are a  lightly sweet and crunchy treat.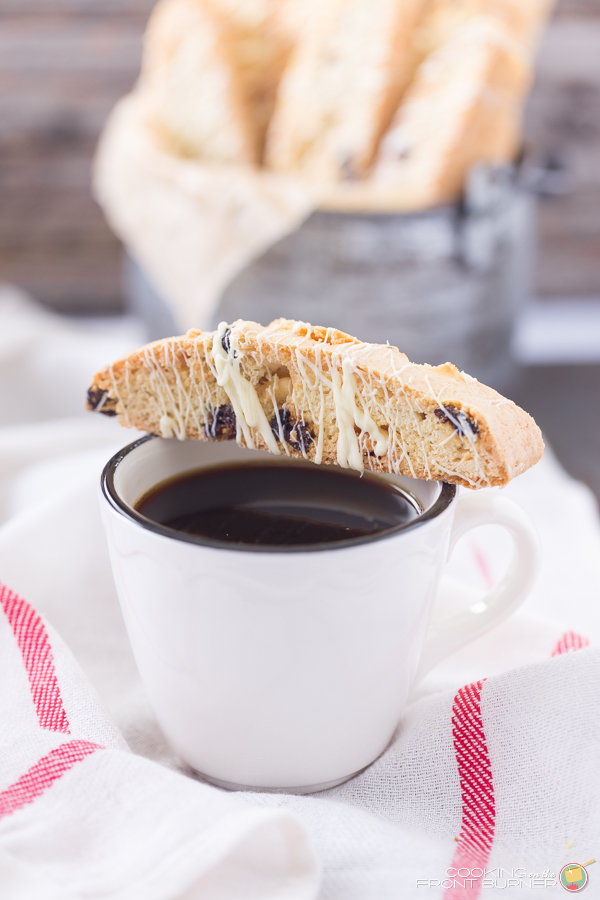 Ok, drop whatever you are doing (really!) and take time for a coffee (or tea or cocoa) break!  We all need a little relaxation in our day and what could be better than having a warm beverage with a little sweet treat to go along with it!  These crispy White Chocolate Cherry Almond Biscotti is that sweet treat to keep on hand that you need in your life.  They are baked to perfection and make the perfect "dunker" without falling apart.  So do you want one dunk or two?  You make the coffee and I'll be over with the treat!
When I was a kid at my grandmother's house, I remember my Italian grandfather (Nonno) sitting at the table with his morning cup of coffee with a little swig of anise liqueur in it and dunking an anise flavored biscotti.  I was allowed the same treat (without the liqueur of course) and I still remember dunking the cookie and having it soak up the coffee and then melting in my mouth.  It was such a strange sensation but one that I really liked and looked forward to when we visited!  It was such a special time all sitting around the table and I felt so grown up.  And when my grandmother didn't make her own, we had the store brand of Stella D'oro which were good too.
Biscotti is twice baked to give them that extra crispiness and are supposed to have a pretty long shelf life.  Though at our place, they disappear quickly!  Keep stored in an air tight container and they also freeze well.  And if you are looking for an unique hostess gift, these fit the bill for that too.
We loved the flavor of the cherries, white chocolate and almond but you could experiment with different ingredients – other nuts and dried fruit.  Another biscotti recipe you might enjoy – Orange and Cranberry.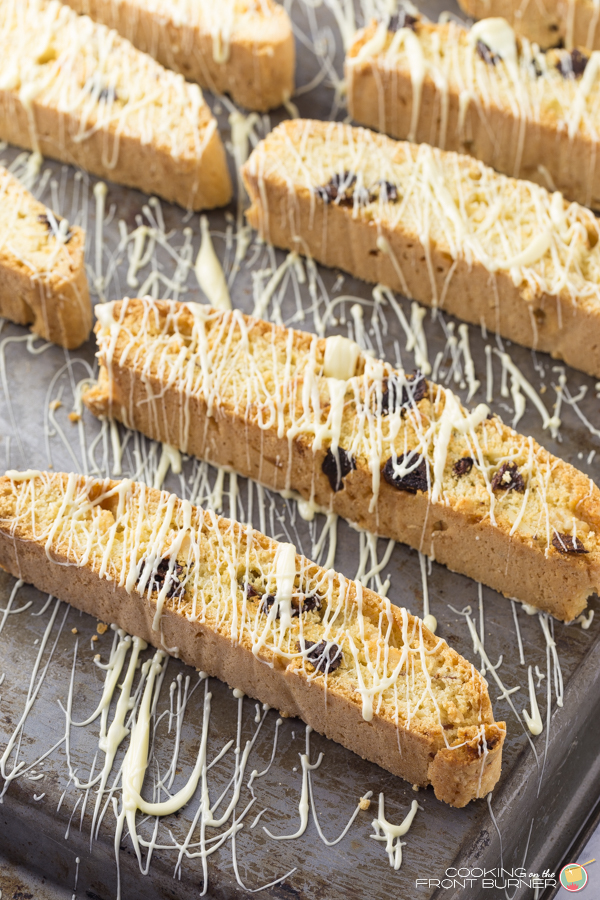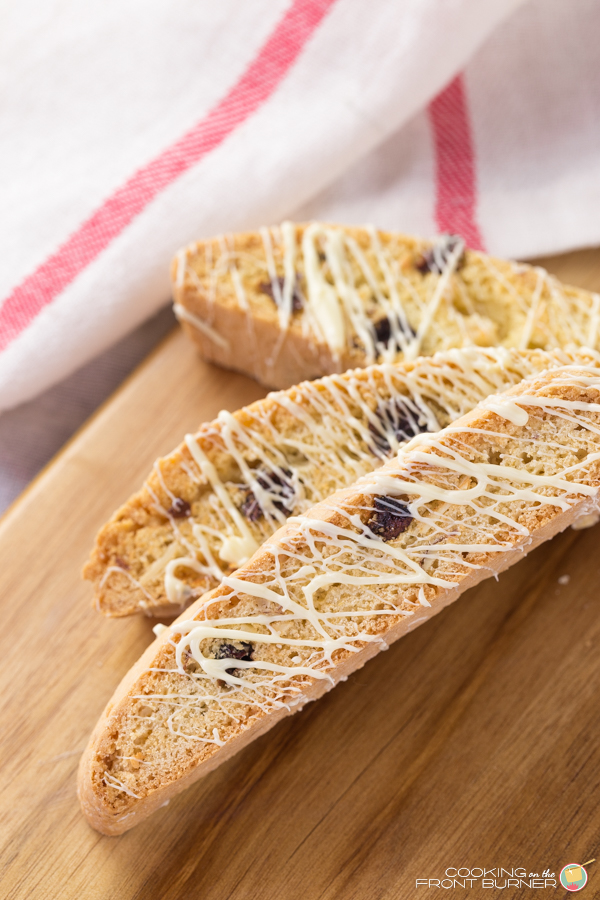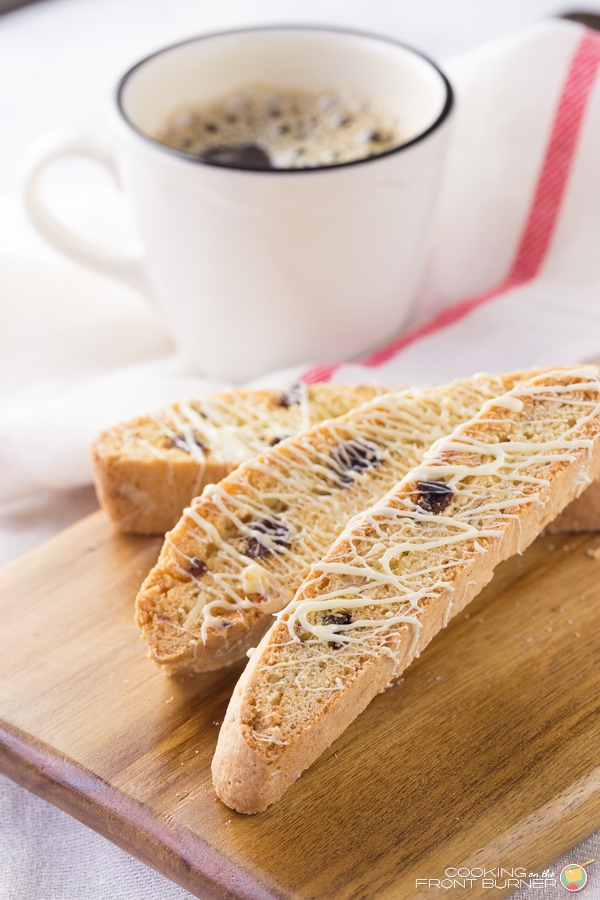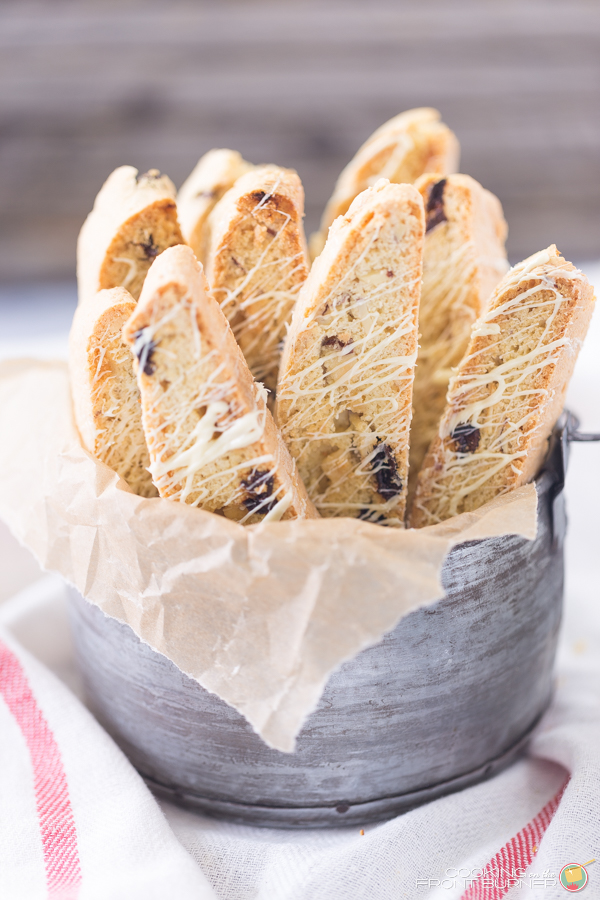 White Chocolate Cherry Almond Biscotti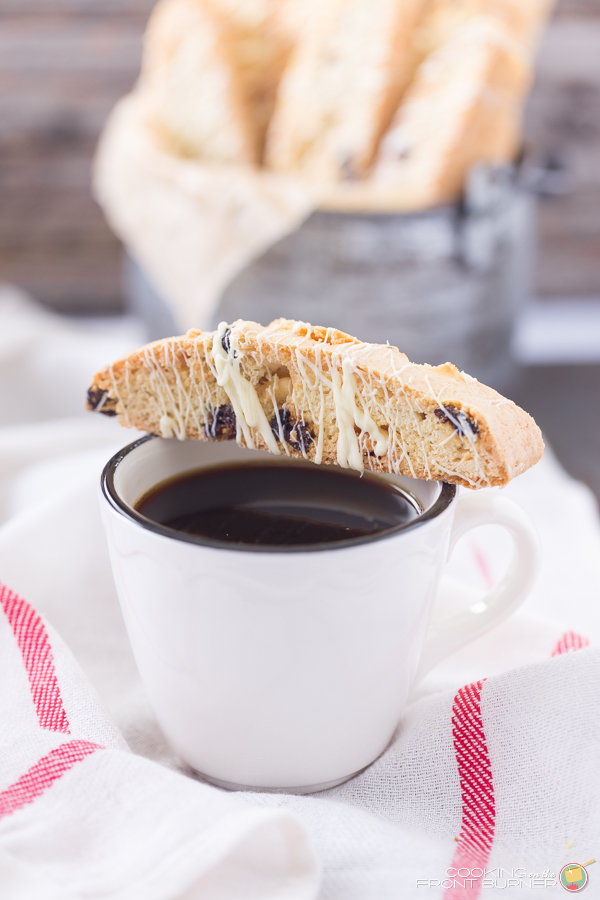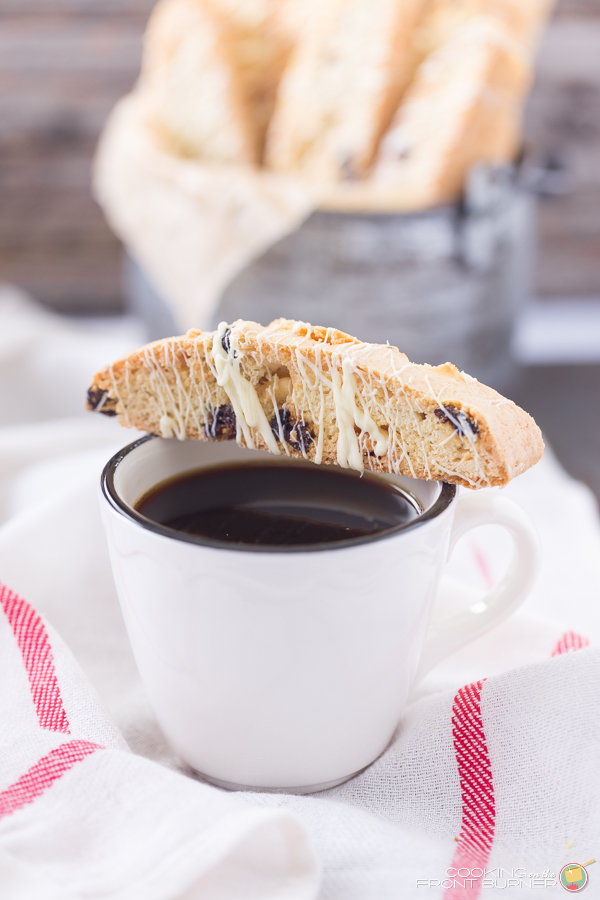 A great treat to go with your coffee or tea
Ingredients
2 2/3 cups flour
3 eggs
1/4 teaspoon salt
2 teaspoons baking powder
1 cup sugar
1/4 cup melted butter
1 teaspoon almond extract
1 teaspoon vanilla extract
1/3 cup chopped white chocolate
1/2 cup dried cherries
1/3 cup slivered almonds
2 oz white chocolate melted (for drizzle)
Directions
In a medium bowl combine the flour, sugar, baking powder and salt then set aside
In a large bowl combine the eggs, butter, and extracts on low speed until mixed well.
Add in the dry ingredients until well combined then stir in by hand the almonds, cherries, and white chocolate.
Place dough on a lightly floured surface and gently knead until the add-ins are distributed throughout
Chill dough for 30 minutes
Preheat oven to 350 and line a cookie sheet with parchment paper
Spray hands with PAM then divide dough in half and shape into a 4"by 8" rectangle
Bake for 25 minutes (or until light golden brown and edges start to brown)
Place parchment paper on cooling rack for 15 minutes
Reduce oven to 325. Slice each log into 1/2-3/4" slices then place (cut side down) on cookie sheet (no paper) and bake again for about 25-30 minutes turning halfway through
Biscotti should be crispy
Remove and cool
In a small bowl place white chocolate and microwave on high stirring every 10 seconds until just melted - watch so it does not burn
Drizzle with a fork over one side of biscotti