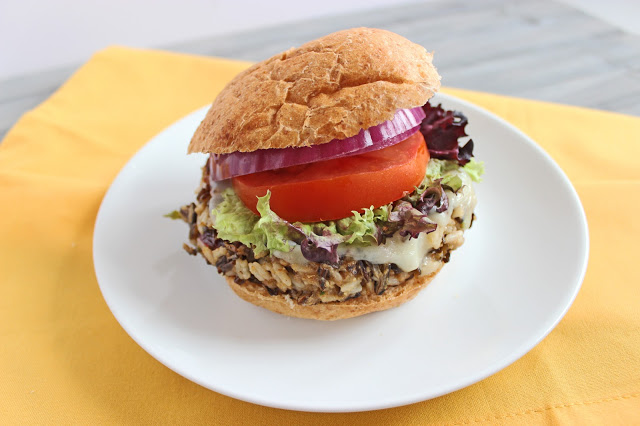 Have I got a tasty burger for you! Really! Before I get to the recipe, here's a little background – I first had a wild rice burger in Duluth MN at a restaurant called Fitger's Brewhouse many moons ago. They are known for these burgers, so I knew I wanted to try one. It did not disappoint – I really enjoyed the texture and flavor. I guess I always wondered how to make these at home…. So fast forward to present time – my friend Sue and her husband found a recipe pretty similar to these and have made them a few times. She sent me their recipe and asked if I would take a look at it and see how I might tweak it so they held together better – it was a challenge that I was ready to take on! I love a good challenge.
I read the ingredients then decided to add others (walnuts, celery, a few more spices, increased the bread crumbs and eggs). A few other things I did was to make sure every ingredient was cold or at room temp before mixing (you need to cook the wild rice so make sure it is cool or cold). I made the patties my using my old tupperware burger press and really packed it tight, then whacked it upside down onto a piece of wax paper. Next and probably the most important thing to remember is to be sure your skillet is pretty hot before adding the burger. This will ensure it starts crisping up right away and it only needs to be cooked about 3-4 minutes on each side.
To assemble, you will need some swiss cheese, tomato, red onion and lettuce. I think the ones in Duluth are also served with garlic mayo but I skipped this step – the other ingredients gave it a nice flavor.
Recipe Source: adapted from a food co-op in the Twin Cities
As I mentioned before – these are delicious and very filling – you won't need to go back for a second! Also, these freeze well… I would just slightly defrost before cooking.
Are you up for the eating challenge???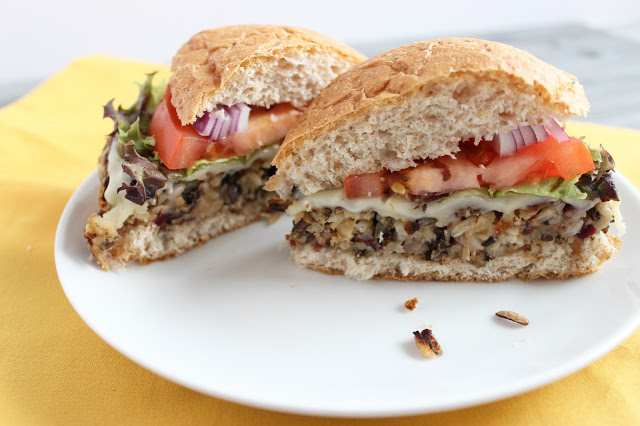 So Sue, how did I do????
Wild Rice Burger
Serves: 5
Calories: na
Recipe : adapted from Twin Cities Natural Food
Ingredients:
– 1 clove minced garlic
-1/4 cup chopped onion
-1/3 cup minced celery
-1/2 cup minced baby bella mushrooms
-2 T olive oil
-1 pkg Uncle Ben's 90 second rice (Original) uncooked
-1 ¾ cups cooked wild rice (not instant)
-1/2 cup craisins, soak in boiled water then chop
-1/2 cup grated parmesan cheese
-5 T Italian bread crumbs
-1/3 cup chopped walnuts
-2 eggs plus one yolk beaten
-S&P
-1/2 tsp paprika
-1/2 tsp red cayenne pepper
-swiss cheese, soft wheat buns, red onions, lettuce
Preparation:
1. In small skillet heat olive oil and sauté garlic, onion, celery and mushrooms until soft/cool
2. Cook wild rice and cool completely (or keep in refrigerator until ready to assemble)
3. Combine all ingredients in a large bowl – I found it is easy to use a hamburger form press to make the burgers. This made 5 thick burgers – pack in form and then turn out onto wax paper.
4. In a large skillet heat 2 additional T of olive oil until really hot
5. Flip burgers upside down into skillet and cook about 3-4 minutes until a nice crust is formed then flip, cook another 2 minutes; add swiss cheese until melted about another 2 minutes
Notes: