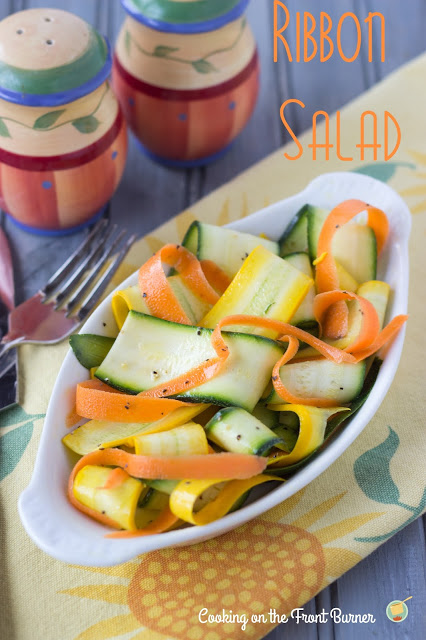 I know most of you are breaking into the fall ingredients but I as mentioned in my last post – I'm squeezing out the last bit of summer. I do love fresh produce and especially the colors of this simple salad. Summer squashes are still in abundance at the Farmer's Market as well as carrots.
A nice light dressing of olive oil and lemon juice completes the making of this dish.
Tri-Color Ribbon Salad
Prep Time: 10 minutes
Ingredients (2-4 servings)
Veggies
one medium yellow summer squash
one medium zucchini
two carrots
Dressing
4 T olive oil
2 T fresh lemon juice
1/2 tsp dijon mustard
S&P to taste
Instructions
Veggies
1. Using a mandoline on the smallest setting, slice the summer squash and zucchini lengthwise. The carrot didn't do well on a mandoline so I used a vegetable peeler (and if you don't have a mandoline use a peeler for everything)
Dressing
1. Combine all dressing ingredients and pour over veggies.
2. Lightly toss and serve
Grab a fork and dig in!