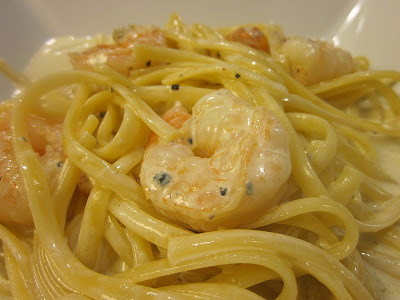 Hmmmm….what to make tonight – I really had no plans for dinner – I came home looked around – saw that I had shrimp, gorgonzola cheese and heavy cream – a quick google later, I found a recipe for a sauce recipe that fit the bill. I also thought I wouldn't end up blogging about it either, but here it is – the final product!
The sauce was made by reducing 3/4 cup of dry white wine in half over high heat. Next added 3/4 cup of heavy cream and reduced mixture by about 1/3. Lastly added 2 oz. gorgonzola cheese, 2 tbl parmesan cheese, fresh pepper and about 1/4 tsp nutmeg (fresh if you have it). Stir until cheeses melt.
I sauteed the shrimp in a small amount of olive oil with a bit of minced garlic. When almost done, added cheese mixture and simmered about 2 minutes. Toss with your favorite pasta. I really liked that the sauce wasn't heavy tasting or a thick sauce. John liked it and gave it 4 stars!
Secret ingredient tonight was a butter flavored olive oil. Recently in Rochester (in the Kahler hotel) the Stillwater Olive Oil Co. opened. I had seen the store when I was buying my MOB dress in Stillwater but hadn't had a chance to stop in. So I was excited when I heard they were opening a store here! They have many different kinds but this one was written up in our newspaper and I was really anxious to try it and I'm glad I did. I will definitely be using this in future recipes!