This post may contain affiliate links. For more information, please visit my disclosure page.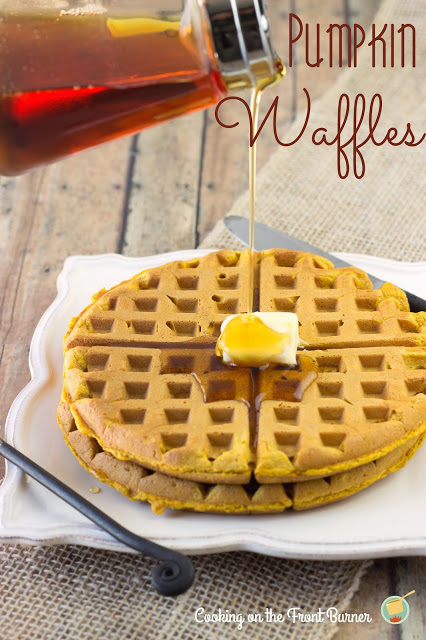 Wow – can you believe that today is the last day of September? I hardly know where the month went. I don't have kids in school any more but it sure seems like time is going faster! Does it feel the same way for you? Next up is October and I hope to be making some fall recipes so let's end this month with a seasonal ingredient breakfast item – pumpkin waffles.
Do you remember last week when a bunch of us bloggers celebrated Julie's birthday from This Gal Cooks? We all made a dish with pumpkin – mine was a Pumpkin Turkey Chili. There were many yummy recipes and this one particularly caught my eye from Lisa at Cooking With Curls. I would have never thought of pumpkin waffles so I'm sure glad Lisa did. Below is my recipe since I had to tweak it based on what I had in the house but be sure to click on the link above to see the original.
Pumpkin Waffles
Prep Time: 10 minutes
Cook Time: 5 minutes
Recipe Adapted from: Cooking with Curls
Ingredients (9 waffles)
2 1/2 cups flour
2 teaspoons baking powder
1/2 teaspoon salt
1 teaspoon ground cinnamon
1 teaspoon fresh ground nutmeg
1/2 teaspoon ground ginger
1/4 teaspoon ground cloves
1/4 cup dark brown sugar
1 cup canned pumpkin
1 13.5 oz canned lite coconut milk
1/4 cup canola oil
4 large eggs (separated)
Instructions
1. Combine the dry ingredients and set aside
2. In a large bowl combine the pumpkin, 4 egg yolks and coconut milk.
3. Add the dry ingredients to the pumpkin mixture until just combined.
4. In a separate bowl, whip the eggs whites until stiff peaks form and then gently mix into the pumpkin mixture until it is well incorporated.
5. Follow instructions with your waffle iron for heating and amount of batter to use. Mine made nine 8″ waffles
These were the lightest and fluffiest waffles I have ever had. And our company this weekend thought so too. Be sure to put this one on your to-do list!