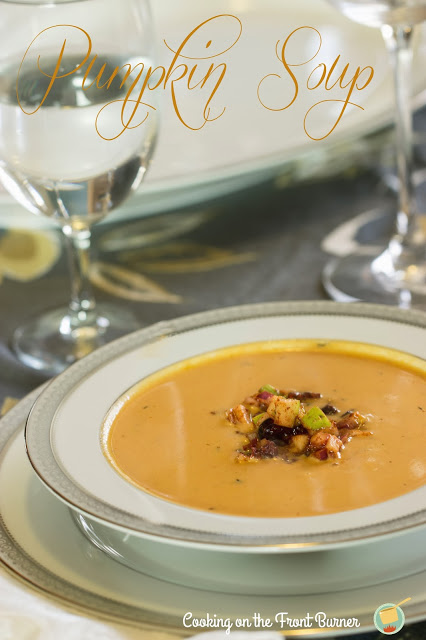 Today I'm sharing this soup recipe that I've been meaning to post for you as it is always on our menu for Thanksgiving. It's a bit past Thanksgiving but that doesn't mean you can't make it now! This picture was taken at our daughter and son-in-law's house a couple weeks ago when they hosted us for the holiday.

I first heard of this recipe when I was watching that 30 minute show with Rachel Ray (in 2004) and then that weekend it happened to be in our USA Weekend insert from the newspaper. I still have the clipping – it's a bit faded and stained but I've retyped it here for you to enjoy!
The spices are tweaked a bit to our liking and for sure do not leave out the tangy relish topping – that is, in my opinion, the star of the show…. I love the creamy pumpkin too but the relish is made out of some yummy ingredients both sweet and savory that is a perfect topping.
Pumpkin Soup
Prep Time: 15 minutes
Cook Time: 30 minutes
Adapted from: Rachel Ray
Serves 8
Ingredients
Soup
1 tbl olive oil
2 tbls butter
1 bay leaf
1/2 cup minced celery
1/4 cup minced onion
S&P to taste
3 tbls flour
2 tsp dried thyme
2 tbls hot sauce
6 cups chicken broth
2 15 oz cans pumpkin pie puree (not pie mix)
2 cups heavy cream
1/2 tsp grated nutmeg
Relish
1 green apple chopped
1/4 cup minced red onion
2 tbls fresh lemon juice
1/2 cup craisins chopped
1 tsps chili powder
2 tsps sugar
1 tsp cinnamon
Instructions
In a large soup pot heat to medium high then add butter, oil, bay leaf, celery, onion and S&P. Cooke 6-7 minutes until tender. Add flour, thyme and hot sauce and cook/stir for one minute
Add chicken broth and bring to boil. Whisk in pumpkin and let simmer for 10 minutes.
Add cream and nutmeg – turn to low and heat through and keep warm until serving.
Combine all relish ingredients and put a few spoonfuls onto soup when serving.
This quickly became a must have for the holiday. It is easy to make and even better to eat – enjoy!