This post may contain affiliate links. For more information, please visit my disclosure page.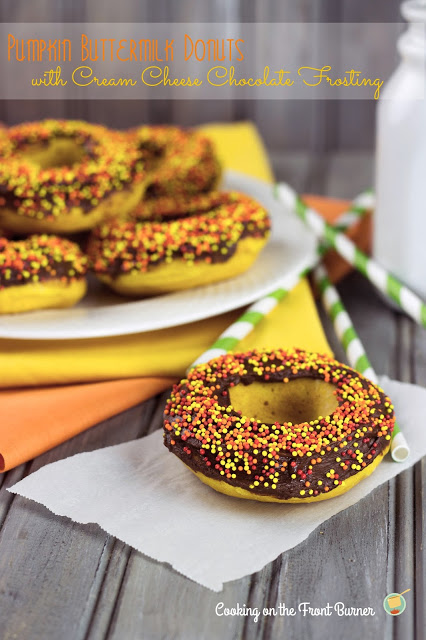 Today is reveal day for The Lady Behind the Curtain Dessert Challenge – each month there are two ingredients that must in your recipe with this month being pumpkin and cream cheese. I was happy because (1) I like challenges (2) I've been wanting to buy one of those donut pans for awhile and (3) experiment with some different donut flavors – so as you can see I chose pumpkin with a chocolate cream frosting and then to keep it festive used some fall color sprinkles. Chopped nuts would also be a good choice. At the end of this post you can see what others have made – be sure to stop by!!!
Pumpkin Donuts with Chocolate Cream Cheese Frosting
Prep Time: 10 minutes
Cook Time: 10 minutes
Ingredients (8 donuts)
For Donut
1 cup cake flour
3 1/2 oz sugar
1 tsp baking powder
1/4 tsp fresh grated nutmeg
dash ground cloves
dash ground cinnamon
1/2 tsp salt
4 oz buttermilk
3 oz pumpkin puree
1 egg
1 tbl melted butter
1/2 tsp vanilla
For Frosting
4 oz dark chocolate bar chopped
2 tbl heavy cream
4 oz cream cheese
2 tbl powdered sugar
Instructions
For Donut
1. Preheat oven to 375 and grease and flour a donut pan (mine had 6 donut molds)
2. Sift the flour, sugar, baking powder, nutmeg, cloves, cinnamon and salt in a large bowl.
3. Stir in buttermilk, pumpkin, eggs, butter and vanilla with a wooden spoon until combined.
4. Fill each donut mold about 2/3 full and bake for 10 minutes or until donut springs back when lightly touched.
For Frosting
In a double boiler, melt the chocolate, remove from heat and stir in heavy cream. With an electric mixer cream together the powdered sugar and cream cheese. Slowly add the chocolate mixture. Frost the donuts and top with desired toppings – sprinkles, nuts, etc.
Thanks for stopping by and hope you enjoy the other recipes. If you would like to join in next time, be sure to stop by Sheryl's page for all the details!!