I love a good macaroni and cheese and always on the lookout for a new recipe. This Four-Cheese Mac & Cheese was a recent find that I tweaked up a bit. You'll be surprised on how it is prepared.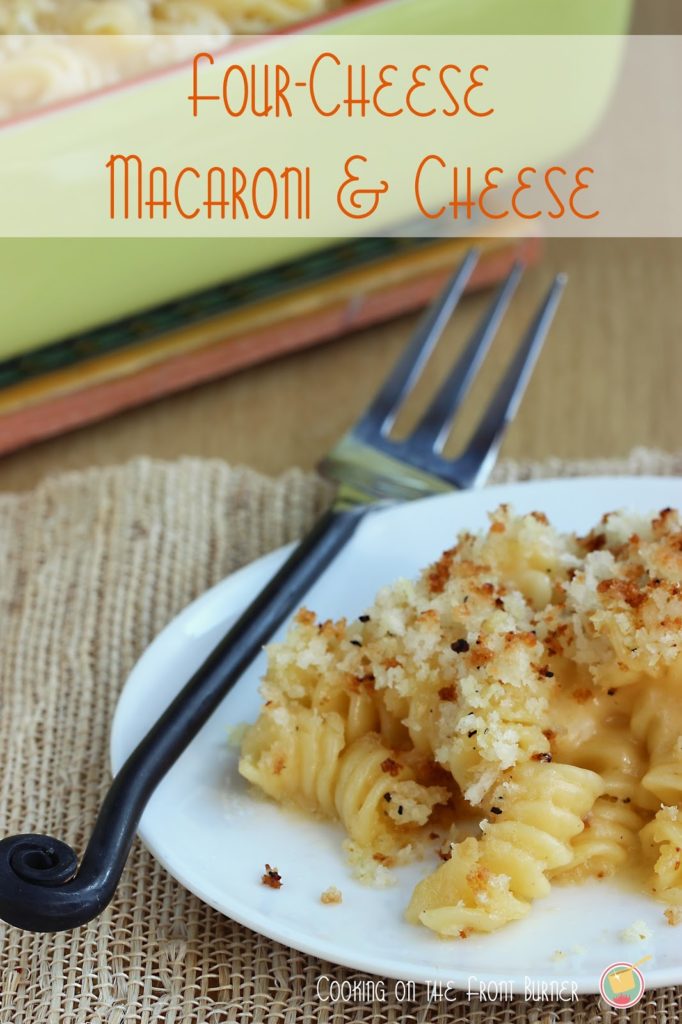 Most mac & cheese is baked, right? This one still has that creamy texture but the sauce is made in a pan then combined with the pasta, topped with panko crumbs then broiled. From start to finish this dish was ready in 30 minutes! I was kind of surprised myself and did not imagine that the texture would be as good as it was. And another bonus was it reheated really well. Not oily at all – the sauce really sticks well to the pasta. The key is whisking the entire time as the recipe states.
Four Cheese Mac & Cheese
Prep Time: 30 minutes
Cook Time: Broil 2 minutes
Makes 4 servings (this can be doubled)
Ingredients
8 oz pasta spirals
1 1/2 tablespoons butter
2 tablespoons finely diced onion
1 1/2 tablespoon flour
1/4 teaspoon salt
1/4 teaspoon pepper
3/4 cup milk
3/4 cup heavy cream (or use all milk)
4 ounces shredded Gouda cheese
2 ounces shredded Swiss cheese
2 ounces Sharp Cheddar cheese
1/4 cup grated romano or parmesan cheese
2/3 cups panko bread crumbs
1 tablespoon melted butter
Instructions
Spray a 2 quart baking dish with PAM
Cook pasta according to directions while preparing sauce
In a large saucepan melt the 1 1/2 tablespoons of butter over medium heat then add onion and saute for 3 minutes
Stir in flour, S&P then whisk in milk and cream – stir this constantly until it is thick and bubbly then cook/whisk for 2 additional minutes
Remove from heat then add the cheese and keep stirring until the sauce is smooth and melted. Add pasta and mix well
Pour in baking dish
Combine the panko crumbs and melted butter and sprinkle over pasta
Broil for 2 minutes about 6 " away until browned
We had this dish on one of our chilly nights (aren't they all lately!) and it really hit the spot. You will notice that the topping comes from panko crumbs – I really like how light they are and how crispy they get when broiled. I always have some in the pantry; normally just plain but when I went to grab them for this recipe I only had lemon pepper flavored which tasted just fine!
What's your favorite type of comfort food? Send more mac & cheese recipes my way!