Today I'm going a bit whimsical with these Fishy Cupcakes! I'm sure you will be hooked on them!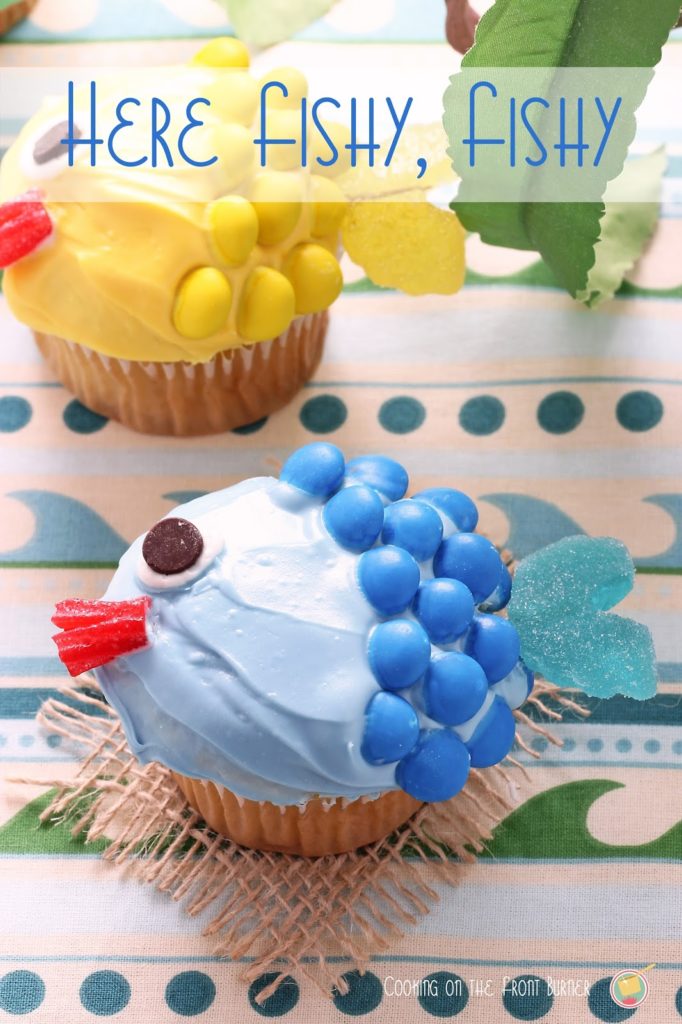 Ok, joking aside these cupcakes are quite a catch – ok, now I'll stop! But I'll be here all week folks!
Here's the background for making the cupcakes. The DIY Guy is in a salt water reef club – not fish club – I was corrected on that one. A couple years ago he started a salt water aquarium and knew besides fish he wanted to grow corals. If any of you have this type of aquarium, you know how labor intense they are but he is always up for a challenge and hence we he has a salt water aquarium. He has Nemo (clown) fish, a yellow Tang, striped shrimp, crabs and lots other I don't have names for. The corals have names too but the only one I know is called a trumpet. All of this in a 75 gallon aquarium – it is quite impressive.
Well a couple months ago, he discovered our town had a reef club and joined. The group rotates between houses every month and last week it was his turn. I offered up making a dessert and found these cupcakes on the web. He thought they would be perfect.
Fishy Cupcakes
Prep Time: 30 minutes (includes decorating)
Cook Time: 20 minutes
24 cupcakes

Ingredients
1 cake box mix (I used vanilla)
2 cans vanilla frosting
Food coloring (I used blue, yellow and green)
Colored M&Ms (I found these in a party store)
Gummy circles to make tails
Chocolate chips
Red licorice (i.e. twizzlers)
Instructions
Prepare and bake cupcakes according to directions
Tint about 1/2 cup frosting for each color
Frost cupcakes then add matching color M&Ms as shown (don't press flat on cupcake, place at an angle so they stick up a bit like scales)
Place some white frosting where the eye should be and turn a chocolate chip point side down and press in frosting
Take a small piece of licorice and cut to form a mouth
Cut gummy circles in half to make tails (I secured with toothpicks)
I had set these out on a white platter and maybe you saw that last week on Instagram… what you aren't following me 🙂 They were a huge hit! I'm glad there were a few leftover so I could snap a couple shots. These would be perfect for summer or kids party. Easy to do and if you enlist a helper (like my DIY Guy) they will be done in no time!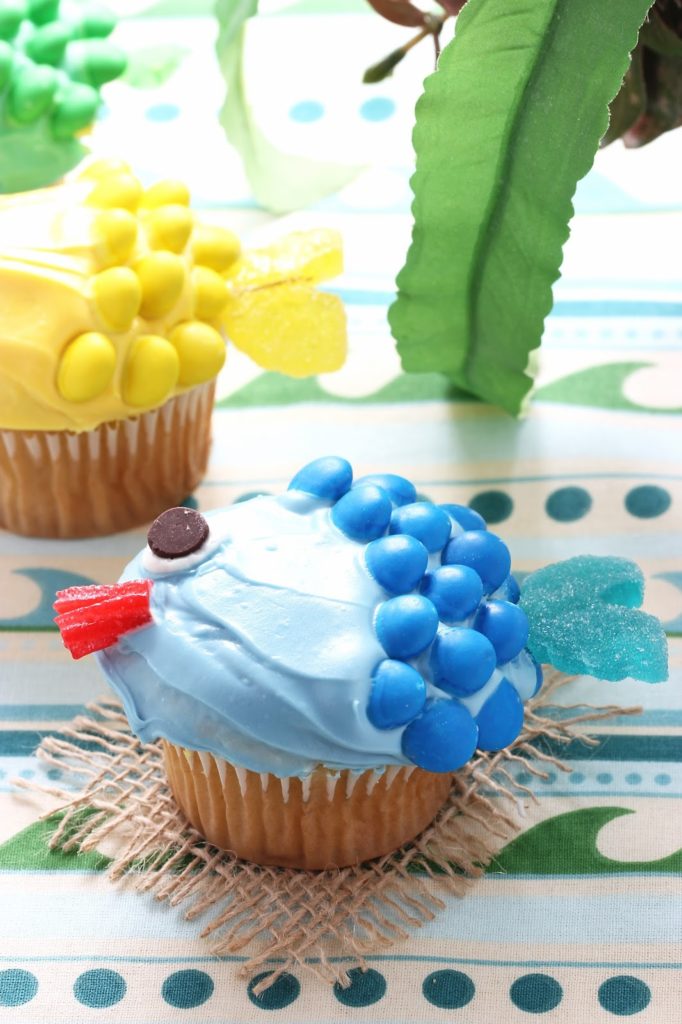 Hope you enjoyed my catch of the day!