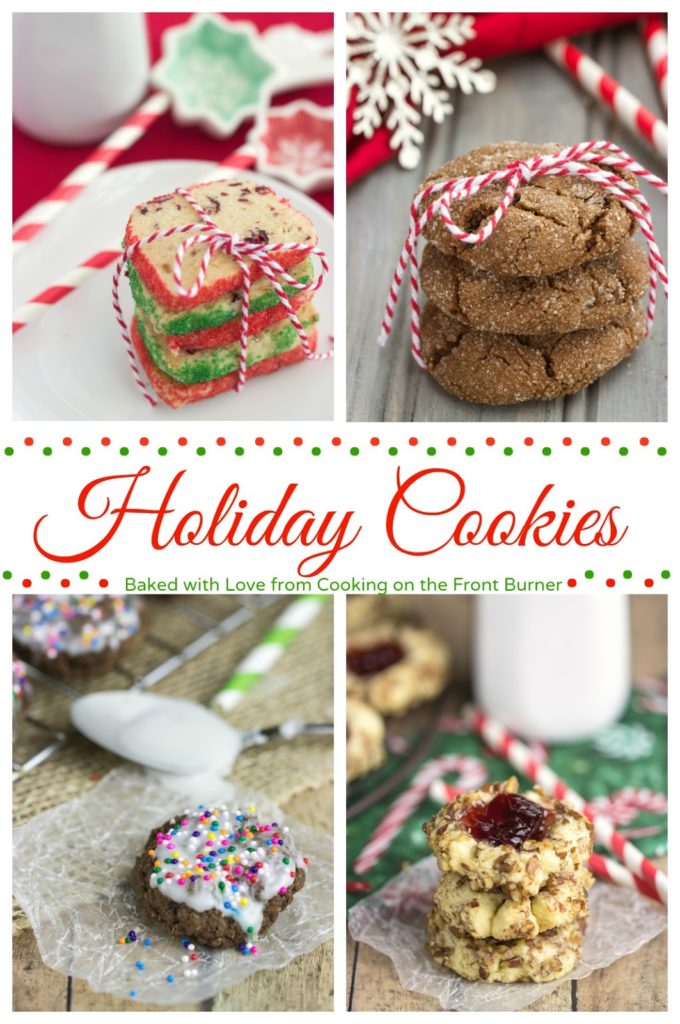 Tis the season to bring out the sugar, spice and everything nice; put on an apron, bring out the bowls, put some tunes on and finish those baking goals! Today I'm sharing four cookie recipes that were on our cookie platter in 2013 and making an appearance this year as well. There is a mix of oldies but goodies and a couple that were new.
When do you start baking? I find I need to wait a big closer to the holiday just to make sure we have some for Christmas – there is a certain someone in the house who has a sweet tooth and actually it's not me – so that only leaves one person! I'm pretty sure you can guess who that is.
I made 2 new cookies last year – the Orange Cranberry Spice ones were fantastic and we really loved the flavor. Perfect size!
Another new cookie were Triple Ginger Chocolate Cookies – wow – these have 3 different kinds of ginger – powdered, fresh and crystallized. No worries these aren't too gingery and have great chocolate flavor. I made these for Cookies for Kids Cancer. I'm also participating in the event this year and that cookie reveal day is 12/15. Be sure to come back to see what I made.
One of our absolute favorite cookies are Pepper Cookies – yep, these have real pepper in them. This is my Italian grandmother's recipe and has been around for about eighty years. I fondly think of her as I make them. This also happens to be the DIY Guy's favorite cookie (which is why they can't be made too early!)
The last cookie are Strawberry Thumbprints. This recipe was given to me as part of a recipe exchange – very similar to the cookies my mom used to make. So good!
So there you have it! I would love to know what kind of cookies are platter worthy at your place! I still have room to add some new ones.
Last but not least, a bunch of us blogger gals have gotten together so you can win Visa gift cards just in time for shopping! $500 up for grabs. Good Luck!!!!
THIS GIVEAWAY IS OVER