This post may contain affiliate links. For more information, please visit my disclosure page.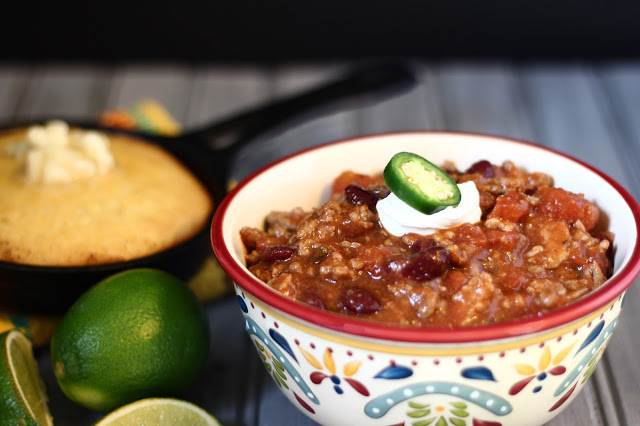 We are still on a roller coaster weather ride in the midwest. One day I'm trying to grill out and the next day I'm looking for some comfort food…. what's up with that? Ugh – we are leaving for FL in T minus 1 day (not that I'm counting or anything!) I'm really looking forward to some warmth and seeing something shiny in the sky…
But let's get back to dinner…. What I did like about this recipe is after browning the meat, all ingredients can be tossed in the slow cooker and left to do its thing for about 4-5 hours. Also, The DIY Guy and I really like corn bread so I bought a mix and made us a batch along with some honey butter (just take some soft butter and swirl some honey in—I love this!) Great meal and perfect for the chilly weather we have been having.
Chili with Jalapeno
Serves: 12
Calories: na
Prep Time to Table: 20 prep plus slow cooker time
Recipe : adapted from Taste of Home
Ingredients:
– 1 lb ground pork
-1 lb ground beef
-2 cans of dark red kidney beans
– rinsed and drain
-1 can tomatoes with garlic and onion, undrained
-1 can tomatoes with lime and spices, undrained
-1 can diced tomatoes, undrained
-1 can beef broth
-1 can (8 oz) tomato sauce
-4 T chili powder
-1 T cumin
-1 Tsp salt
-1 jalapeno pepper diced
Preparation:
1. In large skillet, cook beef and pork until no longer pink, drain and add to slow cooker
2. Add remaining ingredients and cook on high 3-4 hours
Notes: may top with cheese, sour cream if desired