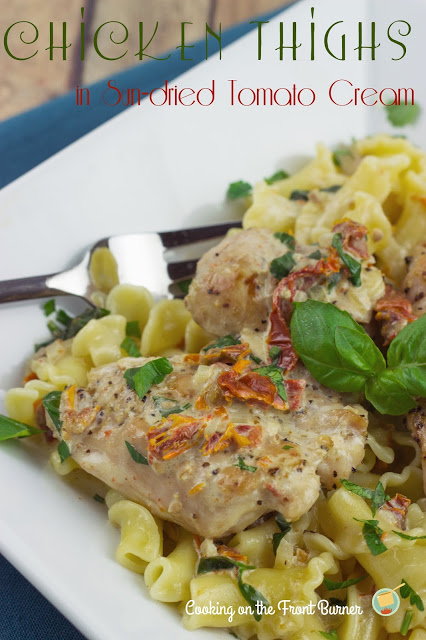 Happy Saturday! Time to enjoy the weekend cuz you deserve it! And I've got a meal for you that is easy to make and has great flavor. A couple weeks ago I came across this recipe from UNI HOMEAKER. I was really drawn to it because it has the DIY Guy's favorite meat – nope not the other white meat but close… chicken thighs. I quickly pinned it and had time this past week to give it a try. It did not disappoint!
I did tweak it a bit to what I had on hand and also served it over pasta (that's the Italian in me). Be sure to stop by to see Uni – not only is this recipe fantastic but she also has other great ones to try!
Chicken Thighs with Sun-Dried Tomato Cream
Prep Time: 10 minutes
Cook Time: 15 minutes
Adapted from Uni Homeaker
Yield: 4 servings
Ingredients:
1 pound of boneless skinless chicken thighs, seasoned with S&P
1 tablespoon of oil from the oil-packed sun-dried tomatoes
1 tablespoon minced shallot
2/3 cup of dry white wine
1/2 cup of heavy whipping cream
1/4 cup of oil-packed sun-dried tomatoes, drained and sliced
2 tablespoons chopped fresh basil
6 oz. medium sized pasta, cooked according to directions
Instructions:
1. Cook pasta while preparing chicken.
2. In a large skillet over medium high heat, add oil and chicken to the skillet and cook until brown, about 3-4 minutes per side.
3. Remove chicken to a plate; set aside.
4. Add shallots and stir for one minute then add the wine, cream and tomatoes.
5. Bring to boil then add chicken back to skillet; cover. Reduce the heat to medium low and simmer until chicken is just cooked through, an additional 3-4 minutes.
6. Add basil, stirring to combine.
7. Place chicken over pasta and spoon sauce over; sprinkle with additional basil if desired.
What do you have planned this weekend? I've been cooking and baking so watch for some tasty treats soon! Enjoy your weekend!