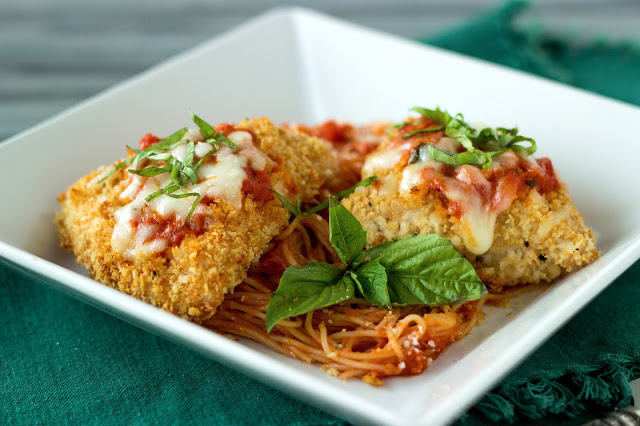 var r = document.URL;
Today I have for you a Chicken Parm recipe that is easier on the calories but still provides great flavor! I love chicken parm and it tends to be my go-to order when we hit up our favorite Italian restaurant. All that gooey cheese melted all over a seasoned crispy chicken breast served over pasta…yum!
This version has all those elements. The main difference is baked chicken coated with toasted panko crumbs. I just discovered panko crumbs a couple years ago and have substituted regular bread crumbs for these in some of my recipes. They are much crisper. Also, as you can see there is not a lot of that gooey cheese on top but I really don't think you'll miss it (or add more to your heart's delight).
This dinner came together in 30 minutes and it looks like you slaved all day. The DIY Guy went back for seconds too!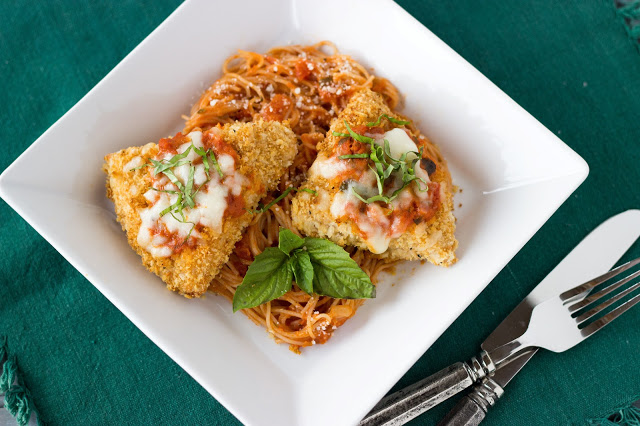 Mangia!
Chicken Parmesan
Serves: 6
Calories: na
Prep Time to Table: 35 min
Ingredients:
– flour
-3 egg whites beat until foamy
-1/2 t garlic powder
-1 ½ cup panko crumbs toasted
-1/2 c parmesan cheese
-1 T olive oil
-S&P
-6 (6 oz) boneless chicken
-8 oz angel hair pasta
-1 jar your favorite meatless pasta sauce
-4 oz mozzarella cheese shredded
-basil for garnish
Preparation:
1. Preheat oven to 475 and line a baking sheet with foil then place a cookie type wire rack on top then spray with PAM.
2. Cook pasta; warm sauce
3. Pound chicken to about ½" and season with S&P.
4. To prepare chicken – dredge in flour (with added garlic powder), then egg whites and press in panko crumbs (that have been mixed with cheese, oil and S&P)
5. Place chicken on rack, spray with PAM and bake for 15-20 minutes until done then top with sauce, mozzarella cheese and return to oven until melted
6. Serve over pasta that has been tossed with sauce and top with fresh basil.
Notes: