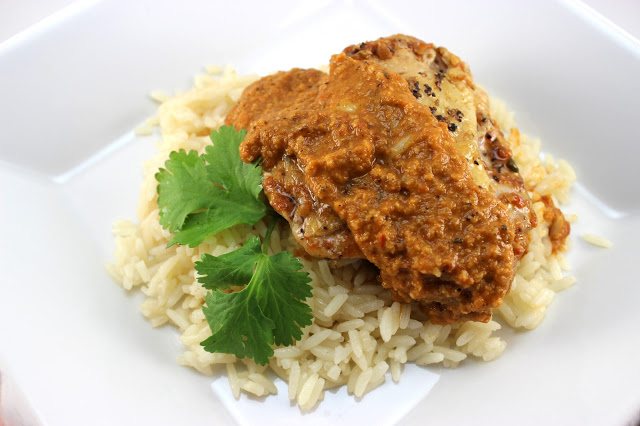 When we have chicken dishes, I try to rotate in chicken thighs instead of always using boneless chicken. I know the DIY Guy really appreciates it! He will eat and enjoy the other but likes the flavor of the dark. I came across this recipe and was intrigued by the use of cinnamon along with peanuts. Did I like it? well, it grew on me…I think next time I would cut the cinnamon in half and maybe spice it up a bit with some asian chili sauce.
Recipe source: adapted from BH&G Chicken Dinners 2013
It went well over Uncle Ben's 90 second rice. If you give it a try, let me know what you think…
Ingredients:
– 1 anaheim pepper, chopped
-6 bone in chicken thighs
-1/4 veg oil
-1/2 c chopped onion
-1 garlic clove minced
-1 14.5 diced fire roasted tomatoes, drained
-1 cup chicken broth
-1/2 cup dry roasted peanuts
-1 t cinnamon
– cilantro if desired
-hot rice
Preparation:
1. S&P chicken. In large skillet heat veg oil over medium heat. Cook chicken for 8 minutes turning once to brown chicken then remove.
2. Keep 2 T of oil in skillet and then add pepper, onion and garlic. Cook about 5 minutes until onion is soft.
3. Transfer above to a blender, add tomatoes, broth, peanuts and cinnamon. Blend until smooth.
4. Return mixture to skillet and add chicken back in. Bring to boil and then set to simmer, cook chicken uncovered turning once (use thermometer to test for doneness). Serve over rice with sauce.