Carrot coconut bread is loaded with carrots, coconut, and walnuts. Topped with a creamy glaze and toasted coconut. This easy quick bread recipe is perfect for breakfast or when company calls!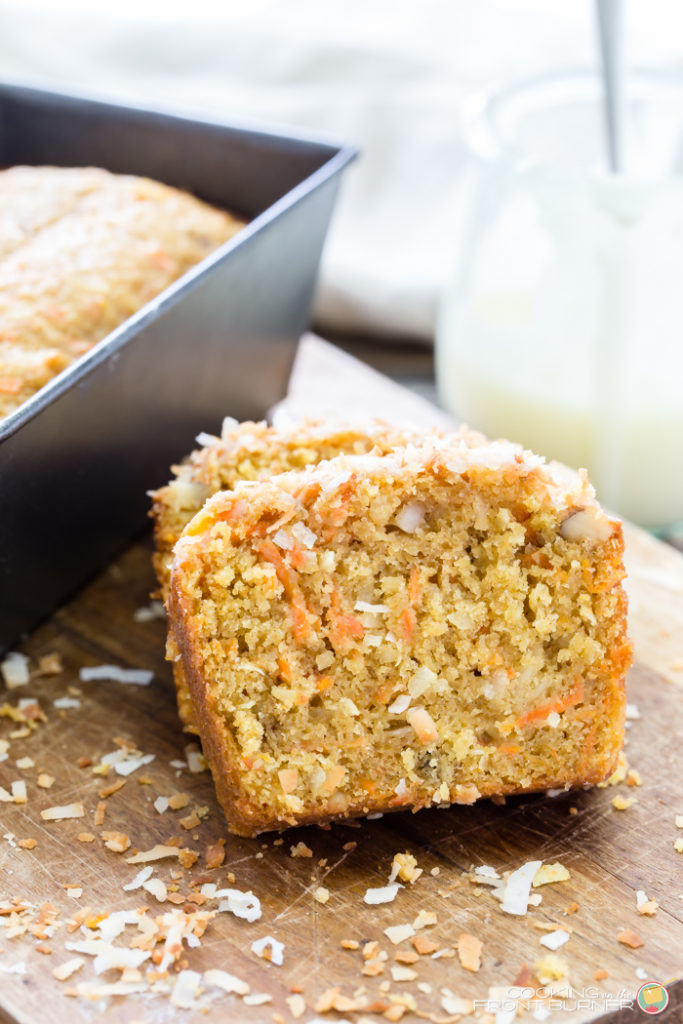 Hey what's up doc?  Bugs Bunny would definitely be interested in today's carrot coconut bread recipe since it is loaded with fresh carrots and a bonus with lots of sweet coconut and crunchy walnuts.  So easy to make and a great recipe to have on hand for breakfast and perhaps for your Easter table.  It's also super moist and sure to disappear fast!
If you love carrot cake, then this is the quick bread recipe for you.  No need to bake all the layers, make frosting, assemble it or decorate it.  This quick bread has all those flavors in a loaf pan and has an easy cream cheese glaze.  Make it, bake it and enjoy it all in about one hour.
This recipe will make one big loaf or three small ones – I opted for the three small ones since I planned on eating one myself – HA.  Well, I really didn't do that, but I sure could have.  I actually wanted to keep one for us (sharing with the DIY Guy) and share the other two with friends.  It's always nice to share, right?  And none of my friends have ever turned down a treat I've given them. (And nor do I when I'm the recipient!)
It just seems like this time of year that carrots remind me of spring and Easter.  In past years, I have made carrot cake muffins and even a carrot ginger soup (this one was a great hit for the bridal shower I hosted last year).  Get your orange on!  I topped one loaf with just toasted coconut and another with toasted coconut and walnuts – the third one is naked for now.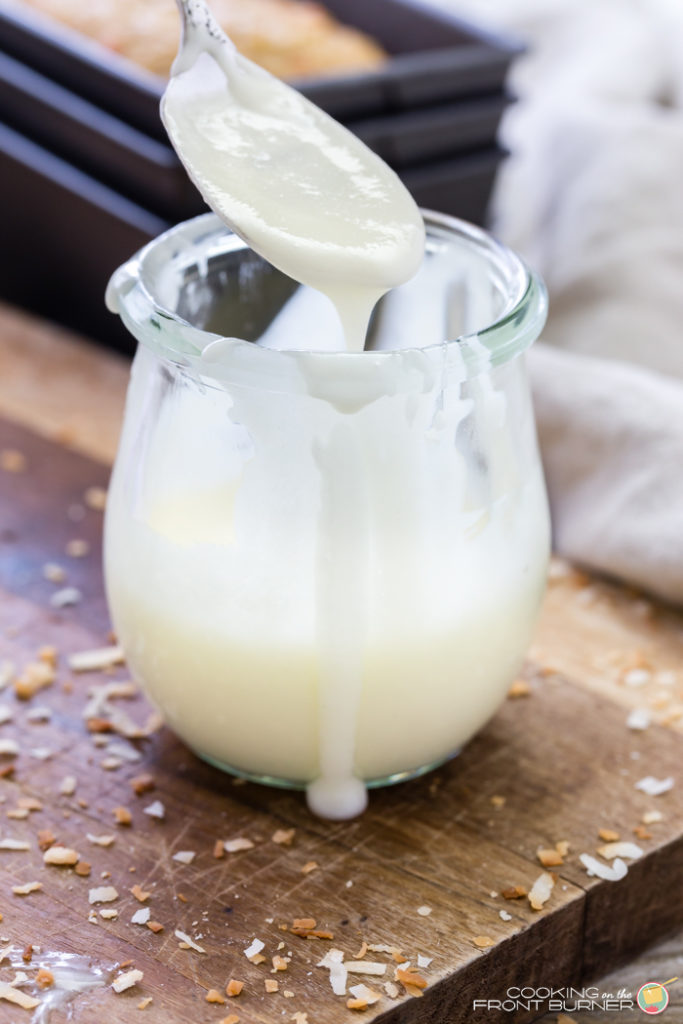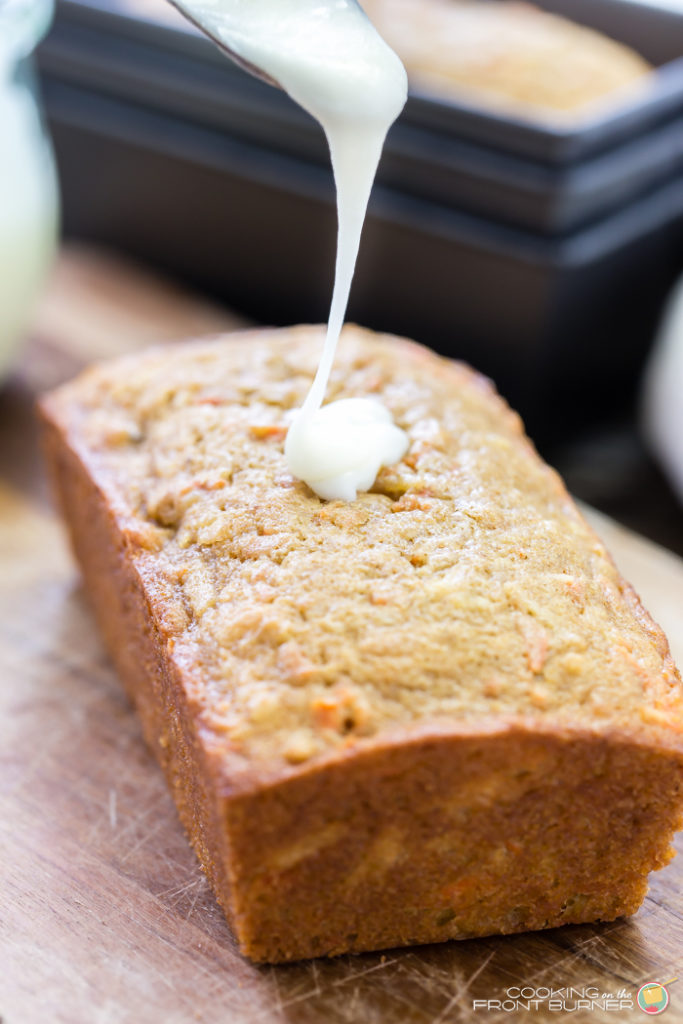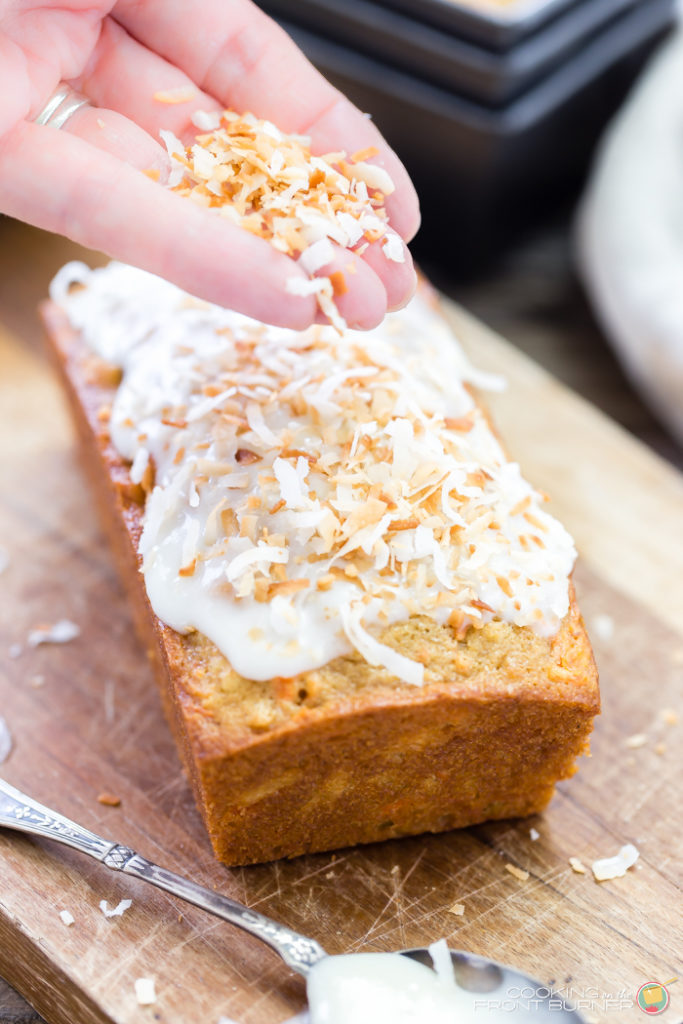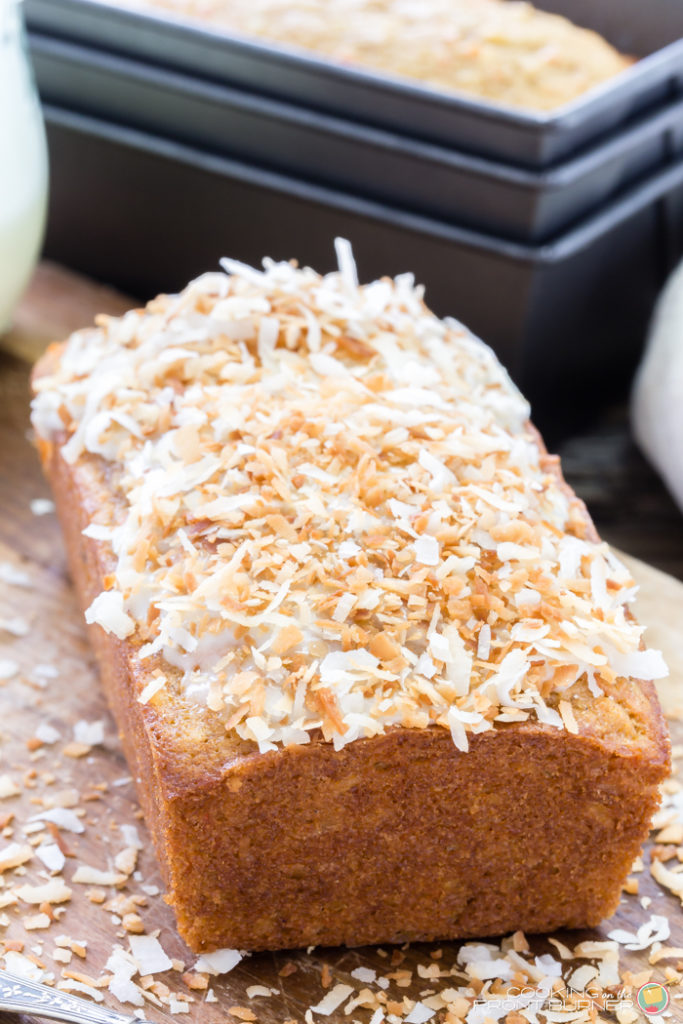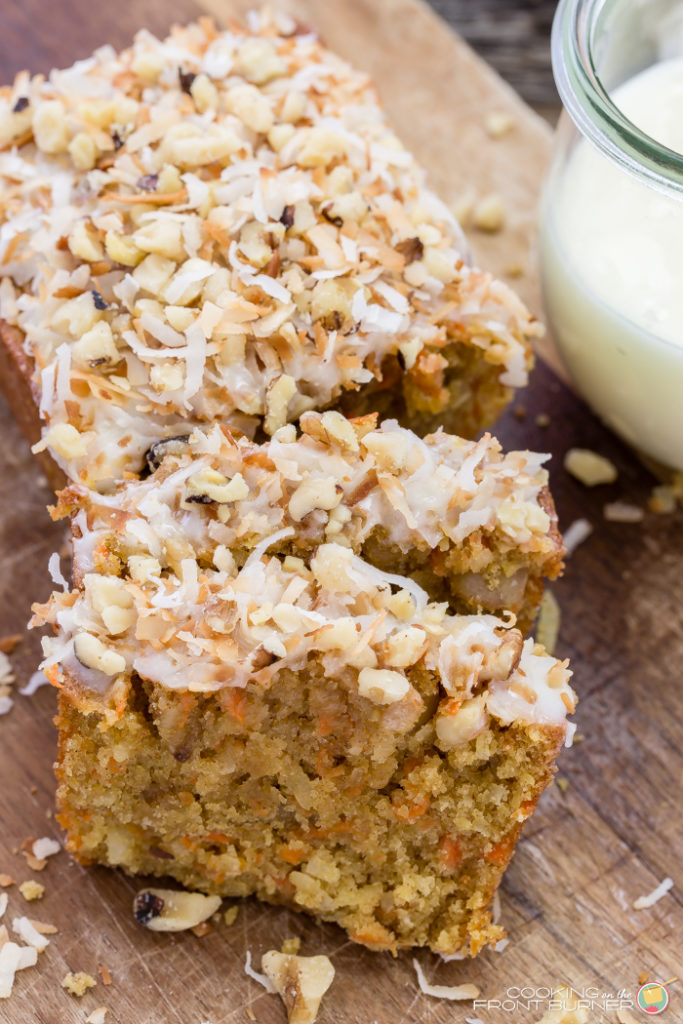 I hope you enjoy the carrot coconut glazed bread recipe!
My naked loaf.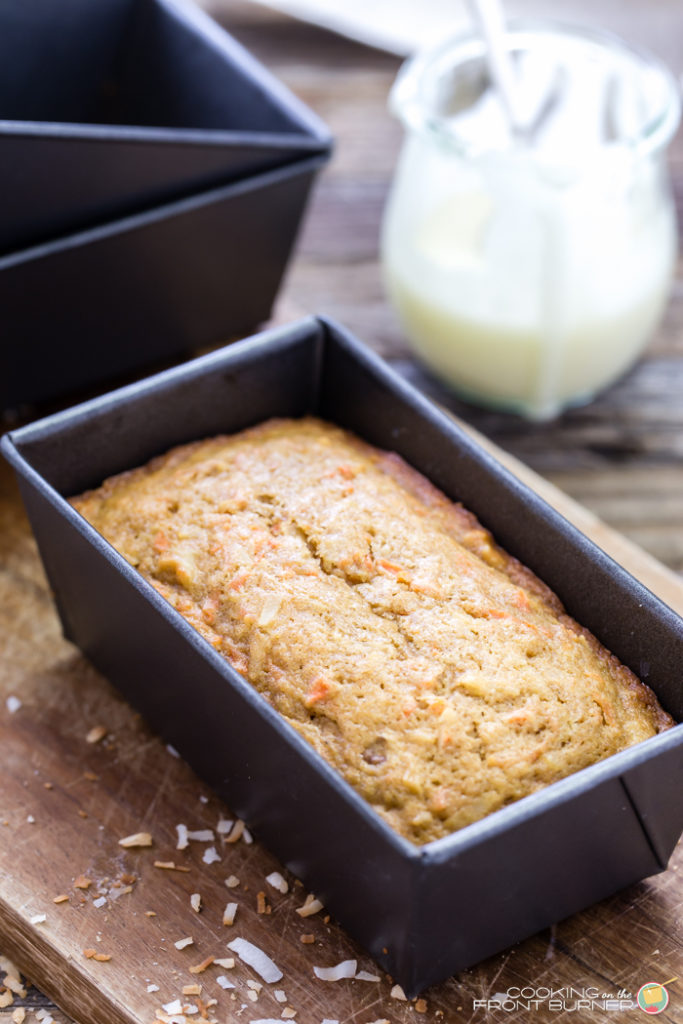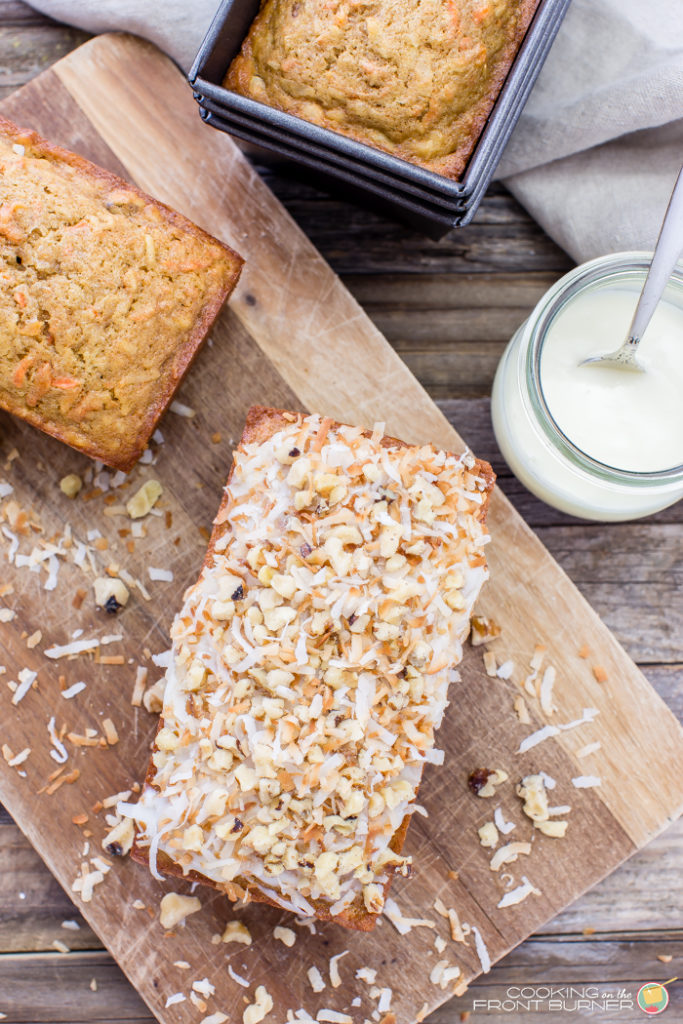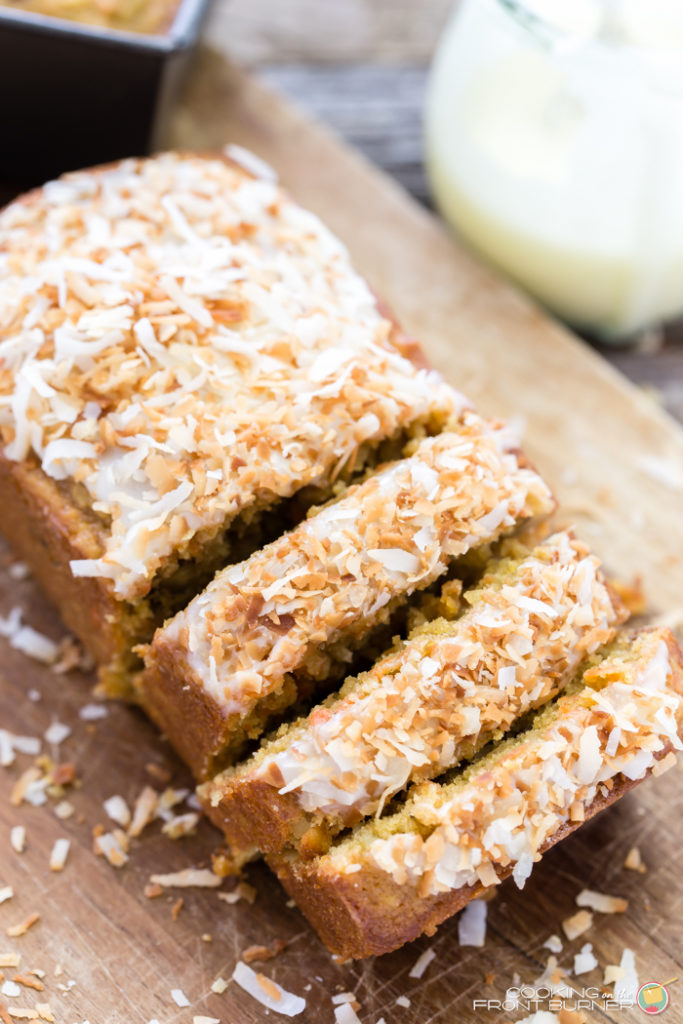 Easy Carrot Coconut Glazed Bread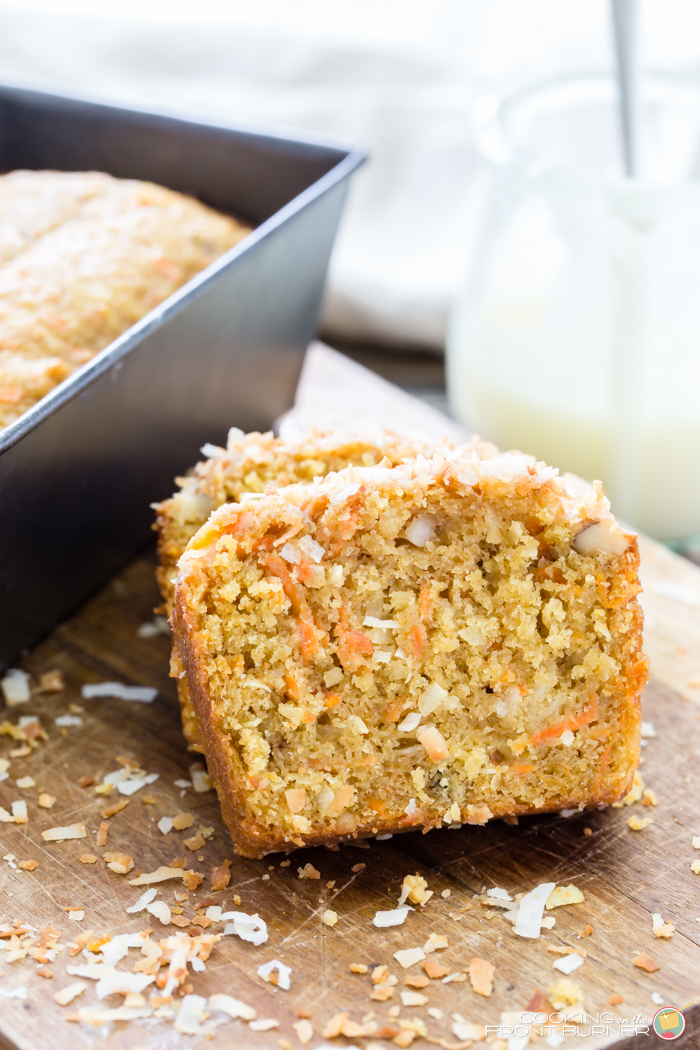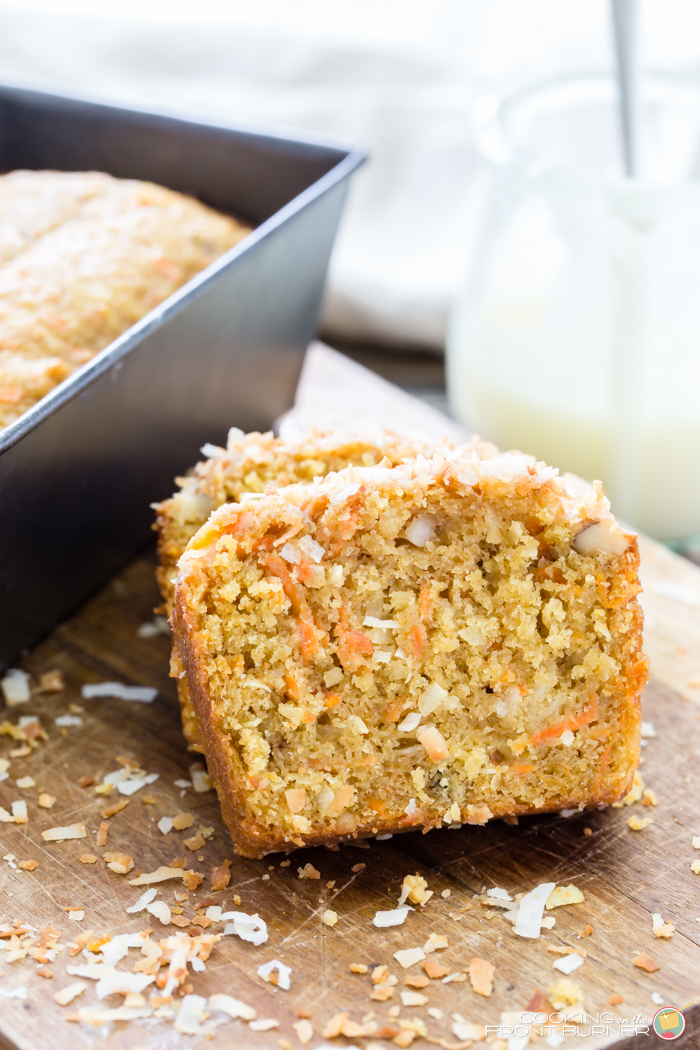 This super quick and easy Carrot Coconut bread is loaded with carrots, coconut, and walnuts with a creamy glaze and topped with toasted coconut. Perfect for breakfast and when company calls!
Ingredients
1/2 cup melted coconut oil
1/2 cup brown sugar
1/4 cup sugar
2 large eggs
1 teaspoon vanilla paste (or extract)
1/2 cup coconut yogurt (or vanilla)
1 1/3 cup shredded carrots
1 teaspoon cinnamon
1/4 teaspoon nutmeg
1/2 teaspoon salt
1 teaspoon baking powder
1/2 teaspoon baking soda
1 1/4 cups flour
1/3 cup chopped walnuts
2 ounces soft cream cheese
1/4 teaspoon almond extract
1/4 teaspoon salt
1 1/4 cup powdered sugar
1 tablespoon milk
1/4 cup toasted coconut
additional walnuts for garnish if desired
Directions
Preheat oven to 350
In a large bowl beat the oil, brown sugar and sugar until it is mixed well
Add the 2 eggs, vanilla paste and yogurt beating again until creamy
Stir in by hand the carrots and coconut
In a medium bowl whisk together the cinnamon, nutmeg, salt, baking powder, baking soda and flour
Add a small bit of flour at a time to the wet ingredients (beating on a slow speed) unless well combined
Stir in walnuts
Grease 3 small loaf pans and divide mixture between pans
Bake for about 30-35 minutes until a toothpick has a few crumbs left on it
Cool on wire rack for 15 minutes then remove
Make glaze by combing the cream cheese, extract, salt, powdered sugar and milk
Beat until creamy
Cool loaves for about 10-15 minutes
Spread with a spoon the glaze on the loaves
Top with toasted coconut and walnuts if desired
Keep stored in an airtight container in the refrigerator
Recipe Notes
To make toasted coconut heat a small saute pan on medium heat and add coconut. Stir occasionally until the coconut is browned (watch so it doesn't burn)