This Pumpkin banana quick bread is the perfect snack for Fall. Bursting with fresh pumpkin puree, ripe bananas and walnuts, this quick bread recipe is a welcome treat with coffee or tea.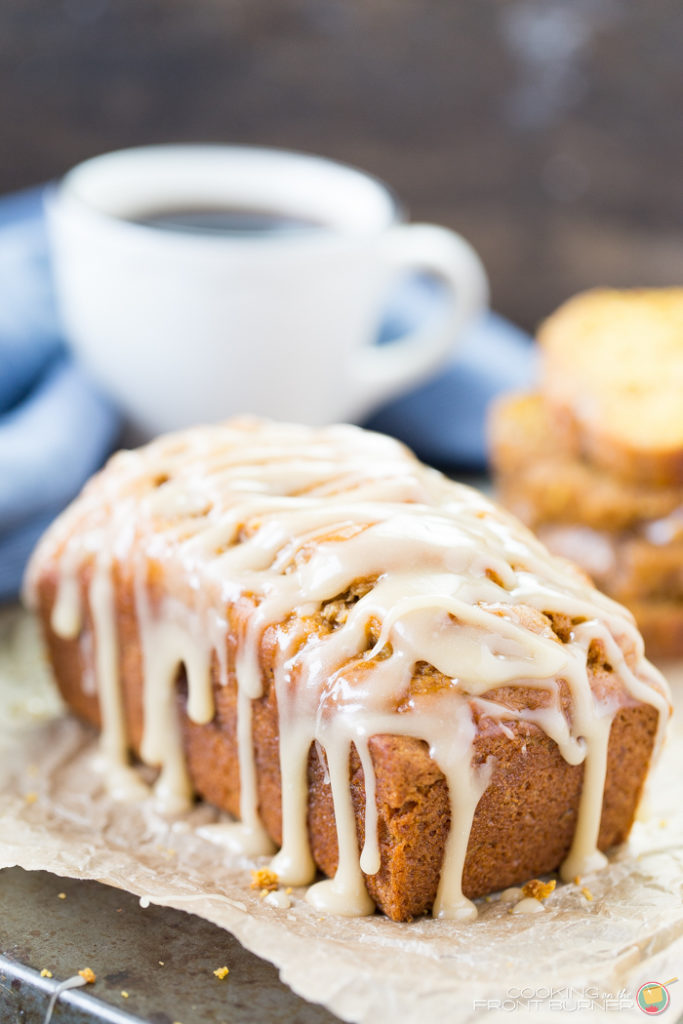 The other day the DIY Guy was walking in the kitchen when he noticed some overripe bananas on the counter (well actually the entire kitchen smelled like bananas – they were that ripe!)  In the past, I maybe would have thrown them in the freezer thinking I would use them some day but this time he asked if I could make something.
I also happened to have about a full can of pumpkin leftover that I didn't want to go to waste, so I thought why not try to combine the two and make this Easy Pumpkin Banana Nut Quick Bread.While this is not an original recipe, I did decide to kick it up a notch with a creamy maple glaze. That, my friends, really put it over the top!
We all know that Nestle makes the very best chocolate, right?  But they also have this recipe on their site that is super easy to make.  This quick bread has nuts, but I do think some chocolate chips would have been a great idea (I'm surprised they weren't added).  Also, with reading some of the comments, I decided to use the mini loaf pans instead of two large. One person commented that it needs some sort of frosting, which is why I made a maple glaze.  Oh and I should mention I baked the quick bread at 325 not 350, as the original recipe suggests.  The results are fantastic.
The pumpkin banana nut quick bread is super moist and the glaze really goes well with the other flavors.
I would recommend that you glaze the bread right before eating –  I noticed the next day the glaze soaked in the bread but that was tasty too.  Since it does make 6 mini loafs, I did freeze 4 of them to be eaten another time.  Just be sure to wrap them when completely cooled in plastic wrap and store in a freezer bag.  These would be great to pull out when that unexpected company stops by or you have a craving that needs a fix!
And yes, as I mentioned earlier you can freeze ripe bananas, but don't be like me and leave in them in for a year  After making this bread, we just decided to throw them away.  Oh well, I DID have good intentions!
Naked cake…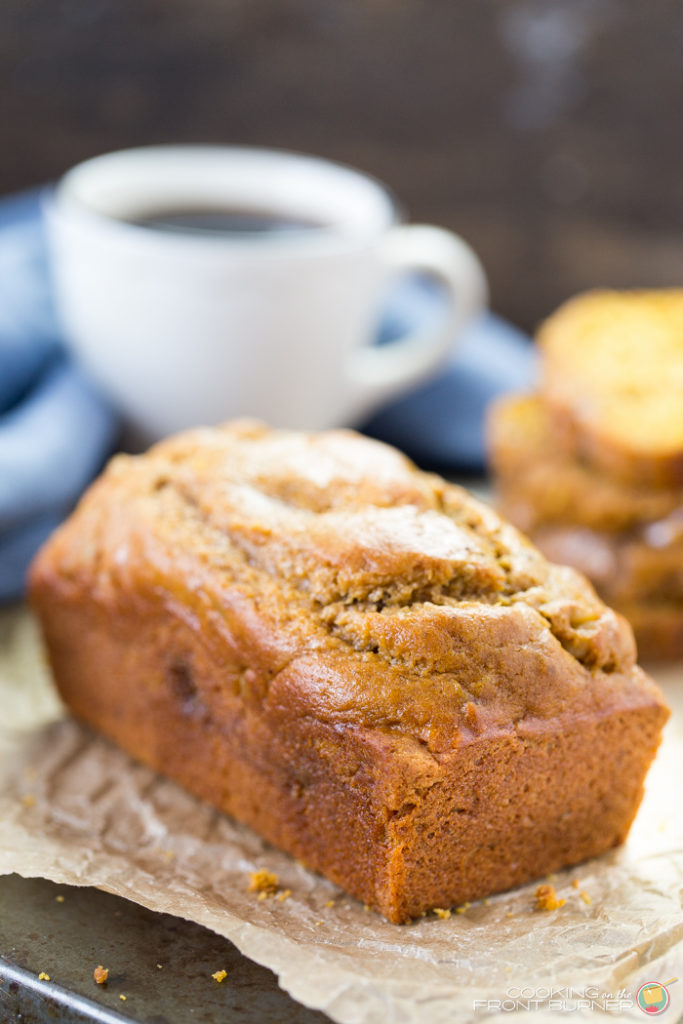 Oh, did I mention the Maple Glaze?  Let's drizzle….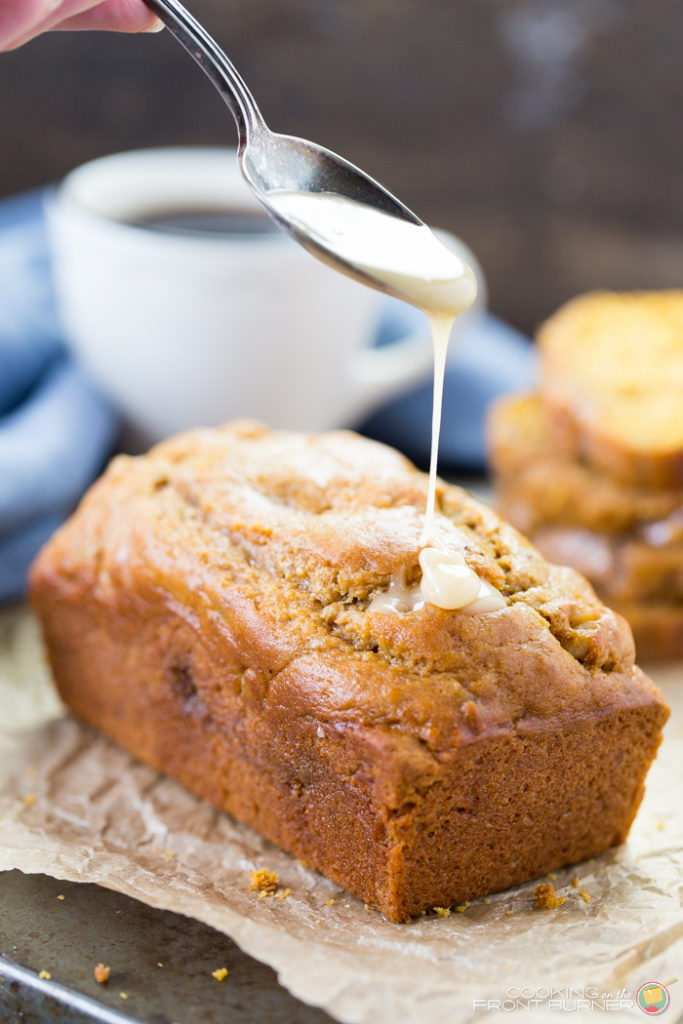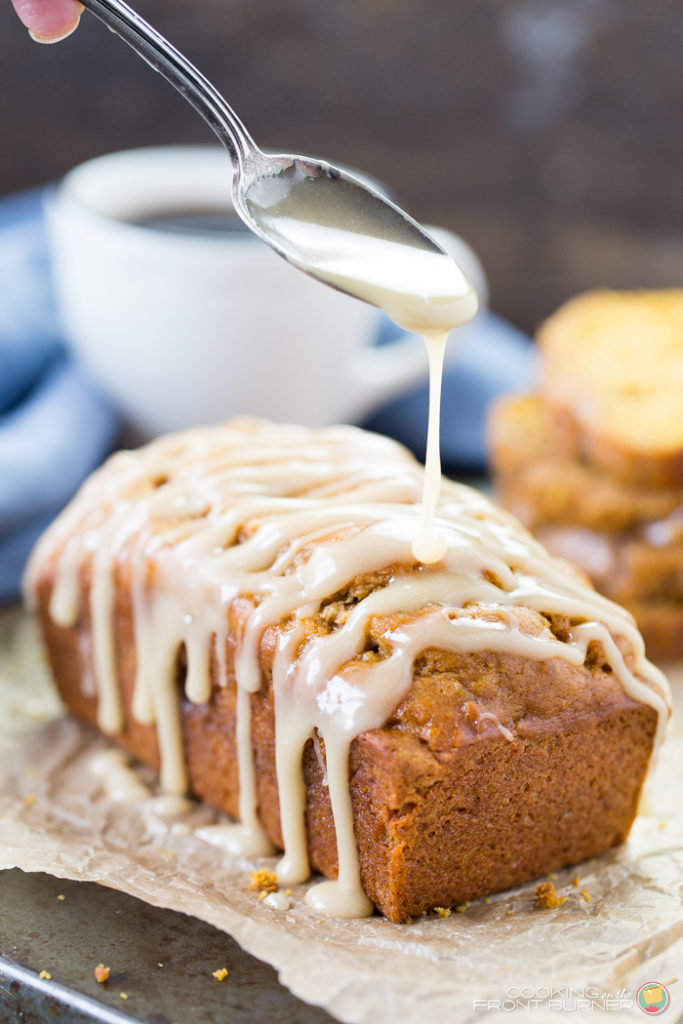 Let's eat some pumpkin banana nut bread! (oh and have coffee!)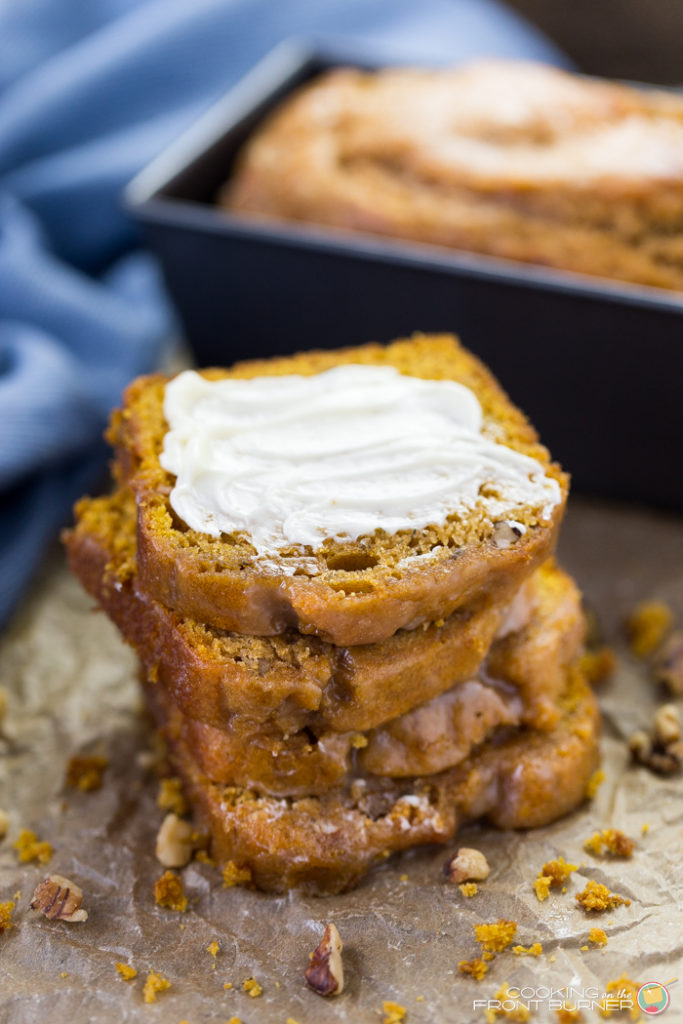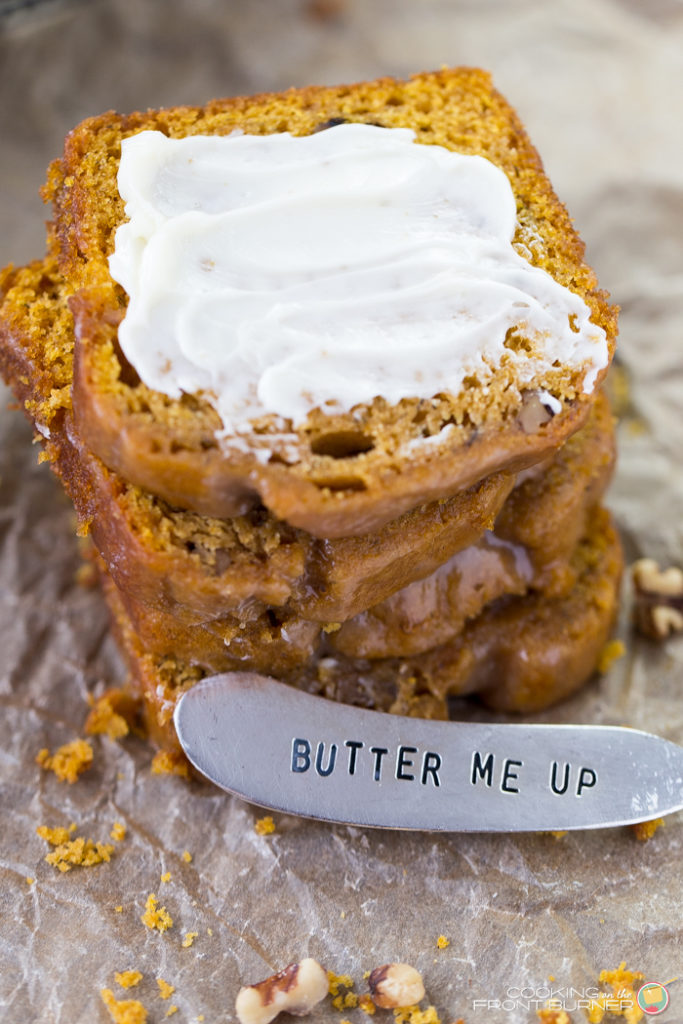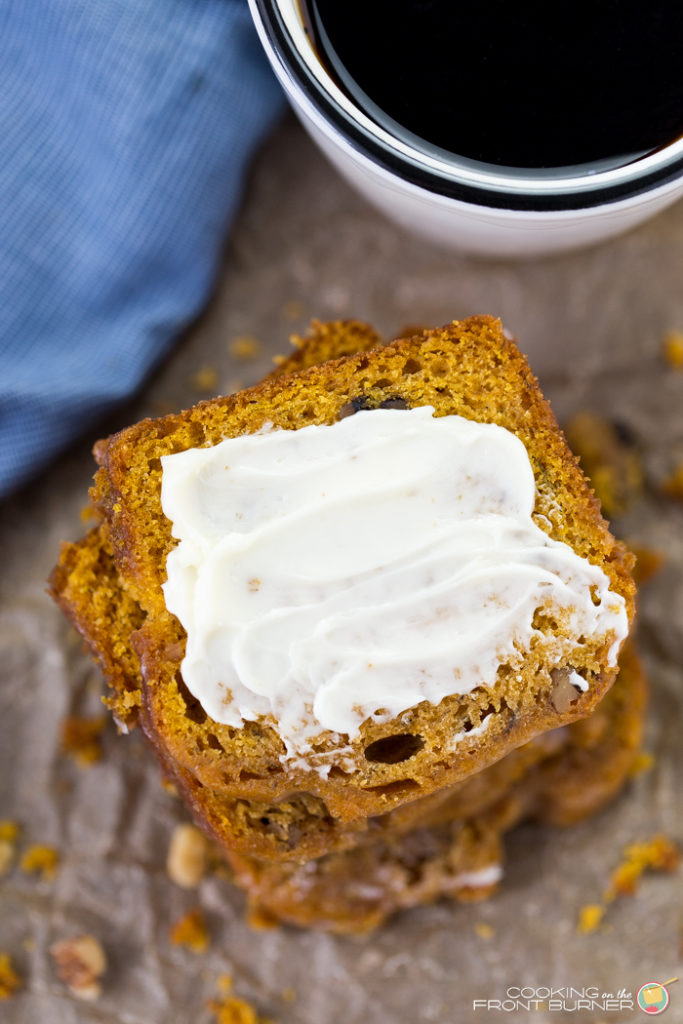 Pumpkin Banana Quick Bread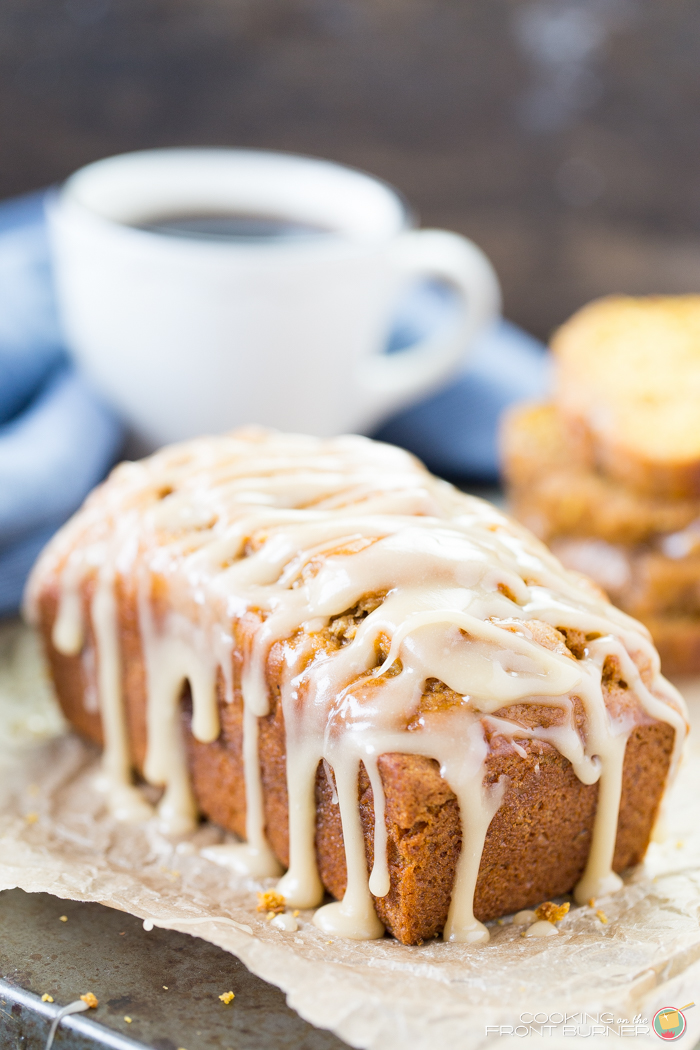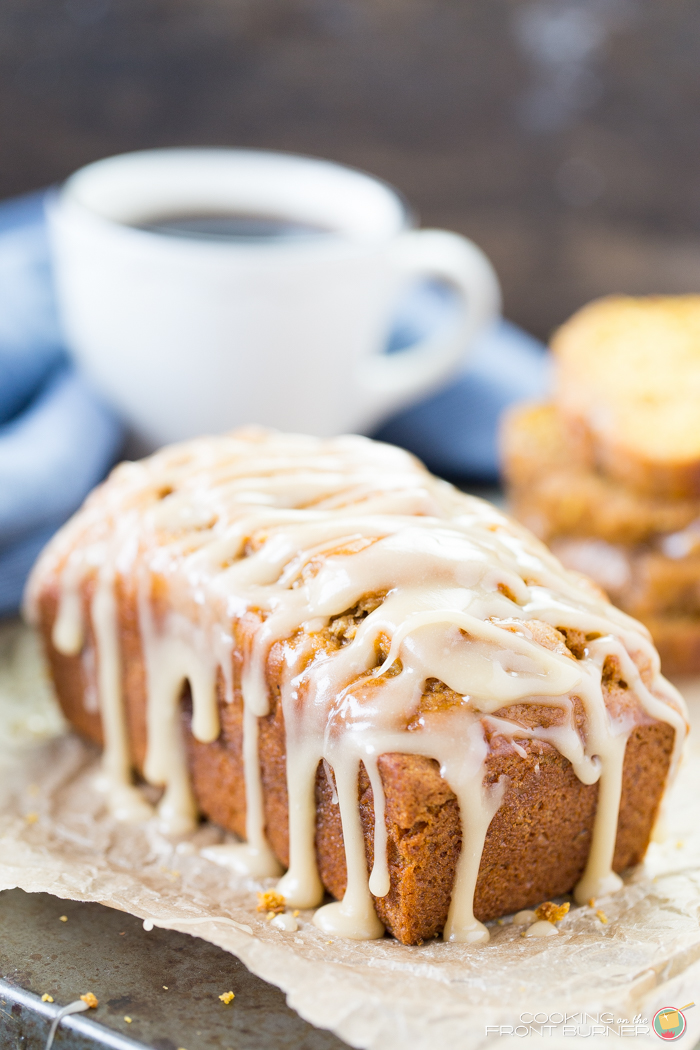 These pumpkin banana quick breads are easy to make and perfect for breakfast, brunch or a snack.
Ingredients
4 cups flour
4 teaspoons baking powder
1 tablespoon cinnamon
2 teaspoons ginger
2 teaspoons baking soda
1/2 teaspoon salt
15 oz pumpkin puree
4 eggs
1 cup white sugar
1 cup packed light brown sugar
1 cup mashed very ripe bananas (2 medium)
3/4 cup vegetable oil
1 cup chopped walnuts
1/4 cup pure maple syrup
2 tablespoons butter
1/2 cup powdered sugar
Directions
Preheat oven to 325
Grease 6 mini loaf pans or 2 9x5" loaf pans
In a medium bowl combine the flour, baking powder, cinnamon, ginger, baking soda and salt. Mix well
In a large bowl beat together until smooth the pumpkin, eggs, white sugar, brown sugar, bananas and vegetable oil
Gradually mix in the flour mixture then stir in the nuts.
Spoon into prepared pans
Bake for 30 minutes then check with a toothpick - if it comes out clean they are done. If you are doing large loaves (which I did not try); check after 50 minutes and still wait until toothpick comes out clean.
Cool on wire rack 10 minutes then remove.
In a small saucepan combine the butter and maple syrup; stir until butter melts then remove from stove; Whisk in the powdered sugar (sifted)
NOTE: The glaze will do 2-3 small loafs. It's best to glaze and eat the same day.
Loaves freeze well without the glaze
Recipe Notes