This Apple Almond Poppy Seed Salad has all the crunch you want with sweetness of oranges, apples and cranberries.  It all comes together with a poppy seed dressing!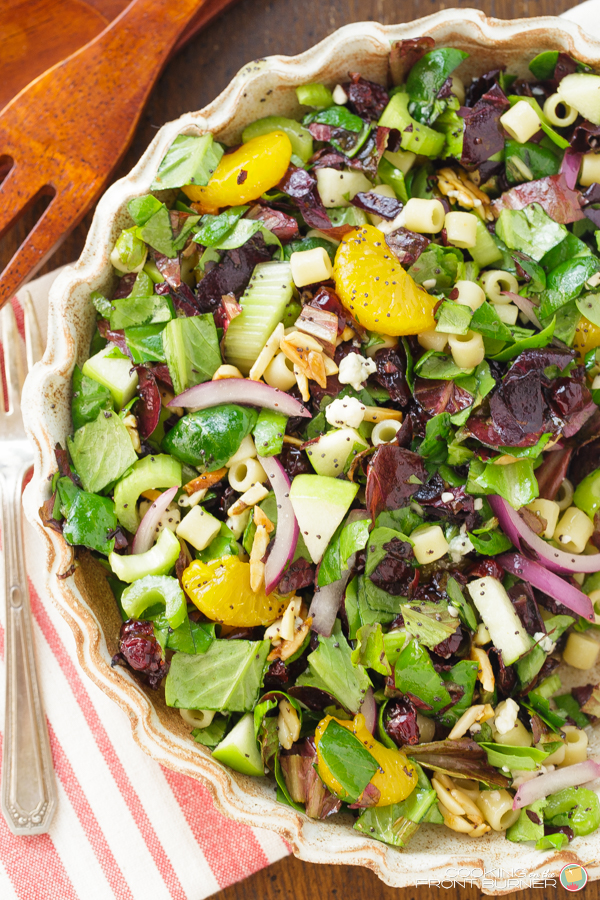 Get ready to have your socks knocked off this this Apple Almond Poppy Seed Salad.  This salad has it all and I had a really hard time coming up with its name since as you can see it has apples, glazed almonds, poppy seed dressing along with red onions, bleu cheese, mandarin oranges, celery, pasta and oh ya the lettuce it is all nestled in!  Lots of ingredients, lots of flavor and not lots of leftovers!  And the prep part you may ask is only about 15 minutes to get this beauty on the table.  Grab a fork and dig into this amazing salad.  Your taste buds will not know what hit them. (And if you think of a better name, let me know!)
If you read my post last week about the cheeseball appetizer, then you know we went to some friends for the weekend and I had left that at home by mistake.  That was a major bummer BUT the other dish I brought that I didn't forget was the ingredients for this salad.  And honestly if I had to choose between the two, this salad wins hands down.  It was a huge hit, with folks going back for seconds.  The creamy poppy seed dressing with a bit of honey and dijon mustard pairs perfectly with the rest of the ingredients.  I especially love how crunchy it is with the apples, almonds and celery.  And if you have never tried pasta in a salad, it is time to start!  It looks fun and adds another dimension.
Remember lettuce is just a base and you can create your own beauty with your favorite ingredients.  Other ingredients that I may try in the future is candied pecans, gorgonzola cheese, orzo pasta, green onions, strawberries or other fruit.  Just use your imagination but keep the poppy seed dressing – it is a winner for sure!
Fun ingredients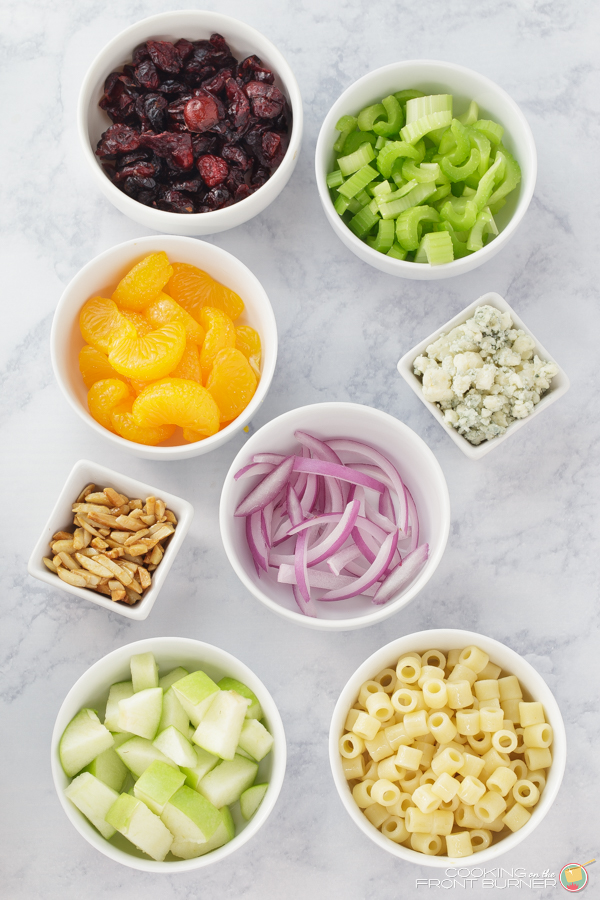 Creamy poppy seed dressing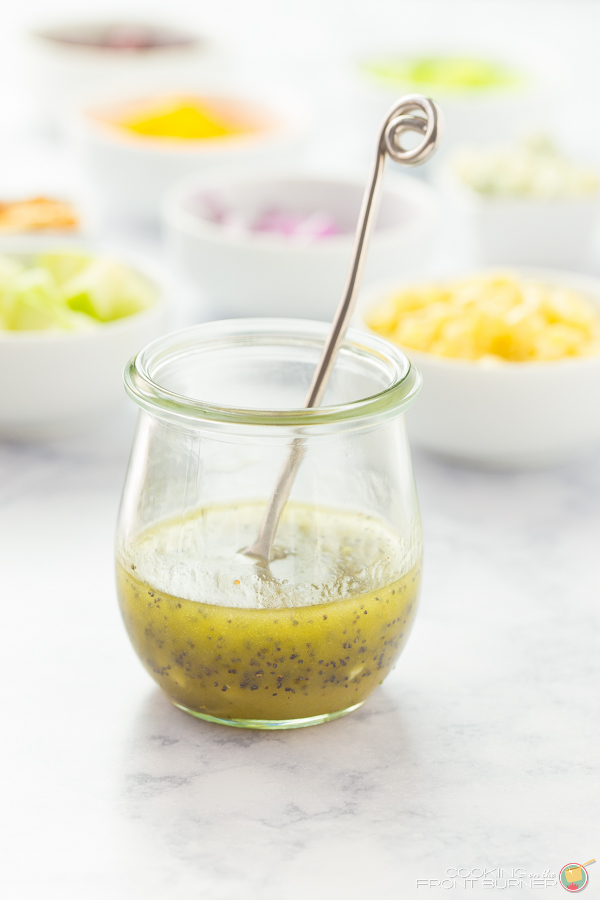 Naked salad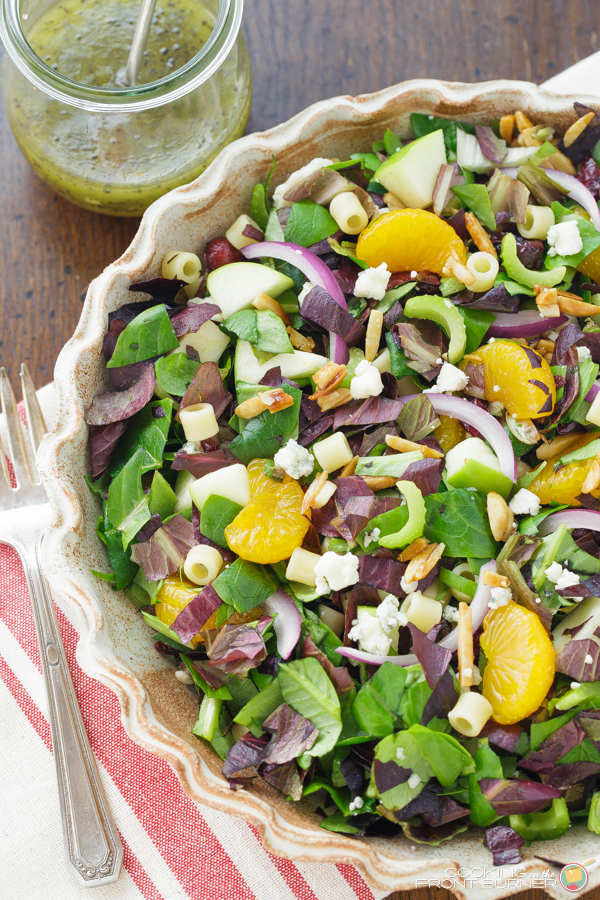 Getting "dressed"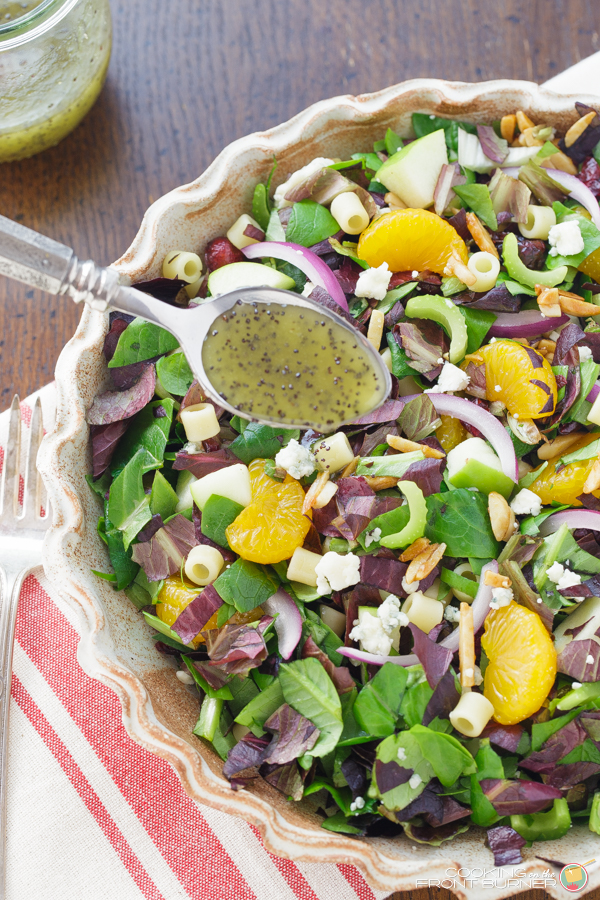 Time to dig in!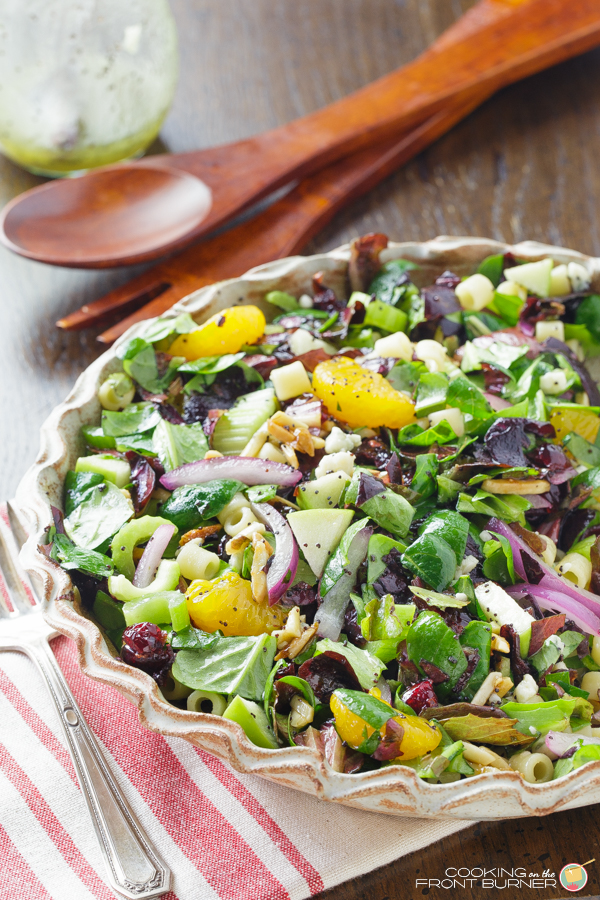 Crunch Apple Almond Salad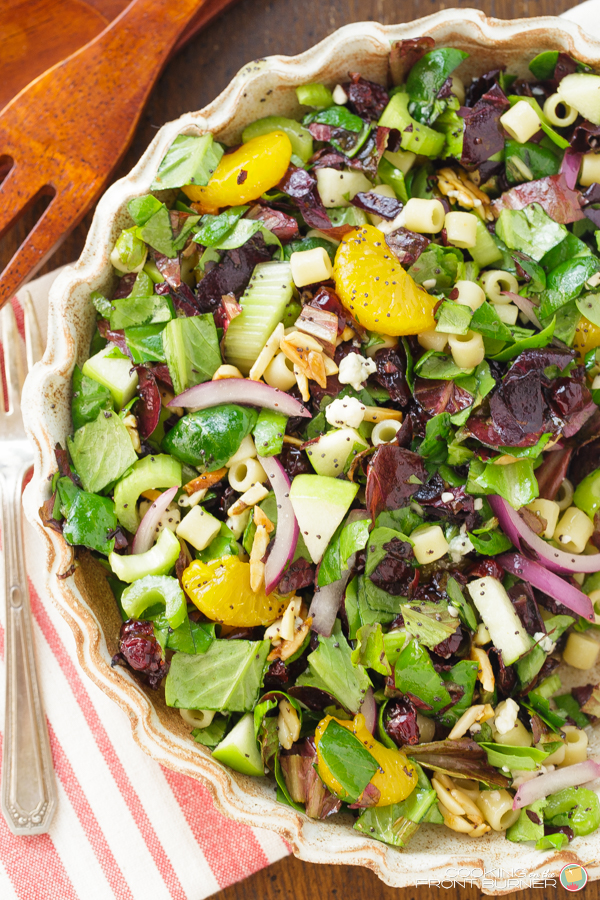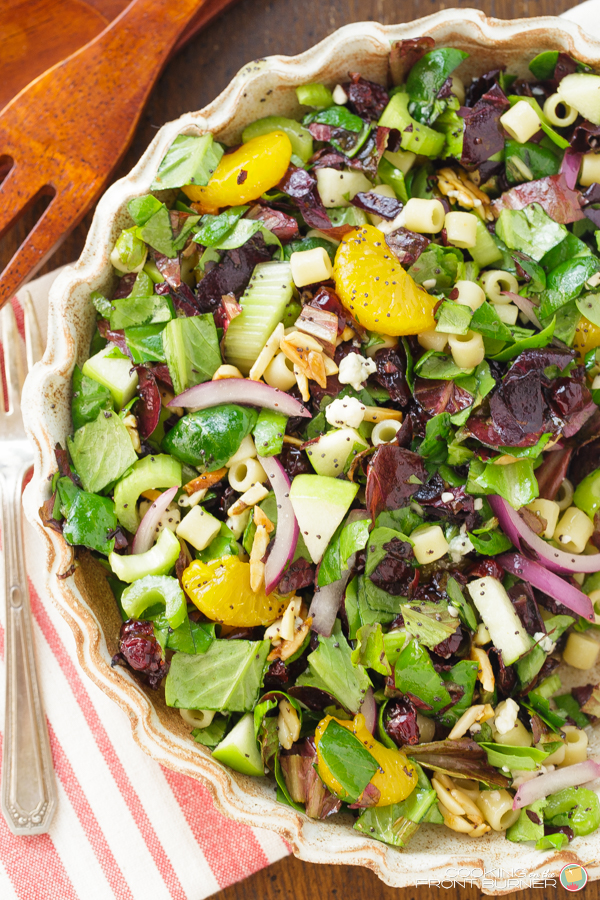 This salad has it all - crunch, sweetness and a bit of pasta!
Ingredients
1 bag of spring green salad
1/2 cup dried cranberries
1 green apple, seeded and chopped
1 small can mandarin oranges, drained
1/4 cup slivered red onions (loosely packed)
1/2 cup sliced celery
1/2 cup ditalini pasta, cooked, rinsed and cooled
1/3 cup silvered almonds
1/3 cup crumbled bleu cheese
1 tablespoon butter
1 1/2 tablespoons brown sugar
4 tablespoons olive oil
2 tablespoons champagne vinegar
2 tablespoons honey
1 tablespoons poppy seeds
1/4 teaspoon salt
1/8 teaspoon pepper
1/2 clove garlic minced
1 teaspoon dijon mustard
Directions
In a medium saucepan melt the butter and brown sugar then saute the almonds until they are glazed and light brown. Remove and cool on parchment paper or waxed paper - break up clumps when cool
In a large bowl combine the lettuce, craisins, apple, oranges, red onions, celery, pasta, bleu cheese and almonds - mix well
To make dressing - combine the olive oil, vinegar, honey, S&P, garlic, poppy seeds and dijon mustard in a small container with a lid and shake until mixed.
Drizzle over salad and toss gently to combine - divide between 4 plates
Recipe Notes
Another salad you might like