This Apple Crisp Cheesecake has a creamy vanilla filling and topped with cinnamon apples and crumbly topping.  A special dessert recipe to have on hand.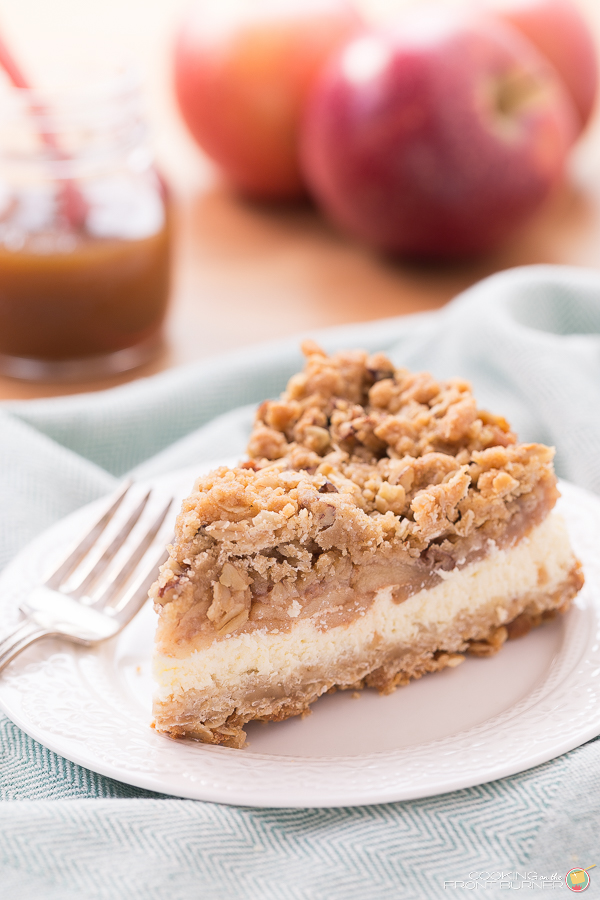 This year has been apple-mania at our house!  With 3 tubs full of fresh, juicy apples we've been trying them in all sorts of recipes.  Usually on Sunday the DIY Guy makes us an apple crisp dessert which on it's own is fantastic and a treat that I really look forward to.  But what do you think of using the crispy, crumbly topping on a creamy cheesecake – oh yeah that kicks it up a notch!  So if you like apple crisp and cheesecake, this is a match made in heaven!
While this dessert is a bit on the putzy side, you'll be so pleased with the end results. Just make a day ahead so this show stopper is ready for any occasion. Also, spring form pans come in many sizes and I would find a 10″ pan to use as stated. I think a 9″ would be too small and may not bake properly. As far as what kind of apples, well ours were Regent which is pretty native to our area (developed at the University of Minnesota). I would use any kind of apple that is recommended for baking (like what you would use for pies) I liked that our apples kept their shape and didn't bake down into mush.
This is definitely company worthy and would be an impressive ending to dinner.  Just be sure to start the day ahead so it's ready to go.  A drizzle of caramel sauce is a good idea too!  Enjoy.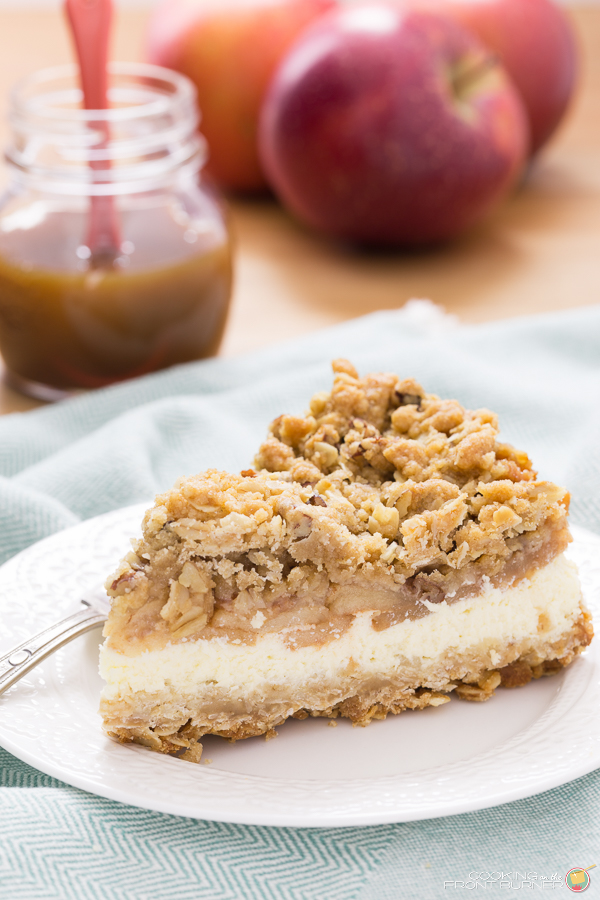 Apple Crisp Cheesecake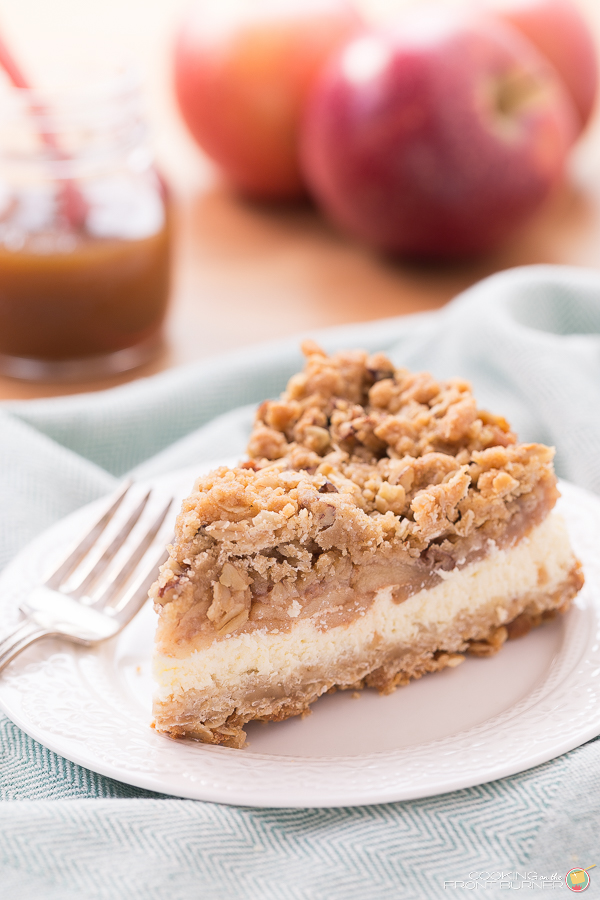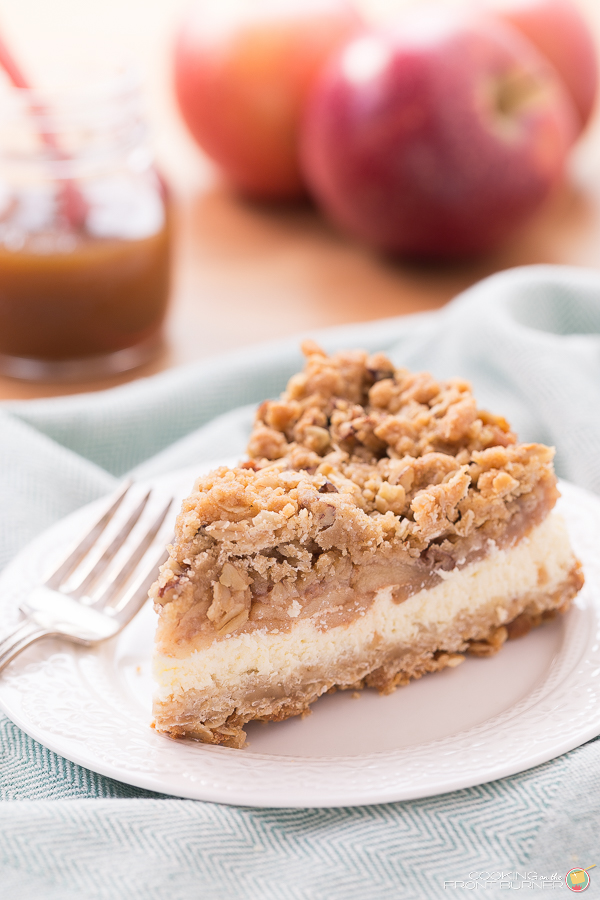 An apple a day keeps the doctor away but more than that makes this wonderful Apple Crisp Cheesecake!
Ingredients
2

cups old fashioned oats

1

cup flour

1/3

cup brown sugar, packed

3/4

cup butter, melted

1/4

teaspoon salt

24

oz. cream cheese (room temperature)

1/2

teaspoon vanilla extract

2/3

cups sugar

3

eggs (room temperature)

3

apples, peeled, cored and sliced 1/4

1

teaspoon cinnamon

1/2

teaspoon salt

2

tablespoons sugar

dash nutmeg

1

cup brown sugar (packed)

1

cup flour

1

cup old fashioned oats

1/2

cup pecans, chopped

1/2

teaspoon salt

3/4

cup unsalted butter, softened
Instructions
Preheat your oven to 375
Combine in a large mixing bowl the 2 cups oats, 1 cup flour, 1/3 cup brown sugar, 3/4 cup melted butter and 1/4 teaspoon salt
Press the mixture in the bottom of a 10" spring form pan
Bake for 10 minutes then remove from oven
Turn oven down to 325
Make the cheesecake filling by beating the cream cheese with 2/3 cup of sugar until it is mixed well, then add the eggs (one at a time) and be sure to scrape down bowl between additions
Add vanilla and mix well
Pour mixture over crust
Prepare apples by combing them with the cinnamon, nutmeg, salt and sugar
Place apples on top of cheesecake mixture
To make the streusel combine 1 cup brown sugar, 1 cup flour, 1 cup oats, pecans, butter and 1/2 teaspoon salt, then use a pastry blender or a fork to make medium sized crumbs
Place crumbs over apples
Bake for 80-90 minutes and test for doneness with a long toothpick. (Mine took about 80 minutes and it is OK if it jiggles slightly)
Remove from oven and let cool on counter. Refrigerate until cold (6 hours or overnight)
Another apple dessert you might enjoy