Sharing today a Tangy BBQ Sauce recipe that once you try, you'll never want to buy pre-made again! This is quick, easy and would be perfect for ribs and chicken. And I'm guessing you might have all the ingredients in your kitchen already.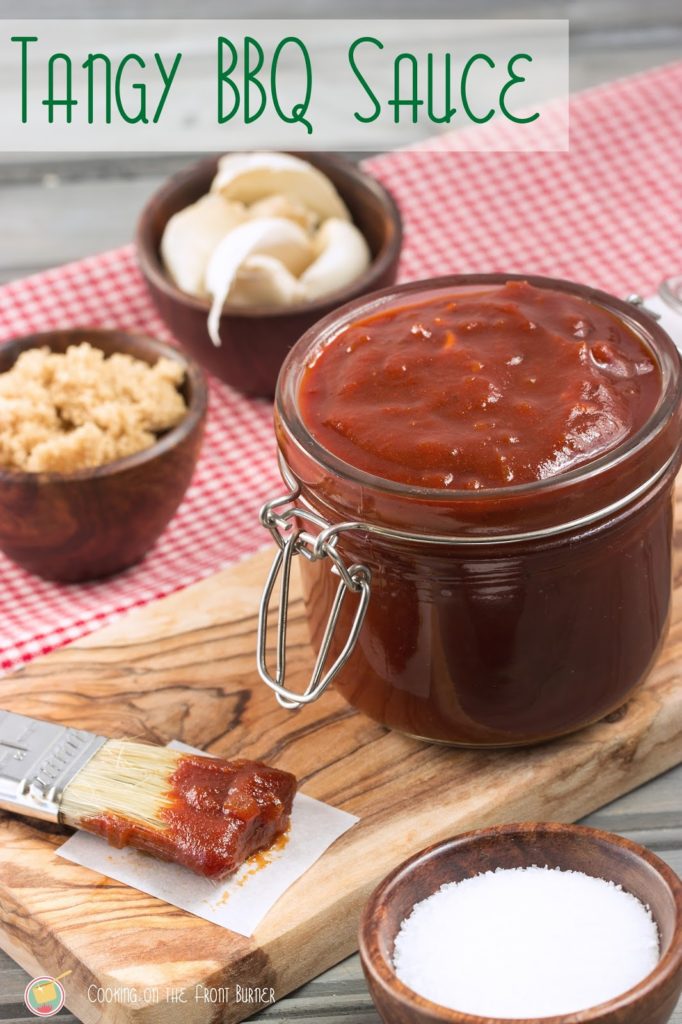 Earlier this week we were in the mood for something different from our usual fare…. I make a lot of pasta, soups, and chicken (usually some sort of boneless white meat). The DIY Guy enjoys the dark meat and I'm usually stuck on how to make something with them that would still be semi-healthy; baked and not fried. I was flipping through a magazine and saw baked chicken legs and thighs (skinned) basted with some BBQ sauce. Hmmm… sounded good to me and him!
Now I did have some sauce in a jar but thought I would try making my own. I desected a couple recipes and reconstructed into this one.
Tangy BBQ Sauce
Prep Time: 10 minutes
Cook Time: 35 minutes
Yield about 2 cups
Ingredients
2 tablespoons butter
1/3 cup finely diced onion
1 tablespoon sea salt
1 clove minced garlic
1 1/2 teaspoons paprika
1 1/2 teaspoons chili powder
1 teaspoon crushed red pepper
1/4 teaspoon pepper
3/4 cup water
1/2 cup packed dark brown sugar
1/2 cup apple cider vinegar
1 tablespoon worcestershire sauce
1/2 cup tomato paste
3 tablespoons molasses
Instructions
In a medium saucepan, melt butter then add onion, salt and garlic. Saute for 10-15 minutes or until onion is soft; stirring occasionally.
Add paprika, chili powder, crushed red pepper, and black pepper; cook and stir for an additional minute.
Add water, vinegar, brown sugar and worcestershire sauce – bring to boil then whisk in tomato paste and molasses.
Boil gently (uncovered) for 15-20 minutes until mixture is reduced to about 2 cups
This keeps for about one week in refrigerator.
This had the right amount of sweetness and a bit of tang. If you would like to make the chicken recipe I did, preheat your oven to 375, line a cookie sheet with foil and place about 1 pound of chicken legs or thighs or a combo of both (take the skin off) on the foil. Bake for 35 minutes, turn over then brush with about half of this sauce and continuing baking for 15 minutes. The remaining sauce can be served on the side.
I'm thinking next I will try making ribs. I have to confess – I've only made ribs once in my life. They intimidate me but everyone says they are so easy – do you agree? Then please leave me some tips! I would appreciate it!!