Sweets day! I think you will be really happy with these Raspberry Bars that I'm sharing. Not only are these easy to make but are a crowd pleaser.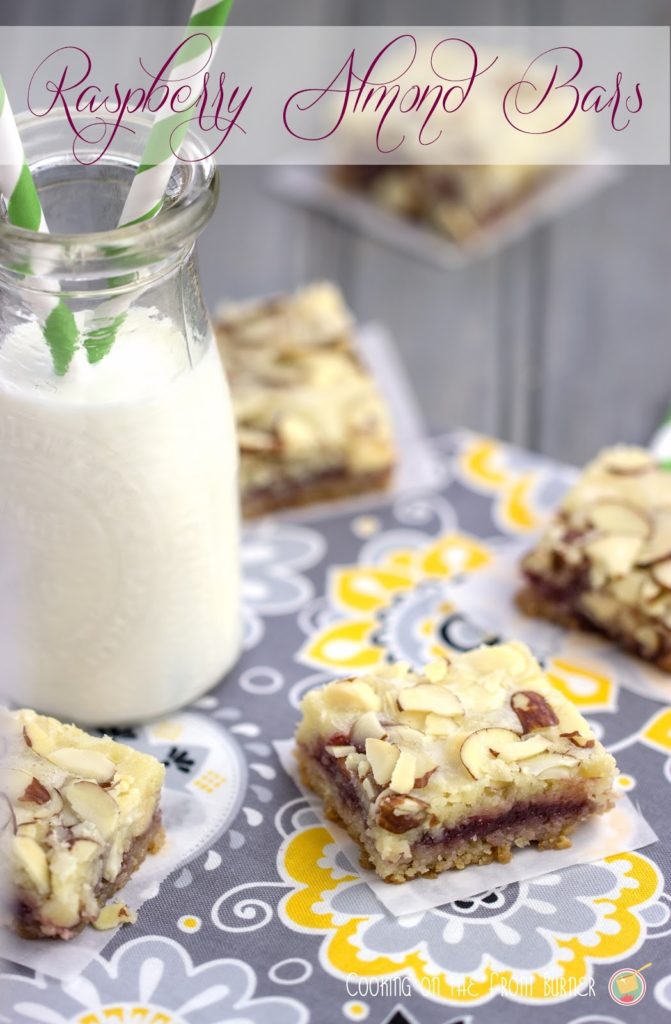 These were served at a church luncheon and once the word got out that Barb (a friend of mine) made these, people were heading running over to the dessert table! They were gone like greased lighting. Not only is there a raspberry filling but the topping has white chocolate chips and topped with slivered almonds. And the texture is soft and chewy…..a little piece is just perfect.
Raspberry Bars
Prep Time: 20 minutes
Cook Time: 40 minutes
Yield: 25 bars
Ingredients
1/2 cup butter, cubed
1 package (10 to 12 ounces) white baking chips, divided
2 eggs
1/2 cup sugar
1 teaspoon almond extract
1 cup all-purpose flour
1/2 teaspoon salt
1/2 cup seedless raspberry jam*
1/4 cup sliced almonds
Instructions
In a small saucepan, melt butter. Remove from the heat; add 1 cup chips (do not stir the chips).
In a small bowl, beat eggs until foamy; gradually add sugar. Stir in by hand the chip mixture and almond extract.
Combine flour and salt; gradually add to egg mixture with a wooden spoon just until combined.
Spread half of the batter into a greased 9-in. square baking pan. Bake at 325° for 15-20 minutes or until golden brown. (note this batter layer is very thin so don't be surprised by that – I was the first time!)
Place jam in a small bowl and heat in microwave until warm then spread over warm crust.
Stir remaining chips into the remaining batter; drop by teaspoonfuls over the jam layer. Sprinkle with almonds.
Bake 30-35 minutes longer or until a toothpick inserted near the center comes out clean. Let cool on wire rack completely then cut into bars.
* I could not find seedless raspberry jam so I used the microwave to melt it up a bit and then used a fine mesh strainer to remove the seeds… a bit putzy but worth it.
Later that day Barb was copying and handing out the recipe. I was lucky to score one and couldn't wait to try these at home. As I mentioned before, I love to bake and make sweets treats but I can't or shouldn't be eating a lot of them! So as I usually plan, the DIY Guy brings them into his work place. It's a win-win situation and I even brought in a few for my co-workers. Huge hit!
I'm not sure if you are watching your goodie intake now or not but just around the corner is Valentine's day and these would make a perfect sweet treat. I plan on making them again and was thinking of trying seedless blackberry jam…. I'm sure they will be just as tasty.