Today's recipe is so quick,easy and a perfect little breakfast treat – Glazed Chai Twists. Have you heard of seamless crescent roll sheets? Are they new? I originally wanted the canned breadsticks and Target did not have them or maybe they don't exist any longer – but…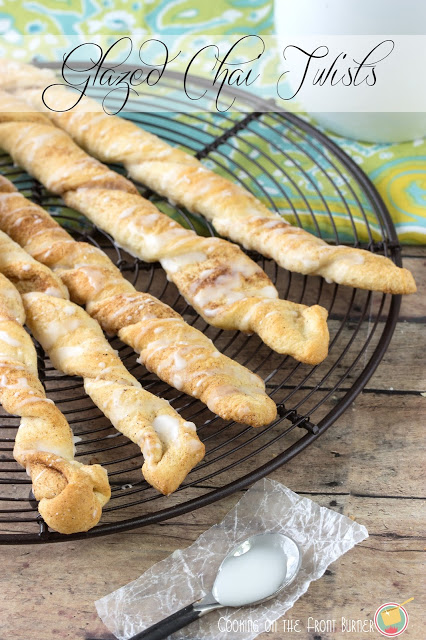 …instead I bought these seamless crescent roll sheets that I thought would be a good substitute. I love crescents rolls, they are so flaky and buttery so imagine what these taste like with some spices and glaze? Well, I think you will need to whip these up to find out!
Glazed Chai Twists
Prep Time: 10 minutes
Bake Time: 13 minutes
Adapted slightly from Sandra Lee
Ingredients
1 tsp ground cardamom
1 tsp sugar
1/2 tsp cinnamon
1/4 tsp ground ginger
dash cloves
one can seamless crescent dough dough cut into 1″ strips (short side)
1/2 cup confectioners sugar
1 Tbl milk
1/4 tsp orange extract
Instructions
Preheat oven to 375 and line a cookie sheet with parchment paper
Stir together cardamom, sugar, cinnamon, cloves, and ginger
Sprinkle strips with mixture (on both sides) and twist (about 5-6 times) and lay on parchment paper
Bake 10-13 until golden brown and cool on wire rack
In a small bowl combine the confectioners sugar, milk and orange extract
Drizzle on twists
This is the first recipe I've ever made with the spice cardamom. It's hard to describe the taste but it is part of the ginger family. The combination of all these spices was amazing.
Do you have kiddos who like to help in the kitchen? This would be a fun recipe for them to take part in!