With six days until Christmas have you done all your baking yet?  I hope you have saved some room for this  Cranberry-Orange Spice Cookie that I'm sharing today. This was a new cookie I tried this year and I have to say it definitely belongs on the nice list!!  And keep reading, I've also teamed up today with some other bakers to share what they've been whipping up, plus you can link up your cookies AND the icing on the cake cookie is a giveaway (over) to enter…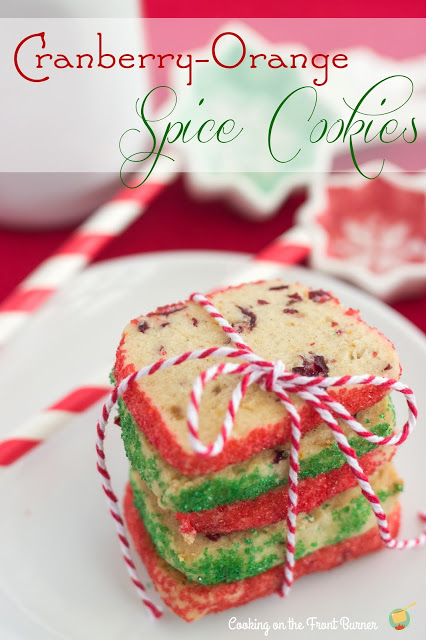 I originally shared this with Julie at White Lights on Wednesday for my contributor post last month and now it's your turn to get this tasty recipe.  I love Christmas cookies and this year, while we have our favorites in our house, I decided I wanted to find some new recipes to try.
One day I was checking out at Kohl's and saw this book called Holiday Cheer that caught my eye and was only $5 (and I think the money went to a good cause).  This recipe just jumped out to me.
I'm not one usually to brag but we loved these!  The flavors of the cranberry, orange and ginger were a perfect combination.  They are kinda like potato chips – can't just eat one!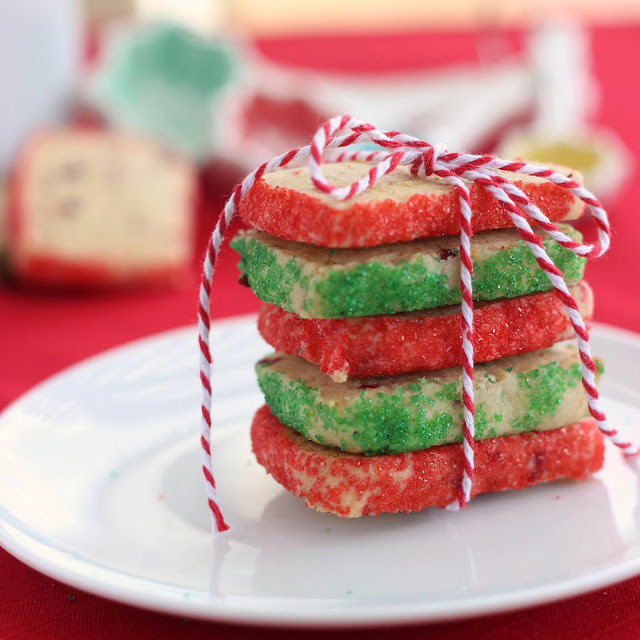 Besides making these for yourself (because I think you really need to!),  make an extra batch to bring as a hostess gift, teacher gift or for that someone special in your life.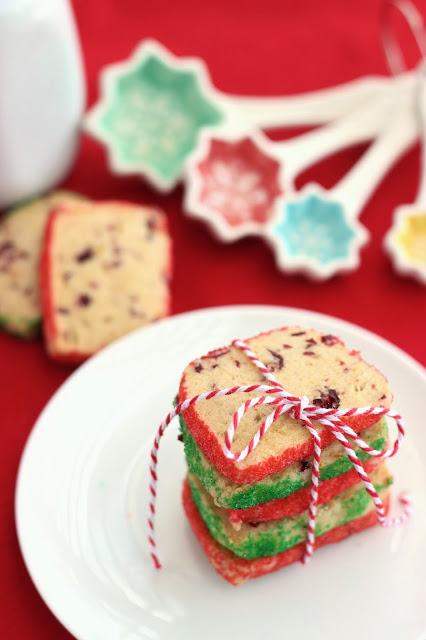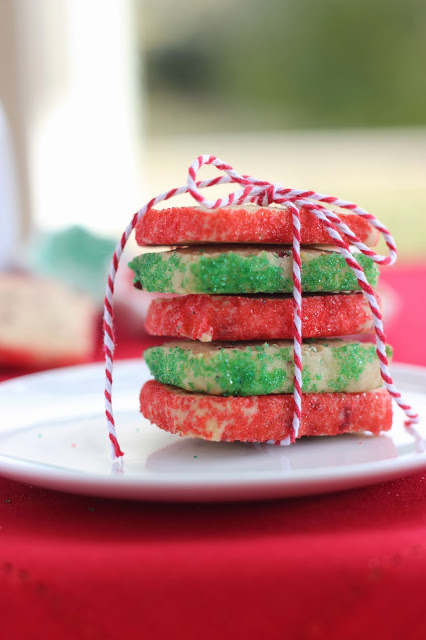 Cranberry-Orange Spice Cookies


A nicely spiced cookie perfect for the holidays!
Ingredients
Dough
2 3/4 cups flour
1/4 tsp baking soda
1/4 tsp salt
1 cup butter (NO substitutions)
3/4 cup sugar
1 egg
1 tsp vanilla extract
Cookies
Basic dough (above)
1/2 cup finely chopped craisins
1/4 cup finely chopped crystallized ginger
2 tsp grated fresh orange peel
2 tsp pumpkin pie spice
3 Tbl green sugar crystals
3 Tbl red sugar crystals
Directions
Start making dough by combining the flour, baking soda and salt
in a large bowl mix on medium speed the butter and sugar for 1 minute until creamy.
Add egg and vanilla; beat until well mixed.
Reduce speed to low and add in flour gradually along with the craisins, ginger, orange peel and pumpkin pie spice
Form into ball then on a lightly floured surface divide dough in half and shape each into a 10" squared off log (I used 2 rulers to help form)
Wrap each in plastic wrap and refrigerate at least 10 hours (or 2 in freezer)
Preheat oven to 350 and line cookie sheets with parchment paper.
Place the green crystals on a piece of wax paper then unwrap one log and roll and pat crystals onto log.
Cut log into 1/4" thick slices and bake for 14-16 minutes (until golden)
Cool on wire rack
Repeat with red crystals with other log.
These need to be store in a tight container room temp for one week or can be frozen up to 3 months.
Recipe Notes
(OVER) Now it's your turn to link up your favorite Holiday Cookie and enter to win a $50 gift card from Target!  Happy Holidays!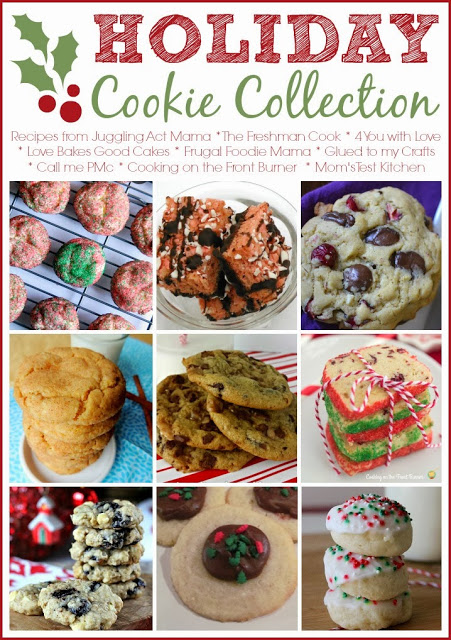 Let's meet the hostesses of this fun link party:
Paula from
Call me PMc
 is bringing White Chocolate Chip Cherry Oatmeal Cookies
Stacey from Glued to my Crafts is bringing Almond Chocolate Cranberry Cookies
Jaime from Mom's Test Kitchen is bringing Holiday Vanilla Pudding Cake Cookies
Marilyn from 4 You With Love is bringing Chocolate Peppermint Rice Crispy Treats
Please be sure to hop around and visit all the ladies and check out their tasty cookies!