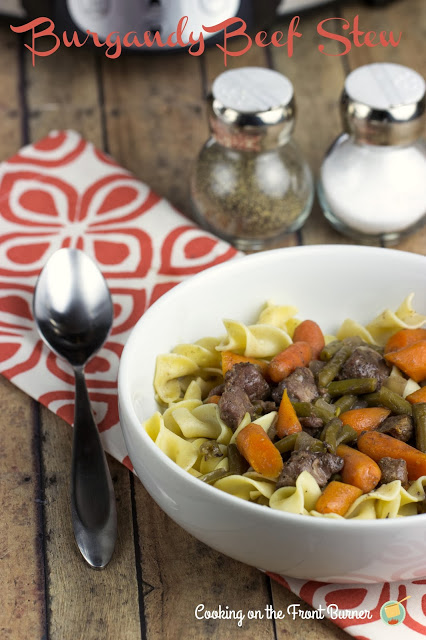 Happy Friday! I've been a bit MIA this week. The last couple of days I've been off from work getting the house decorated and trying to get organized for the holidays. Making lists (and checking them twice!) for what needs to be done, baked, made, shopped for and decorated…. whew! I'm making progress and today I've off shopping in the Twins Cities with a friend for our annual shopping excursion.

Even though I won't be home for dinner (cuz we shop til we drop; sometimes we leave here at 8 a.m. and don't get back until 10 p.m.!), how great would this meal be to come home to? Last Sunday, I pulled out the slow-cooker and tossed in the ingredients (minus the noodles) and 5 hours later, dinner was done. While I served mine over egg noodles, a crusty loaf of bread would be easy and great to sop up the tasty broth.
Slow Cooker Burgandy Beef Stew
Prep Time: 20 minutes
Cook Time: 5 hours (high) 10 (low)
Adapted from BH&G
Serves 6
Ingredients
2 lbs stew meat (cubed)
1/2 tsp salt
1/4 tsp black pepper
1 1/2 cups carrots sliced in 1 1/2″ pieces
1 9 oz bag frozen green beans
1/2 cup frozen chopped onions
1 tbl minced shallot
2 tbls quick-cooking tapioca
14.5 oz. can beef broth
1 cup dry red wine
wide egg noodles (optional)
Instructions
Combine carrots, green beans, onions, and shallots in a slow cooker
Add meat on top and sprinkle with S&P and tapioca.
Pour broth and wine over top; cover
Cook on low for 10 hours or high for 5
Serve over egg noodles if desired
I'm going to try some other slow-cooker recipes this winter… have any ideas for me? Would love for you to leave a link!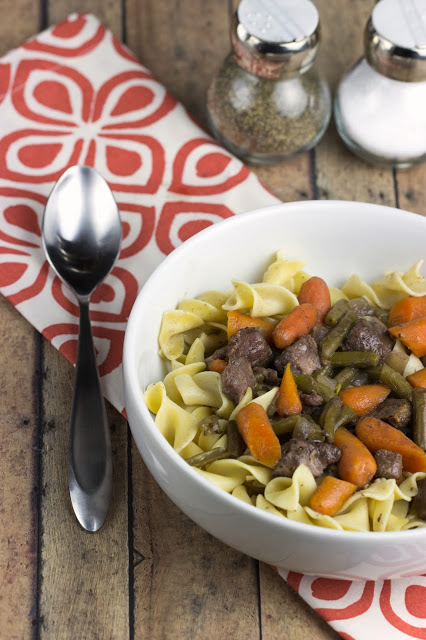 Stay warm because baby it's starting to get cold outside!!