Today I'm recycling a post from about a year ago because I'm getting ready to make these containers again. Last year I had fun doing something crafty and they looked really nice and easy to do. I've been spending the last 2 days getting the house all decorated for Christmas. The only thing left are these containers and decorating our tree so by the weekend we should be all set!
Then I do have a couple new recipes that I'll be sharing!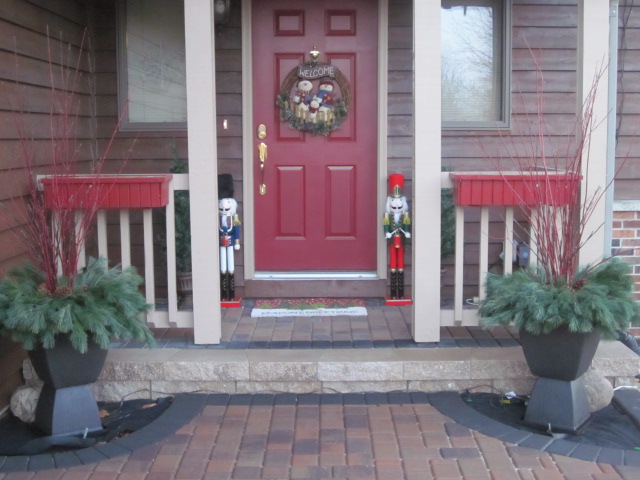 From December 2012:
A couple weeks ago I went to Home Depot and saw a beautiful Christmas Planter filled with greens and red sticks … really gorgeous, really expensive – $108 for one! So my DIY brain kicked in and thought of how I could do it for a lot cheaper. I did have some trouble finding nice planters this time of year so I bought 4 planters – 2 different sizes and had my DIY guy bolt them together.
Next, I made a trip to my friend Cheri's house who provided me with the red sticks (thanks friend!!). For the greens I went to Menards and bought a Christmas tree for $14.95. I think the worker was quite appalled that I was going to chop it up…but it was a LOT cheaper than buying cut branches.
For assembly I filled the planter almost full with packing peanuts. On top I placed a 2″ thick floral foam piece cut to fit snug. From there I first placed in some lighted branches that I got at Target, the red sticks and then just started filling in with the branches. On the very top are some big pine cones. For less than the price of the one at HD, I have 2 planters and I'm pretty pleased with the results. We just need snow on the branch tips and we'll be all set! (oh and you can tell that we haven't done any landscaping yet from finishing our front yard and porch project – that will be next spring UPDATE 2013 : landscaping is done!)