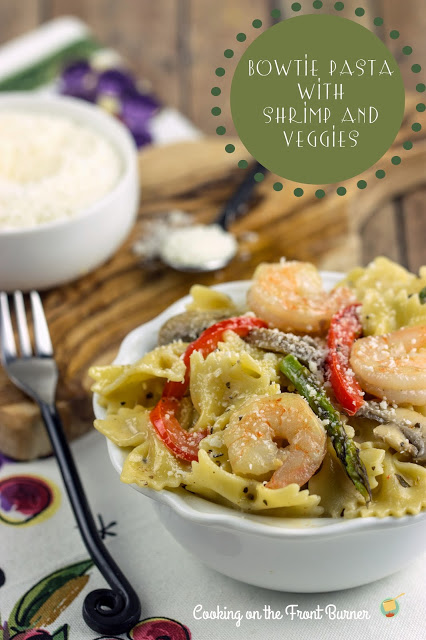 How is your week going? I've spent the last couple days working outside my office at a leadership program. This event was in the works for quite a few months and my main responsibilities were logistics and catering. I'm a list person – I love making lists, crossing stuff off lists and making more lists. It's in my DNA! So this type of work is perfect for me…. and so is deciding and working with a caterer. We had some amazing food including risotto, tomato basil soup and a squash cake with ginger buttercream frosting – I loved that! Overall the event was a success….
And here at home we have been in an Italian mood lately! Pasta is a staple at our place and there are so many different ways to prepare it. I tend to make most of my pasta dishes from ingredients I have on hand. For this dish I had some shrimp in the freezer (always a good bet with the DIY Guy) fresh asparagus, baby bella mushrooms, and a red pepper. A nice light sauce made out of dry white wine and chicken broth keeps it lower on the calorie side.
Bowtie Pasta with Shrimp and Veggies
Prep Time: 10 minutes
Cook Time: 15 minutes
Serves 4
Ingredients
8 oz. bowtie pasta
1 1/2 tablespoon olive oil
1 tablespoon minced shallot
1 cup asparagus tips
1 cup sliced baby bella mushrooms
1/2 red pepper cut into thin strips
1/3 cup dry white wine
1/2 cup chicken broth
1 tsp oregano
1 tsp basil
8 oz. shrimp
parmesan cheese if desired
Instructions
Cook pasta according to directions
Heat olive oil in large skillet until medium hot then add shrimp and cook about 3 minutes on each side until done; remove from pan
Add shallots, mushrooms, asparagus, and red pepper strips and saute about 5 minutes until mushrooms are golden brown.
Add spices, wine and cook until liquid is reduced by half then add chicken broth and cook until it comes to boil; add shrimp back in then pasta.
Remove from stove, serve and top with cheese.
Well, I'm not sure about you but I am looking forward to the weekend. I know we may get some snow tonight and Friday but hoping it isn't too much!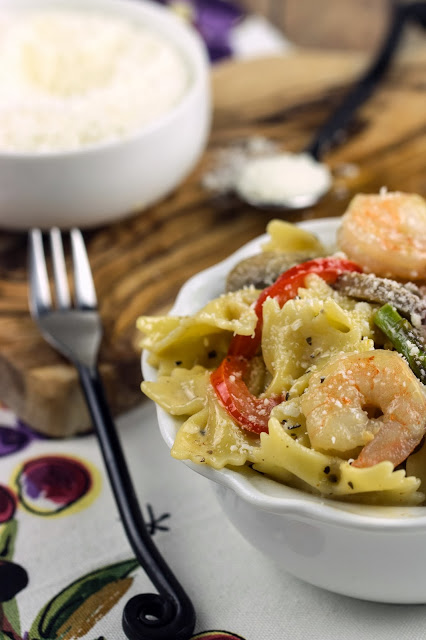 Enjoy the rest of your week!