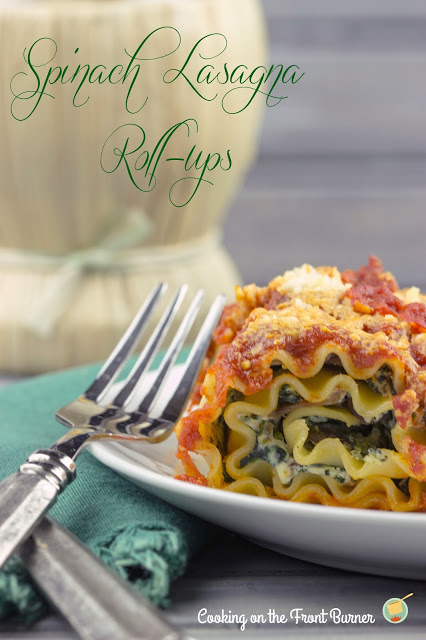 Yesterday we had a "let's not go out of the house" day. The weather was gloomy and I had enough to keep me busy doing the usual Sunday prep before the work week starts – cleaning, laundry, etc. The one thing I usually do is my menu planning and grocery shopping. I just was not in the mood to do that. Luckily I had bought the ingredients for this dish last week… whew! So I stayed home in my comfy sweat pants and didn't bother putting on make-up either…. yay!
This recipe came from a cookbook I found at a thrift store called The Lighter Side of Italy. All the recipe titles are in Italian first – this one is called Rotolo di Lasagna con Spinaci – meaning Lasagna Rolls with Spinach. The inside first page says "For Bonnie and Bob – Buon Appetito from Nancy" I have found many tasty recipes to try.
Lasagna Rolls with Spinach
Prep Time: 15 minutes
Bake Time: 35 minutes
Adapted from The Lighter Side of Italy
Ingredients
6 lasagna (do not use no boil)
1 tablespoon olive oil
2 tablespoons diced shallots
1/2 cup sliced baby bella mushrooms
10 pkg frozen spinach (defrosted and squeezed dry)
1 cup ricotta (whole or skim)
S&P
1 tablespoon fresh lemon juice
dash of grated nutmeg
2 cups marinara sauce
1/4 cup grated parmesan cheese
Instructions
Cook the lasagna for 10 minutes then drain and rinse with cold water. Lay on wax paper.
Preheat oven to 375
Saute the shallots and mushrooms in olive oil over medium heat until the liquid has mostly boiled off. Add spinach and continue to saute for 5 minutes stirring frequently. Remove from heat and place mixture in a large bowl and cool for 15 minutes.
Add ricotta cheese, lemon juice, nutmeg and S&P; mixing well.
Divide mixture 6 ways and spread onto each noodle; roll up and place in a 9×13 baking dish that has been sprayed with PAM. (seam side down)
Top with the sauce and then the cheese.
Bake uncovered for 35 minutes or until hot and then serve.
This is a great vegetarian dish though in order to please the DIY Guy, I roasted some Italian sausage for him on the side.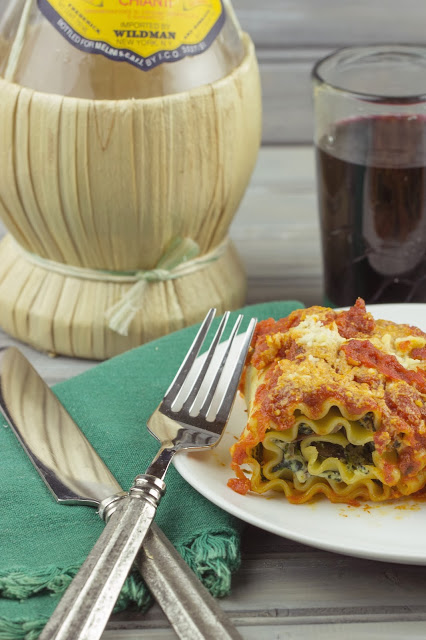 Grab a glass of vino and you are all set! Mangia!