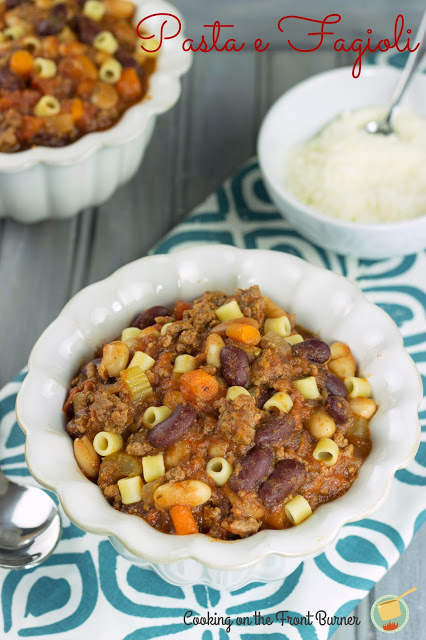 Last night was comfort food night. When I left work, the weather was quite raw feeling – drizzling, cool and a bit windy and guess what? I forgot to wear a coat when I left the house – it was warmer when I left in the morning. So this was a perfect night for a heartier meal. This recipe Pasta e Fagioli is more of a soup, but I kept adding ingredients and before I knew it, it was like a stew (and to please the DIY Guy, I added ground beef). Either way it was quite tasty and warmed my bones!
I have a new tip for you – well – more of a new tip to me but I think you will like it. Don't cook your pasta noodles in the soup (stew). Boil them separately and add to the individual bowls as you are scooping. This helps if you have leftover soup as noodles tend to get mushy and magically grow when they sit in soup too long. For our dinner I cooked only what I thought we would need and when I reheat the leftovers, I'll make a small batch of noodles again.
Pasta e Fagioli
Prep Time: 10 minutes
Cook Time: 35 minutes
Ingredients (10 servings)
1 lb. ground beef
1 cup diced carrots
3 celery stalks sliced
1/2 cup chopped onion
28 oz. crushed tomatoes
15 oz. can diced tomatoes (undrained)
1 can red kidney beans rinsed and drained
1 can white kidney beans rinsed and drained
1 can beef broth
1/2 cup water
1 teaspoon basil
1 tablespoon oregano
1 tablespoon parsley
1/2 teaspoon crushed red pepper
1 bay leave
salt and pepper
8 oz. cooked Ditalini pasta
Instructions
1. Brown beef in a dutch oven then add onion, carrots, and celery. Saute for 10 minutes.
2. Add crushed tomatoes, diced tomatoes, beef broth, water, kidney beans, white beans and spices.
3. Bring to boil, cover and simmer for 30 minutes – remove bay leave
4. I added pasta to each bowl and did not cook in soup.
We topped ours off with a bit a pecorino romano cheese. Hope you enjoy this recipe!