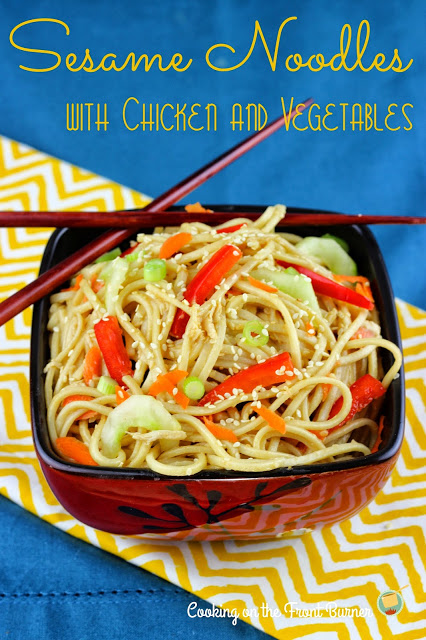 Happy Thursday!! What's your thoughts on having a cold salad for dinner? Or do you like a hot dish for your evening meal? I was in the mood for something with an Asian flair and this recipe appealed to me with the fresh veggies and a creamy peanut sauce. I was a bit worried that the DIY Guy wouldn't go for it but I'm happy to say that he was game and enjoyed it a lot!
Sesame Noodles with Chicken and Vegetables
Prep Time: 15 minutes
Cook Time: 6 minutes
Ingredients (4 servings)
Sauce
2 1/2 tablespoons soy sauce
2 tablespoons peanut butter
1 1/2 tablespoons toasted sesame seeds
1 tablespoon rice vinegar
1 tablespoon light brown sugar
1/2 clove minced garlic
3/4 teaspoon hot sauce
2 tablespoons hot water
Chicken and noodles
8 oz. Chinese noodles or thin spaghetti
1 tablespoon salt
1 tablespoon toasted sesame oil
14 oz. shredded cooked chicken
1 red pepper cut into matchstick strips
1 cup cucumber – peeled, halved lengthwise, seeded and sliced 1/4″
1/2 cup shredded carrots
2 thinly sliced scallions
1 tablespoon toasted sesame seeds
Instructions
Sauce
Place all ingredients (minus water) in a small processor and blend until smooth – add hot water with blade running and set aside
Chicken and Veggies
1. Boil noodles with the salt; drain and rinse in cold water twice and toss with sesame oil
2. Combine chicken, red pepper, cucumber, carrot, scallions in a large bowl tossing to combine. Toss in noodles then sauce and mix gently. Sprinkle with sesame seeds.
I have a new trick I want to share with you on shredding chicken… First, when a recipe calls for cooked chicken, I really prefer to bake my own. After baking I used my fingers to shred it – time consuming and I would usually get bored and not do a good job! Recently I had read, that if you have a mixer that has a paddle beater (i.e. as in a Kitchen Aid), to place the chicken in the bowl and turn the beater on low. Sure enough the chicken was shredded in bite size pieces and only took about 4 minutes… whoa – impressive. Now I'm not sure if it would work with regular twin beaters but you could give it a try.
Hope you enjoy this recipe!