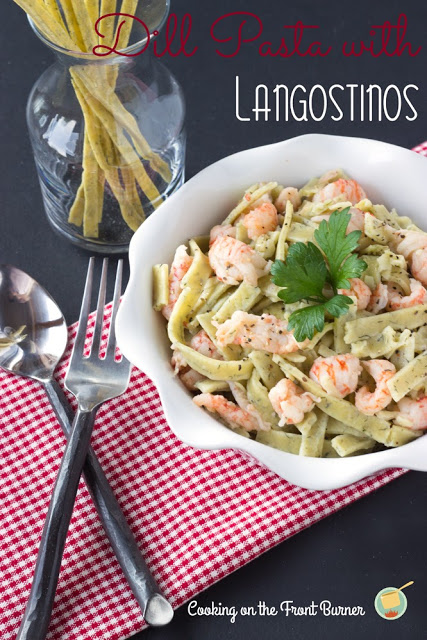 It's no secret that I love pasta… I'm sure sauce runs through my Italian veins! And I'm always on the lookout for new ways to enjoy it. Recently while at the farmer's market, I came across a local gal selling her homemade pasta from Wink's Herb'n Garden. She had about 5 different flavors and I decided to give the dill a try. The pasta itself is simply made of organic durum semolina, eggs and fresh dill.
When I asked her how to to prepare, she suggested some seafood with olive oil and S&P. Luckily, I just happened to have a bag of langostinos in the freezer from Trader Joe's.
Recipe:
8 oz. dill pasta (or your favorite kind)
10 oz. bag langostinos (defrosted)
1 T olive oil
2 T butter
2 T white wine
1 tsp minced garlic
Additional olive oil
S&P
Heat the 1 T olive oil and the butter in a medium skillet, add the garlic and saute about 1 minute then add the wine and simmer 3 minutes; add seafood and toss until heated through (my seafood was pre-cooked). Meanwhile cook the pasta according to the directions, drain and place in a large bowl. Add langostino mixture and gently toss. Add additional olive oil as desired and season with S&P.
That's it! Very simple and very good!