Good Afternoon! I'm excited to be a new contributor on The Best Blog Recipes. Starting today and continuing for the next few months, I'll be sharing new recipes for both my readers and hers to try.

So for my first recipe, I knew I wanted it to be easy and refreshing, luckily my Sandra Lee bi-monthy magazine arrived and I was pretty excited – almost every recipe was made with lemons! I did a bit of tweaking, added some coconut and came up with this: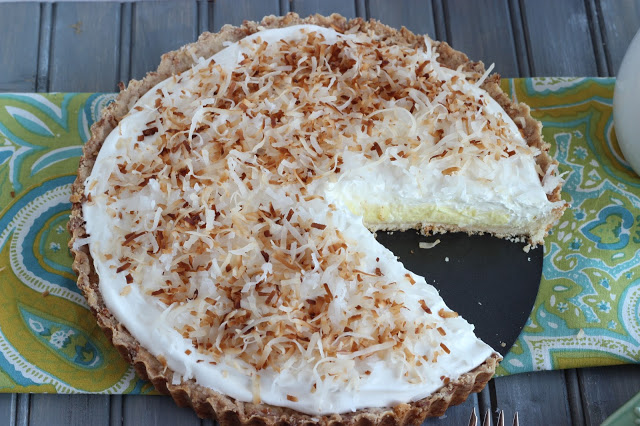 Please note you can truly make this a no-bake pie by buying a pre-made crust – a graham cracker one would also be perfect! (and doesn't the above look like a pac-man!)
No-Bake Lemon Pie
Prep Time: 15 minutes
Cook Time: 25 minutes then 4 hours refrig
Ingredients
Crust:
1 ½ cup flour
1 cup shredded coconut
1/2 cup powdered sugar
3/4 cup soft butter
Filling:
18 oz lemon yogurt (use greek style – like Chiobani)
1 4 oz pkg instant lemon pudding
3 oz. cream cheese
1 tsp lemon extract
8 oz. cool whip
1 cup toasted coconut for topping
Instructions
For crust – preheat oven to 350. Butter a 9" or 10" tart pan with removable bottom
Combine the flour, coconut and sugar in a large bowl with an electric mixer. Add butter and beat on low until moist clump form. Press dough in prepared pan and bake about 25 minutes or until the crust is light brown. Set aside to cool. Then remove sides by pushing up lightly on the removable bottom.
For filling, combine the yogurt, pudding and cream cheese until well combined. Spoon into cooled crust. On top place cool whip though you may not want to use it all.
Sprinkle toasted coconut* on top and refrigerate at least 4 hours.
Notes: to toast coconut – place coconut in a large skillet and stir over med high heat until the coconut is toasted. Be careful not to burn.
Hope you enjoy this recipe! This is for all lemon-lovers out there!