Thursday, August 22, 2013


Good Morning and Happy Thursday! Welcome to the GYB Party and hope you had a great week. The weekend is coming and I'm looking forward to that. This past week our daughter had a baby and I've been pretty distracted! Luckily they live about 90 minutes away and we have been able to visit a couple times and also heading back up this weekend. Emily is just a cutie and I can't wait to see her again… Did I mention it's our first grandchild? I've had smile plastered on my face all week 🙂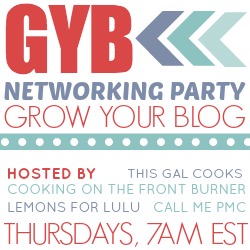 Are you ready to network? Well, if you are here than I am guessing you are! This week is going to be a pretty low key week. We've been a little busy so we didn't have a whole lot of time to put together any tips or tutorials this week. But we do have something new that we are going to try out.
Starting next week, we are going to feature one blogger per week. Which means one of you that link up this week will be featured next week. Pretty awesome, eh?
We'd like to get your opinions on something. What do you think of networking parties such as the GYB? Do you find them beneficial? Do you think they are a dying genre of parties? Do you prefer food, craft, DIY parties? Let us know. We'd love to hear your feedback.
The GYB Networking Party
Grow Your Blog

Joining me in hosting GYB is Julie from This Gal Cooks, Tanya from Lemons for Lulu, and Paula from Call Me PMc. We love hosting this networking opportunity each week. We'll also have four co-hosts join us. Interested in co-hosting? Just email us at growyourblog(at)gmail(dot)com and we will get you scheduled!

What is the Grow Your Blog Networking Party all about? NETWORKING. Meeting new bloggers, finding new content to follow, building your readership. Why is blog networking great for you? Simply put, it increases readership and traffic to your blog. How do you network? Visit. Comment. Invite. Communicate. These are key to growing your blog.
Let's take a moment to meet your hosts and co-hosts. Please stop by, introduce and leave a meaningful, engaging comment with each host and co-host. I can guarantee that the hosts will reply to your comment and try to get to your blog to engage in conversation with you!

YOUR HOSTS
Julie from This Gal Cooks (Host)
Paula from Call Me PMc (Host)
Deb from Cooking on the Front Burner (Host)
Tanya from Lemons for Lulu (Host)

Karlie from Mama Whimsy
Krista from Joyful Healthy Eats
Heather from The Word Magician's Kitchen

Hannah from Thirsty World Designs
WHEN YOU LINK UP TO THIS PARTY:
Follow and/or visit your hosts and co-hosts. Leave a comment on their blog letting them know you stopped by!
Link up the main page of your blog, not an individual post. You may link up your individual posts to Marvelous Mondays.
Visit and follow other bloggers
Leave engaging comments on the blogs that you visit.
Invite them to visit your blog. Leave the name of your blog in a comment. Please do not leave a link – Google is going to start viewing links as Spam and they will decrease page ranking of sites that are viewed to have a lot of Spam.
Communicate with them about what you like on their blog. Let them know you are interested in their blog.USE THEIR NAME! A simple "I'm so and so stopping by. I followed you please follow me." just isn't going to interest someone into visiting your blog. Sure, you can request a visit to your blog or a follow along but engage in some type of conversation first.
Place our party graphic on your page. It's not required but it would be a pretty rad thing to do. You can get the graphic by copying and pasting the GYB graphic located in the beginning of this post.
LINK UP YOUR BLOG
document.write('