Today's recipe uses many of the fresh veggies you can find now at your local farmer's market or maybe your own garden. From our own garden, I used a green pepper and tomato (with some fresh basil for garnish)- the corn and green beans came from the FM.
Pasta with veggies is one of my favorite dishes! Especially when the sauce is light – this one has a combination of pesto and ricotta cheese. You could make your own pesto but I kept it on the simple side buying a small jar at Trader Joe's. I've had fresh homemade pesto and it is divine! Maybe I'll give it a try next time I make this dish.
Veggies with Pappardelle
Prep Time: 20 minutes
Cook Time: 15 minutes
Ingredients (serves 4-6)
4 oz. prepared pesto
7 oz low fat ricotta cheese
12 oz. pappardelle pasta
2 ears corn, kernals cut off
1 ½ cup fresh green beans cut in 2" pieces
3/4 cup chopped green pepper
1 cup chopped fresh tomato
1 T olive oil
1 T white vinegar
1/2 tsp oregano
1/3 cup parmesan cheese
salt and pepper
Instructions
1. In a large bowl combine the pesto and ricotta and set aside
2. Place chopped tomato, olive oil, vinegar and oregano in a small bowl and set aside
3. Boil large pot of water and add pasta; cook until directions say is done. During the last 4 minutes of cooking time, add the green beans, green pepper, and corn. Drain and add to large bowl with pesto and ricotta; mix well
4. Add tomato mixture along with some of the cheese.
5. Adjust with salt and pepper and sprinkle with remaining cheese
The DIY Guy liked it even though there was no meat or seafood. As long as I don't try to serve two meatless dishes in a row, he is pretty good with just veggies 🙂 (must be a guy thing!)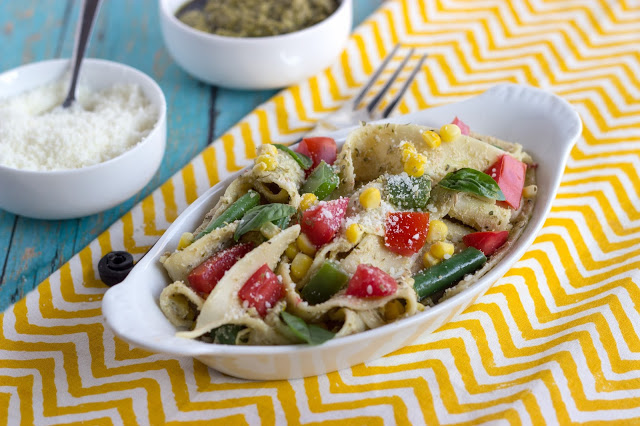 While I used pappardelle pasta (a long thick noodle), feel free to use your favorite! Always fun to put your own spin on a recipe!