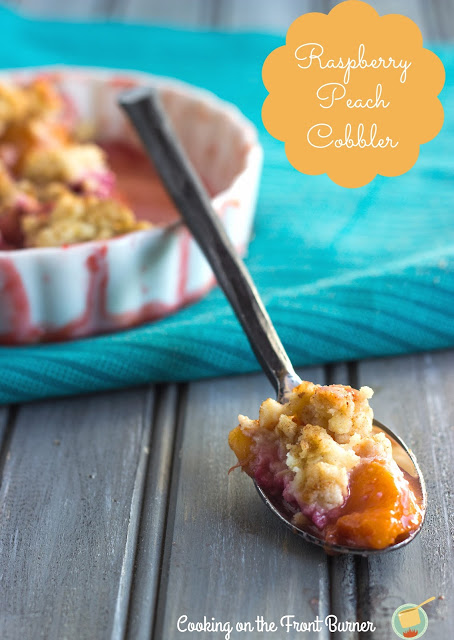 Time for dessert… this week I have been featuring some of the menu items from the DIY Guy's birthday dinner extravaganza. While I'm still going to be sharing soon the main course and salad, I thought it was time for dessert! Because I know some of you look at the dessert menu first before deciding on your main course (I'm known to do that!)
I originally made this recipe as plain peach cobbler a couple weeks ago (and if you click on the link above you will be taken to that post and recipe). To shake it up a bit, I added some fresh raspberries – those really went well with the peaches. I added about a cup to the original recipe with an added teaspoon of cornstarch. The filling was a bit juicer at first but set up nice as it cooled.
Raspberry Peach Cobbler
Prep Time: 15 minutes
Cook Time: 20 minutes
Ingredients (4 servings)
6 peaches, peeled and sliced into wedges
1 cup raspberries
2 T white sugar
2 T packed brown sugar
1/8 tsp cinnamon
1/8 tsp nutmeg
1 T lemon juice
1 Tbl cornstarch
Topping
3/4 cup flour
2 T sugar
1/2 cup quick oats
dash salt
1 tsp baking powder
4 T cold butter cut into small pieces
2 T boiling water
2T sugar combined with 1 tsp cinnamon
Instructions
1. Preheat oven to 400
2. In a bowl combine the peaches, raspberries, both sugars, cinnamon, nutmeg, lemon juice and cornstarch
3. Spray with PAM either an 8×8 square baking dish or small quiche dishes (4) (above). Divide peaches into the dishes (or dish). Bake for 5 minutes.
4. Make the topping while the peaches are cooking by combining the all dry ingredients and mix well, add butter and use a pastry cutter until it resembles medium crumbs. Add boiling water and mix until combined well.
5. Remove peaches from oven and drop chunks of dough onto peaches and then sprinkle with a cinnamon and sugar mixture.
6. Place on a cookie sheet and bake in oven for 20 minutes until top is golden brown….
7. Cool and serve with ice cream if desired.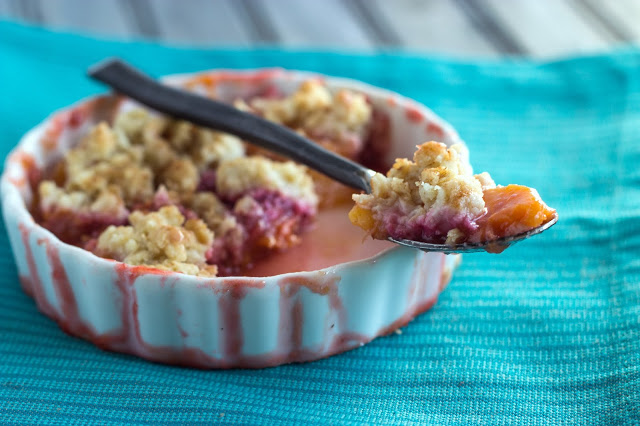 I can't decide if I like the plain peach or this version – both are very good! Which one would you prefer?? Enjoy!!