Thursday, August 8, 2013
By Deb Attinella

Happy Thursday and welcome to another week of Grow Your Blog Networking Party. The last couple of weeks have been fun!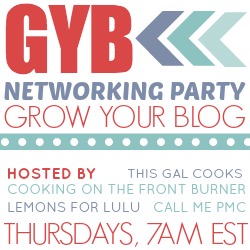 I've teamed up with Deb from Cooking on the Front Burner, Tanya from Lemons for Lulu and Paula from Call Me PMc to host this networking opportunity each week. Every week, we'll also have four co-hosts join us. Interested in co-hosting? Just email us at growyourblog(at)gmail(dot)com and we will get you scheduled!
Are you wondering what Your Blog Networking Party all about? NETWORKING. Meeting new bloggers, finding new content to follow, building your readership. Why is blog networking great for you? Simply put, it increases readership and traffic to your blog. How do you network? Visit. Comment. Invite. Communicate. These are key to growing your blog.
Each week we will also highlight a networking topic, such as Facebook, Google Plus, Pinterest, Link Parties. We will share what's worked for us and what you can do to improve your social media following.
Do you have tips for networking? Leave a comment below! We may feature your idea at a future party!
Let's meet the hosts and co-hosts of the party!

YOUR HOSTS
Julie from
T
his Gal Cooks (Host)
Paula from Call Me PMc (Host)
Deb from Cooking on the Front Burner (Host)
Tanya from Lemons for Lulu (Host)
Kelley from Miss Information
Jaime from Mom's Test Kitchen
Ashley from Spit Up Is The New Black
Mariel from Living For His Glory
Each week we will be including a link up to a social media outlet of our choosing. This week we chose Google Plus. I know we just did Google Plus a couple of weeks ago but today I am guest posting over on another blog about getting started with Google Plus so I thought it would be fun to coordinate the post with the GYB post! So after linking up your blog, be sure to scroll down and link up your Google Plus Page and then check out my guest post over at All She Cooks!
Google Plus Tips & Tricks
When setting up your Google Plus account, be sure to set it up under your name rather than your blog's name. And set it up as a Google Plus Profile, not a Google Plus Page. Also, this makes the page more personalized and allows you to link your blog to your Google Plus Profile. Google has set up rel=author, which establishes authorship. Authorship can help to increase your page rankings. Plus, word is that Google would rather bloggers use a personal Google Plus Profile rather than a Business Google Plus Page. The business pages are supposed to be for actual businesses. Something to note, if you do not set up your Google Plus Profile Page with your name, more than likely you will not be able to link it to your blog. You must have a headshot photo as your G+ profile photo and have the name identical to your blog author name in order to set up your authorship linkage.
Are you on Blogger? Blogger recently integrated Google Plus and Blogger. If you haven't already, you may want to authorize that linkage between your blogger account and your Google Plus profile. This will allow you to have the Google Plus comment system on your blog for comments relating to blog posts. Your readers will have the option of allowing their comments to be shared publicly on Google Plus. Of course, if they do not want their comments shared, all they have to do is uncheck the little check box so their comment won't be public.
Complete your profile. Be sure to include all of your social media accounts, any sites you contribute to and any awards you've received.
Become active in communities. Network. Make friends.
Circle people you are interested in, even if they are not bloggers.
Post interesting and relevant information.

Do you have any Google Plus tips? Please leave any tips or questions below, I'll be happy to answer them.

LINK YOUR BLOG
document.write('