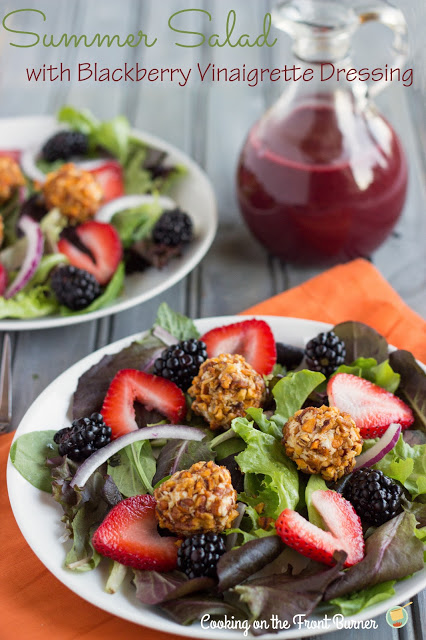 Today is reveal day for Get Your Chef On with the ingredient of blackberries – I had a real tough time trying to decide what to make – there were so many ideas floating around in my head. Instead of sheep one night I was counting blackberries – LOL.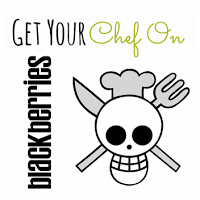 Be sure to stop by below for the other recipes.. I know I'm curious!
Julie @ White Lights on Wednesday and
Jen @ Four Marrs and a Venus
Well, as you can tell from above, I decided to go with a summer salad with lots of yummy ingredients and a vinaigrette made from the blackberries. I just love salads and this combo worked perfectly! One of my favorite things to do is roll a scoop of goat cheese in crushed pecans – usually I buy the sugared ones from Trader Joe's and this time I opted for their sweet and spicy ones – they did not disappoint! The mild flavor of the goat cheese with the pecans along with the dressing made for a tasty salad.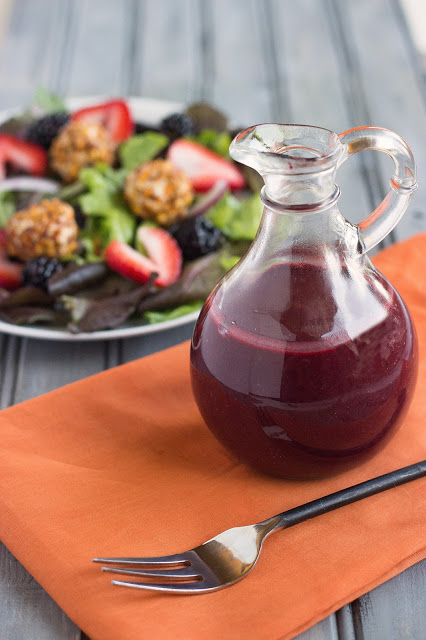 This type of salad can be made with YOUR favorite fixings if you wish.
Summer Salad with Blackberry Vinaigrette

Prep Time: 15 minutes
Cook Time: 0
Ingredients (4 servings)
Salad
Bag of spring salad mix
spicy or sugar pecans crushed
goat cheese (I used honey flavor)
red onions
strawberries
blackberries
Vinaigrette
1 ½ cups blackberries (fresh)
3 Tbl white balsamic vinegar
1/2 cup olive oil
1/2 tsp stone ground mustard
1 tsp minced shallot
1 1/2 Tbl honey
S&P to taste
Instructions
1. Scoop and roll into small balls the goat cheese and roll in crushed pecans – refrigerate until needed
2. In a blender add the vinegar, mustard, shallots and blackberries for 30 seconds.
3. Add the oil in the blender slowly to combine
4. You must strain the mixture in a mesh strainer to remove the seeds. Adjust seasonings with S&P. If you would like it sweeter, add a bit more honey.
5. Assemble the salad on a plate topped with the red onions, strawberries, blackberries and the goat cheese balls.
6. Drizzle over the salad – either room temp or chilled.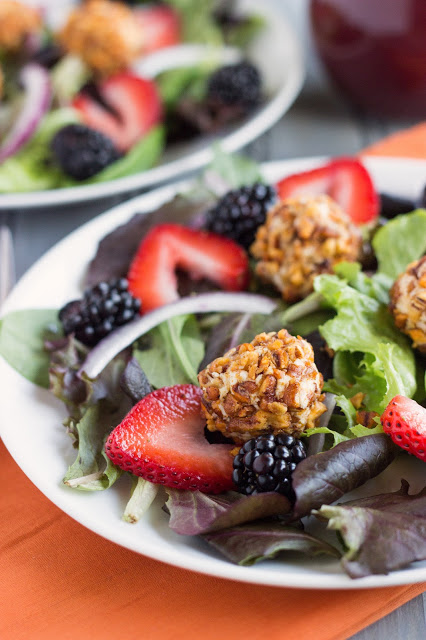 I really had fun taking pictures (obviously!) Just so colorful!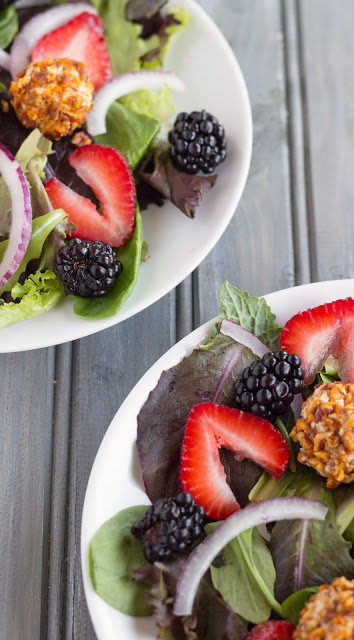 Enjoy!
Another salad recipe you might enjoy is this Mexican Quinoa Salad recipe