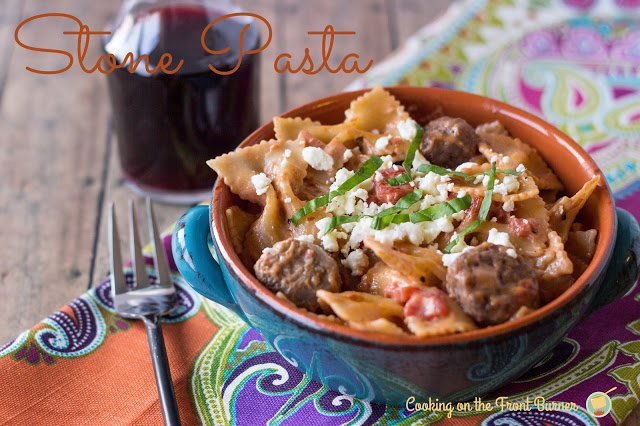 Remember the story of Stone Soup? Where some hungry travelers come to town and convince the villagers to 'add' to their stone cooking in the pot? Well, this dish is kinda like that. The hungry travelers were myself and the DIY Guy and our stone was a bag of pasta. I haven't gone full fledged grocery shopping yet since we came back from vacation so when I came home from work today, I had no idea what I was going to come up with. I always have pasta in the house (it's a staple for us Italians!), a bottle of 3 buck chuck (Merlot) from Trader Joe's for cooking purposes, a can of diced tomatoes and, of course, basic spices.
After some further looking, I found 2 sausage links in the freezer, some leftover feta cheese from our grilled pizzas, a jar of Bertolli Four Cheese Rosa sauce and fresh from our garden some basil. Now we are talking! While the pasta was cooking, I fried up the sliced sausage in some olive oil, then added 1/3 cup of wine with 1/2 tsp crushed red peppers, 1/2 tsp oregano and 1/2 tsp dried basil. Once the wine reduced by about half, I added the drained diced tomatoes and 1 cup of the Rosa sauce and heated through.
When the pasta was done, I tossed it in the skillet with the sauce. Completing our Stone Pasta was a topping of feta cheese and the fresh basil. Well, for not having a plan this turned out really well and the DIY Guy liked it very much! We have a small bowl leftover and if I don't get to the grocery store, then he can have it tonight too…. I'll have to have cereal!
What have you come up with in a pinch? I would love to know.
P.S. Happy Birthday to my daughter Kristina today!