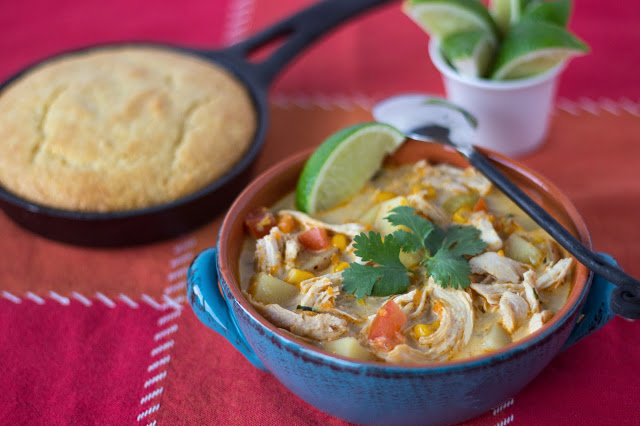 Happy Tuesday! How was your long weekend? Did you do anything fun? Well it's official, you can wear white now – the sandals, the shorts, capris, etc. But remember you only have until Labor Day! At least that is what I was told growing up and to be honest I do follow that "rule" It's ingrained in the brain – I might be dating myself – ha!
While we had fun this weekend… we haven't seen a peek of sun since Friday. I really hope that is not a sign of what we can expect this summer. So today when I was planning dinner, I was just in a soup mood and found this recipe full of veggies, chicken and kicked up a notch with chipotle chiles. It really hit the spot and with a side of cornbread, the meal was complete.
Have a great week!! Send me some sun!
Chicken Chowder with Chipotle
Prep Time: 10 minutes
Cook Time: 50 minutes
Ingredients (8 servings)
1 chipotle chile with 1 tsp adobo sauce
2 T olive oil
1/2 cup chopped onion
1 cup chopped carrot
1 cup chopped celery
1 tsp cumin
1 tsp oregano
1/2 tsp thyme
2 minced garlic cloves
6 cups chicken broth
1 lb boneless chicken breasts, cooked and shredded
2 cups diced red potato
1 can (15 oz) corn drained
1/2 cup whipping cream
2 plum tomatoes seeded and diced
1/4 cup chopped fresh cilantro
1/2 tsp salt
1/2 tsp pepper
lime wedges
Instructions
1. In a large pot or dutch oven heat oil over medium high heat. Add chile, onion through garlic and sauté about 7 minutes until onion is soft – stirring frequently.
2. Stir in broth and bring to boil and simmer covered for 20 minutes. Using a stick blender, puree the mixture to desired consistency. Add potatoes and simmer for an additional 20 minutes until potatoes are soft.
3. Stir in chicken and cream and simmer 5 minutes. Add remaining ingredients (sauce, tomato, cilantro and S&P) Serve with lime wedges.